Ryalux chooses Rhys Davies for outsourced deliveries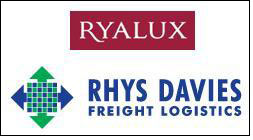 After some years of using a third-party supplier for carpet deliveries, Ryalux decided in the late 1990s that it would take the operation in-house and run its own fleet of contract hire vehicles. While the market for carpets was buoyant everything went well with good service levels to its customers and good personal relationships built between customers and the company's drivers.

But, according to Darren Longden, the company's Commercial Director, when the recession hit and times got tougher, service began to slip. "What had started out as being a benefit to our customers began to feel more like a liability," he said. "We had a fleet which had a high degree of fixed-cost, whilst the depressed market led to reducing volumes. The only way we could handle deliveries economically was to reduce the service, maybe from two to one delivery a week to a particular area." This was obviously not a situation the company wished to continue.

Ryalux had used outside contractors in the past but had not been satisfied with the service provided. So when the company started looking around, it did so with caution. "We had been looking for a while but couldn't find a company that we felt had the national coverage we needed," said Darren. "We had been watching Rhys Davies for some time before we started serious discussions with them last summer."

Rhys Davies Freight Logistics is a national network employing over 400 staff, operating 170 vehicles. It offers a uniquely tailored warehousing, distribution and handling service that extends to much more than just transport. The Rhys Davies Carpet Logistics network provides vast experience in the carpet sector, specialist vehicles within its fleet and appropriate handling and storage equipment at its nine operating centres throughout the UK.

Ryalux and Rhys Davies agreed the contract in October 2010 with the aim of improving the delivery service through better frequency and reducing costs. The company also took over the leases on the 15 remaining contract hire vehicles in the Ryalux fleet which removed what would have otherwise been a major headache for the company.

Mark Richmond, Managing Director for Rhys Davies said that the Ryalux contract was ideally suited to them. "The carpet network offers an unrivalled delivery service, offering the customers known delivery days nationwide. This allows the customer's customers to know exactly when to expect a delivery, and when it can be fitted. Whether it's a single cut length or a full truck load, Rhys Davies Carpet Logistics can handle it."

The new arrangement has been a great success for Ryalux and has achieved all its aims. Darren said that the changeover had been almost flawless, much to his surprise as he was expecting some teething problems. "They didn't take on too much at once," said Darren. "This meant that they weren't overstretched at the start so we had very few problems." He also said that he was particularly pleased with Rhys Davies' pro-active approach. "They are always looking for new ways of improving the service," he said.