Oerlikon Textile sees strongest sales growth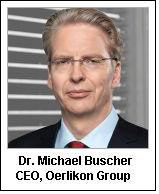 Oerlikon continued its sustainable growth path in the first quarter of 2011. Compared with last year the order intake posted a strong 23 percent increase, with all Segments delivering strong order growth.

Sales rose a substantial 35 percent year-on-year, as five Segments contributed with double-digit sales growth. All regions delivered order and sales growth, primarily led by significant increases in Asia. Increased volumes and on-going enhancement of cost structures further improved profitability. As usual, Oerlikon will publish profit figures with the half-year results.

Dr. Michael Buscher, CEO of Oerlikon Group, said: "Oerlikon's first quarter growth reflects the continuous performance improvement of our Segments through innovations and a disciplined execution of our 3 Year Business Plan. We are well on our way to reaching our 2011 targets and to achieving our sustainable Comeback."

Oerlikon Group CFO Jürg Fedier said: "We are realizing benefits from our strong presence in emerging markets and our investments in new products and services. The resulting higher volumes are playing a vital role in driving our profitable growth."

All Segments deliver strong order growth

First-quarter order intake rose a strong 23 percent to CHF 1 152 million, compared to CHF 937 million in the same quarter a year ago. Order backlog reached CHF 1 928 million compared with CHF 1 202 million at the end of the first quarter 2010. All Segments contributed to this strong order growth, highlighted by higher volumes in Textile, Coating, Drive Systems and Advanced Technologies. All regions delivered the order growth, led by increases in Asia, up 35 percent, and North America, up 19 percent, with an 8 percent increase in Europe. "Other regions" grew by 23 percent.

All regions and innovations drive sales growth, despite currency impact

First-quarter sales grew year-on-year a substantial 35 percent to CHF 953 million, up from CHF 705 million in the first quarter in 2010 as five Segments delivered double-digit sales growth year-on-year. Growing at 58 percent, Oerlikon Textile saw the strongest sales growth, followed by Coating, up 33 percent, while Oerlikon Drive Systems continued it sales growth trend with a 20 percent rise year-on-year. Sales grew in all regions, led by Asia, up 54 percent, North America, up 25 percent, Europe, up 22 percent, with "other regions," rising 11 percent. Foreign exchange effects reduced first-quarter sales by 11 percent, or CHF 106 million.
Outlook for 2011

Oerlikon's first-quarter performance reflects a major step in reaching its targets for 2011. The Group is focussing on delivering strong growth in profitability in 2011 through continuous product innovation and further cost optimization. Based on Oerlikon´s first-quarter performance the company confirms its guidance: Following the peak in demand and order intake after the economic crisis, the Company expects a slight reduction in order intake as overall market demand normalizes. Oerlikon expects in 2011 a sales growth of up to 10 percent and further growth in profitability, based on stable foreign exchange rates.