Record earnings in petrochemicals, Reliance Industries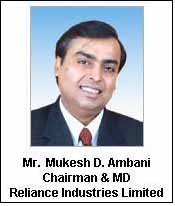 Reliance Industries Limited (RIL) reported its financial performance for the quarter / year ended 31st March, 2011. Highlights of the audited financial results as compared to the previous year are:

• Turnover increased by 29% to Rs. 258,651 crore ($ 58.0 billion)
• Exports increased by 33% to Rs. 146,667 crore ($ 32.9 billion)
• PBDIT increased by 25% and achieved a record level of Rs. 41,178 crore ($ 9.2 billion)
• Profit Before Tax increased by 23% to Rs. 25,242 crore ($ 5.7 billion)
• Cash Profit increased by 24% to Rs. 34,530 crore ($ 7.7 billion)
• Net Profit increased by 25% to Rs. 20,286 crore ($ 4.5 billion)
• Gross Refining Margin at $ 9.2 / bbl for the quarter and $ 8.4 / bbl for the year ended 31st March 2011
• Dividend of 80%, payout of Rs. 2,772 crore ($ 622 million).

RIL has commenced implementation of its world-scale projects in India across the polyester chain. This is RIL's largest capacity expansion in the sector and is aimed at consolidating its position as the world's largest integrated polyester producer.

Commenting on the results, Mukesh D. Ambani, Chairman and Managing Director, Reliance Industries Limited said:

"Reliance had a record year with strong financial and operating performance. Global economic growth, emerging markets demand and tightness in the markets led to recovery in refining margins and record petrochemical earnings. Reliance also entered into a strategic partnership with BP to exploit the full potential of its domestic upstream portfolio. Joint ventures in shale gas diversified our portfolio and are creating new competencies. Reliance also made substantial commitment to being a leader in the evolution of India's digital economy by acquiring control of a nationwide broadband wireless access license. We are fully geared to participate in India's growth and continued global recovery in the coming years. Our committed investments in core business and new initiatives are expected to result in sustained earnings growth."

Refining & Marketing Business

Naphtha cracks weakened during the quarter due to cracker maintenance and impact of earthquake in Japan. Naphtha cracks for the quarter were lower at $(-) 0.1/bbl as compared to $ 3.8/bbl in 3Q FY11 and $ 3.2/bbl in 4Q FY10.

RIL processed 66.6 million tonnes of crude during FY11 which was the highest quantity of crude oil ever processed by RIL in its history in the refining business. By doing so, it achieved an average operating rate of 107% which is perhaps the highest in the world, reflecting RIL's leadership in operating the assets and the global acceptance of its products. The utilization rate could have been higher but for the planned shutdown of one train of crude distillation unit for 22 days taken in 3Q FY11. In comparison, average refinery utilization rate was 83.8% in North America, 77.8% in Europe and 83.9% in Asia. During the period, utilization rates improved in all the major markets of US, Europe and Asia due to increased product demand and improving economic environment.