INVISTA to showcase solutions for business growth at Denim by PV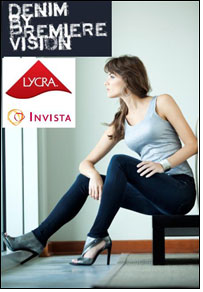 INVISTA, owner of the LYCRA fibre brand and one of the world's largest integrated producers of fibres and polymers, will participate in Denim by Première Vision on May 25 and 26 in Paris, offering a variety of business growth solutions for today's competitive marketplace. With increased material costs driving retail costs higher, the company is focused on three key areas: quality, added value, and differentiation.

Under the quality banner, INVISTA is introducing LYCRA dualFX fabrics – patented super stretch denim fabrics that integrate LYCRA fibre and LYCRA T400 fibre into a single fabric for extra stretch and, most importantly, extra recovery. INVISTA will be showcasing this new technology via fabrics from a variety of mills around the world.

According to Jean Hegedus, Global Marketing Director for Denim at INVISTA, the benefit of this technology is that consumers can finally get super stretch jeans that really keep their shape and don't lose their stretch over time. "Stabilising super stretch fabrics and garments has been an issue for trade and consumers alike and we are pleased to work with our customers to develop LYCRA dualFX fabrics as a solution," says Hegedus.

INVISTA's wide range gives customers a choice of product offering at a time when the rising cost of raw materials could impact on the options available. "As raw material prices are increasing, the impact is being felt by the consumer as well. To stimulate buying at higher price points, innovation and added value are essential," Hegedus said. Some of the added value offerings being shown by INVISTA include:

Fabrics with bare LYCRA T400 fibre which, as cotton prices rise, are becoming comparable in cost to fabrics made out of 100% cotton. For nearly the same price, consumers can have a great fitting, comfortable pair of jeans that keep their shape and wick away moisture, all in one garment. In menswear, CORDURA Denim fabrics have more than 4 times the durability of 100% cotton jeans, thus allowing the consumer to have a garment that lasts longer.

"Extending the life and performance of denim and other CORDURA fabric offerings is our goal and supports our brand's tagline of "Sustainability Begins With Products That Last?, says Cindy McNaull, global CORDURA brand and marketing director for INVISTA. For added freedom of movement, TOUGH MAX LYCRA fabrics provide both durability and a comfortable fit, important for denim worn to work or in active applications.

Finally, in the area of differentiation, INVISTA believes the critical first step is to get the consumers' attention and then to engage them on an emotional level. To accomplish this, INVISTA is launching a new brand, LYCRA Style fibre, developed specifically to meet the needs of the ready-to-wear market. In creating the brand, INVISTA went beyond traditional market studies and worked with Innerscope Research, a leader in the biometric market research field. The goal was to uncover deeper consumer insights that would not be limited by conscious responses.