Importance of TV TecStyle for textile decorators is growing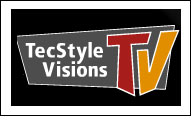 The TV TecStyle Visions fair is of growing importance to the industry, which is underlined by the growing interest of renowned international companies from the textile decoration industry. Numerous industry leaders that have never been present in Stuttgart so far have now decided for the first time to participate in the international trade fair TV TecStyle Visions 2012 in Stuttgart.

So, inter alia, the English garment producer Result Clothing, the French manufacturer Kariban, the textile wholesaler L-Shop-Team from Dortmund, the English transfer paper producer Tullis Russell Coaters, the embroidery machine manufacturer Zoje Europe, the French company Seripress, a specialist for screen printing transfers, and the dye and ink producer Marabu near Stuttgart intend to use this trade fair platform for textile printing, embroidery, transfer and flock coating to present themselves to more than 9,000 expected visitors.

Among the about 200 exhibitors the two fair organisers gmk Veranstaltungsservice and Messe Stuttgart reckon with at the next TV TecStyle Visions fair from 2 to 4 February 2012, will be, for the first time, the English garment producer Result Clothing, a manufacturer of high-quality jackets for leisure, outdoor and work wear.

"The main reason why we have decided to attend TV TecStyle Visions 2012 show is that it is focused on textiles and supported by the markets main magazine." In those words company founder and CEO David Sanders-Smith explains his decision to exhibit at the coming TV fair. Another important plus factor of Stuttgart was the good central location of the fair in the heart of Europe, said Sanders-Smith.

Kariban is one of France's leading textile brands for advertising, corporate fashion and promotion. In the past year Laurent Marti, Kariban's owner, founded the German distribution subsidiary Kariban Germany GmbH, managed by veteran industry expert Erich Fischer who is a great fan of this fair: "TV TecStyle Visions is perfectly tailored to our needs and exactly focused on the target group. Here we can see the right potential for Germany, Austria and Switzerland. The date of early next year is also well chosen." After the launch of the new bag brand Kimood distributed by Kariban Germany since the beginning of this year, Fischer expects to get enormous reception at the coming event as regards direct marketing to textile decorators. "TV TecStyle Visions is the optimal platform for giving the market full access to Kariban and Kimood," Fisher continues.

L-Shop-Team of Dortmund is one of Germany's leading wholesalers for advertising textiles, work and leisure wear. In the past 15 years the company has stayed away from all fairs. But the growing importance of TV TecStyle Visions has now convinced Managing Director Armin Emmerich to be again actively involved in trade fairs.

"Well, we haven't been present as exhibitor at any fair for quite some time. Now, it seems to be time againto take the chance to meet as many existing customers as possible concentrated at one location. TV TecStyle Visions in Stuttgart seems to be the ideal place. As you know, we like to find ourselves in a positive confrontation with our competitors. And so we not only look forward to meeting our customers but also to facing the direct comparison with our competitors. I look forward to the days in Stuttgart, it will certainly be exciting."