Varanasi handloom cluster cries for help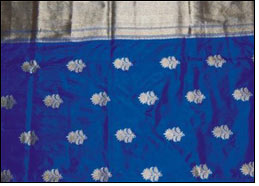 There are about 100,000 handloom weavers in Varanasi, of which, presently 40,000 are active. In addition, there are hundreds of traders, dyers, designers, card-makers and ancillary support providers. The annual turnover (at Varanasi prices) is estimated at around Rs four billion.

With the main concentration being in Varanasi City, the activity has also spread to surrounding villages. However, 70% of weaver force is in the city, while 90% of city weaver workforce is Muslim, while it is 30% in villages.

The main product of Banaras Handloom Cluster is the Saree and its dominance still continues. The estimated share of Saree in the total value of output varies from 90-95%. The other products are dress material, furnishing fabrics, fashion accessories like stoles and scarves.

The saree segment typically consists of two categories. Satin-based work (largely from Karnataka yarn) and Organza type work (largely from Chinese yarn). The former is concentrated in North Varansi-Badi Bazar, Alaypura, Pilikothi. The later is visible in South Varnasi e.g. Madanpura. Most of the output (90%) gets sold at Banaras. The incidence of contractor weavers and co-op societies selling directly to traders /others outside Banaras is very limited.

There are two areas in which heavy work sarees apparently are exerting pressure on Banaras saree. First is exclusivity. It is possible to make each heavy work or embroidered saree exclusive because it is easy to make variations. This is not so in case of hand weaving and currently, there is emphasis on exclusiveness. A basic heavy saree may cost Rs. 2000 and work on it gets priced at, say, Rs. 8000; leading to a price of Rs. 10,000.

Unlike weave, work pricing is somewhat discretionary and offers scope to the retail outlets for larger margins. The heavy work trend according to market observers is undermining the significance of exquisite weave in the traditional aesthetic consciousness. This shift from weave to non-weave ornamentation, they apprehend, may not be temporary and poses a serious, long-term threat to the prospects of higher-end Banarasi saree.

In the lower-end segment, Banarasi saree does not possess long-established or traditional brand equity. It has grown quantitatively in this segment as a result of expansion of weaver force and market conditions, but competes with powerloom produced sarees. It manages to secure some volumes but mainly at the cost of helpless weaver. South India in recent years has emerged as an attractive destination for Banarasi sarees in lower-end segment.

At another level, the brand equity of high-profile retail outlets (e.g., Kala Niketan) now, in certain context, matches or exceeds that of Banarasi high-end sarees. This has affected the value-chain; such retail outlets securing a larger share of the price-cake; squeezing the share of Banaras-based players.