Teijin's MSABP chosen for textile factory in Luanda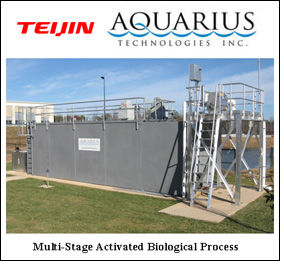 Teijin Limited announced that its Multi-Stage Activated Biological Process (MSABP) system has been selected as the wastewater treatment system for a textile factory in Luanda, Republic of Angola.

The production of textiles requires the use of various chemicals, particularly for dyeing, which results in wastewater that contains many persistent substances. Teijin's MSABP system, which features special biological carriers packed with high concentrations of microorganisms, uses multistage aeration tanks to enable the microorganisms in each tank to be changed in an orderly manner, thereby forming a food chain in which even highly concentrated or persistent effluent is decomposed.

Installation of the system in the textile factory is part of a project outsourced to Marubeni Corporation by the Angolan government to rehabilitate the country's textile factories. Actual work is being managed by Marubeni TEKMATEX Corporation, a subsidiary company that recently signed a contract with Teijin for engineering, procurement and related supervision of the MSABP system's installation. Teijin, leveraging its extensive experience with textile-related wastewater treatment, will engineer, procure and commission the system.

The system enables wastewater treatment with reduced sludge, reduced energy consumption and low maintenance. In addition, the system will be containerized for ease of shipment and rapid, low cost installation.

Currently, Teijin's MSABP system is being used for wastewater treatment in chemical, dyeing and food manufacturing plants in Indonesia and China. It also is being field tested in the Yixing area of Jiangsu Province, China, where it is expected to be used for sewage treatment in a rural community.

A pilot project conducted in Japan by Teijin and the Japan Sewage Works Agency has demonstrated the effectiveness of sewage processing using the MSABP system, including reductions of excess sludge by more than 80%, energy consumption by up to 10% and CO2 emissions by up to 15%.

Going forward, Teijin will continue developing wastewater-treatment solutions for applications globally and aims to promote the wider use of wastewater reclaimed with green systems that also help to lower energy consumption and CO2 emissions.

MSABP is a registered trademark of Aquarius Technologies Inc.

Based in Tokyo and Osaka, Japan, Teijin is a global technology-driven group operating in eight main fields: aramid fibers, carbon fibers & composites, polyester fibers, plastics, films, medical & pharmaceuticals, fiber products marketing and IT businesses.