TENCEL in the fast lane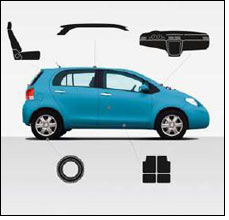 The cellulose fiber, TENCEL, has the potential to redefine the car. At Techtextil in Frankfurt from May 24-26, 2011, Lenzing Textile will present new applications for the automobile sector.

The automobile market is undergoing radical change. Voices advocating eco-friendly models through to vehicle recycling are growing in volume. In this respect sustainable raw materials play a very important role. High demands are placed on these materials both in ecological and in economic terms. Plus, components made from these new materials must satisfy the same performance requirements as traditional components made from crude oil-based raw materials since the safety aspect can never be ignored.

"TENCEL supports the trend towards more nature in cars and, with its fiber properties, boasts numerous advantages for the automobile sector," explains Friedrich Suchomel, Automotive Project Manager. "We started the project five years ago after speaking to all the international car manufacturers to understand their requirements. Sustainability was one of their most important criteria. TENCEL provides a response to these needs," Friedrich Suchomel continues. TENCEL is made from wood, a natural replenishable raw material. The wood stems from eucalyptus plantations which are planted especially for industrial use. Eucalyptus grows very quickly and is farmed without any artificial irrigation. It can also be planted on idle land and does not, therefore, compete with agricultural land for the production of foodstuffs. TENCEL is an ideal fiber for the automotive sector not only because it is a natural raw material, but also because the fiber manufacturing process is eco-friendly. Production is based on a physical dissolution process with almost complete solvent recovery.

TENCEL -the universal fiber
However, it is not the eco-aspect alone with makes TENCEL the fiber for cars. The best known property, moisture management, is also useful in car seats. To transfer the performance properties of TENCEL to the car, TENCEL is available in various forms. Whether as a fiber or powder, TENCEL has many applications in the automobile sector. Thick fiber forms are used in carpets, powder forms are used in plastics (injection molding compound), and textile fiber forms are used in seat covers. TENCEL is even available in forms for special non-wovens and battery separators.

Botanic-like plastics
In powder form, TENCEL offers ideal processing conditions as a reinforcement fiber in plastic parts. The fiber is odorless during processing as well as in the end product. One particular advantage is the impact strength improvement which TENCEL imparts to plastics due to its high fiber elongation. TENCEL has a fiber elongation of 10% while glass fiber, the fiber most used in automotive plastics, has only 2%. Plastics with TENCEL are stable and provide excellent crash performance.

Botanic comfort for seats
Use in textiles is nothing new for the TENCEL fiber. Special fiber types have, however, been created for the automobile sector to satisfy manufacturers' extreme demands. TENCEL can be blended with all the conventional fibers and enhances automotive textiles with moisture management properties, as it does in other textiles applications. A test with car seats confirms that as little as 30% of TENCEL in the textile blend results in a drier seat climate and considerable improvement in driver and passenger comfort.

Leave your Comments
Recommended
Want to know what happened in the textile world this week? Watch now!
news category
---
Related Categories: