Review of Federal Budget's impact on cotton industry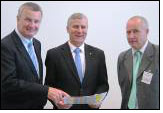 Cotton Australia CEO Adam Kay and National Water Policy Manager Michael Murray were in Canberra on budget night and the team has given Cotton Matters their first hand review of the Federal Budget's impact on the Cotton Industry

With a goal of returning the Federal Budget to a surplus of $3.5 billion by 2012-13, the 2011-12 budget identified savings of almost $22 billion over the next four years. Fortunately, the bulk of those savings will have little impact on agriculture and the Australian cotton industry, with a couple of exceptions.

All Federal Government departments, including Agriculture, Fisheries and Forestry (DAFF) are required to deliver an 'efficiency dividend". For DAFF this equates to $33 million that may reduce the department's capacity and will no doubt cost jobs. Departmental officers in the budget lockup reported that "service amalgamation" will deliver the savings.

Cotton farmers may also be worse off under changes to Fringe Benefits Tax rules on company cars. The current rules basically allow a higher rate of rebate for company cars used over a greater number of kilometres (once the threshold is reached). The threshold will be removed and all benefits will be at a single rate of 20%. This may have a disproportionate impact in regional and rural areas where employees need to drive greater distances and have less access to public transport.

Overall, most agricultural groups including Cotton Australia are reporting either neutral or positive outcomes for agriculture. The budget included a $4.3 billion package of investments in regional hospitals, health care, universities and roads and $425 million to reform biosecurity and quarantine functions.

Another area that Cotton Australia was keen to examine was in relation to water policy and costs associated with the implementation of the Murray-Darling Basin Plan. Not surprisingly, the total costs of water reforms under the plan are not detailed in the budget. The Government did not announce any new initiatives, but allocated $845 million over the next 12 months for water management and infrastructure projects to "support sustainable water use, create water savings for the environment and improve farming efficiency."

One of Cotton Australia's greatest fears in the lead-up to the budget announcement was in what it would reveal about plans for rural R&D funding, particularly in light of a draft Productivity Commission Report suggesting cuts in this area.

The good news is that current levels of funding to all Research and Development Corporations are budgeted to continue, with the government's dollar for dollar matching contribution slated to increase as production recovers over the next few years. Cotton Australia is taking this as a positive sign that the final PC Report will not deliver dramatic changes to the funding structure of rural Research and Development Corporations. Cotton Australia reports that in a meeting with Minister Ludwig just before the budget announcement, he confirmed the final PC report would be tabled soon and invited Cotton Australia to meet with him to discuss its findings.