Contours of a new wave of growth - industrialist Mukesh Ambani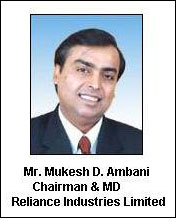 Chairman and Managing Director of Reliance Industries Limited, Mr. Mukesh D. Ambani addressed 37th Annual General Meeting of the company.

Business and Financial Performance

I am pleased to state that global economic recovery and the India impetus led Reliance to yet another year of stellar performance.

Today our enterprise value is over USD 75 billion.

This, by any standard, is a significant achievement.

More so, considering the relatively short history of just 33 years of Reliance, since our first IPO.

This growth signifies that we have grown 28% year on year in the last 33 years in terms of revenues.

30% year on year in the last 33 years in terms of net profits.

And 37% year on year for the last 33 years in market capitalization.

This is amongst the highest rates of growth for any business enterprise across the world.
During the year, Reliance recorded its highest ever turnover in history.

Reliance is the first private sector company in India to have turnover in excess of Rs. 250,000 crore (US$ 58 billion) - a growth of 30% over the previous year.

On the strength of the record turnover, Reliance posted its highest-ever net profit of Rs. 20,286 crore (US$ 4.5 billion).

This signifies the highest growth in profits in absolute terms in our history.

Operating levels across all three business units were at record highs.

Exports at Rs. 146,667 crore (US$ 32.9 billion) rose by 33% and made up 57% of the turnover of Reliance.

Reliance continues to be India's largest exporter - a status that it has been enjoying for ten years.

Reliance also continues to be one of India's largest contributors to the national exchequer, primarily by way of payment of duties and taxes.

Such payments rose significantly by 60% to Rs. 28,719 crore (US$ 6.44 billion) during the year.

This increase in absolute terms is unprecedented in India's corporate history.

Reliance has proposed a dividend payout of 80 percent, amounting to Rs. 2,385 crore (US$ 0.53 billion).

This is one of the highest dividend payouts in the Indian private sector.

With a cash balance of Rs. 42,393 crore (US$ 9.5 billion), our company is in a very strong position financially.

Reliance will be completely debt free, net of cash balances within this year.

All these reflect a robust financial position and a sound balance sheet.

Reliance envisages the continued pursuit of new opportunities for growth and profitability on the strength of this solid financial foundation.

Polyester

Let me now turn to the performance of business sectors, starting with polyester.

Reliance is the largest and the most integrated polyester player in the world with a capacity of 2.4 million tonnes per year.

We export Polyester to over 100 countries from our operations in India and Malaysia.