WTC 2011 forecasts an optimistic global future for India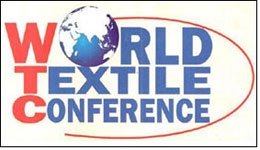 With a strong focus on maximizing the growth potential of India emerging as a global textile destination, the World Textile Conference (WTC) 2011, held on 6th and 7th May, 2011, at Hotel Intercontinental, The Lalit, Andheri, Mumbai, surprised itself with the largest ever delegate and visitor turnout t resulting in resounding success.

Organized by The Textile Association India (TAI) with a theme of 'Vision 2020: Emerging New Business Opportunities Worldwide and Challenging Strategies,' this year's edition was held on a much larger scale and broader format than the regular annual conference.

Convened by DFU Publications, WTC 2011 covered all the topics currently vital to the industry while encompassing managerial, commercial and business aspects instead of being purely technical. The world is now eyeing the Indian textile industry, although even now it still has an insignificant brand presence and no specific positioning in world markets and considered to be more of a low cost fabric manufacturing destination for relocating capacities from the West.

However the success of WTC 2011 is expected to change all that and bring India to the forefront. The mega conference was the first attempt of TAI – Central Office to organize the event in such a big way while roping in about 470 delegates and 242 invitees and guests, making it the largest ever gathering of industry stalwarts. Under the dynamic leadership of D.R. Mehta, President, TAI, and his organizing team members, this was the first time that the world textile conference was arranged by a central body, the TAI.

The other team members included Ashok Juneja, Vice President, TAI, Prof. M D Teli, Conference Programme, K D Sanghvi, Chairman, TAI, V D Zope, Hon. Gen. Secretary, TAI, Arvind Sinha, Chairman, Conference, Sanjay Chawla, Convener, Conference. In addition there were TAI committee members and active involvement and support from TIT alumni association.

"We started preparations a year back. As we started contacting sponsors there have been tremendous response. All along the conference sponsors, delegates, advertisers came forward fully to support the cause as the programme of the conference was absolutely business oriented and full of new ideas. We had planned for 500 delegates and ultimately first day we had more than 750 delegates. Thanks to efficiency of portal staff of hotel Lalit Plaza. Hence, we got an excellent response from the delegates, sponsors, advertisers and everyone else," says K D Sanghvi, Chairman of TAI.

WTC 2011 kicked off with an invocation by the students of an institute of technology after which D.R. Mehta, President of TAI, welcomed Rita Menon, Dr. A.B. Joshi and other guests on the dais with floral bouquets. An address by Arvind Sinha, Conference Chairman, was then followed by a special keynote address speech by A. B. Joshi, Textile Commissioner, Ministry of Textiles, as well as addresses by other guests of honor. The other invitees at the inaugural function were Dilip Jiwrajka, Managing Director, Alok Industries, Prashant Agrawal, Managing Director, Bombay Rayon Fashion, Ashesh Amin, Director, Apparel & Retail, SKNL, K Ramchandra Pillai, CMD, National Textile Corporation, Manish Mandhana, Joint Managing Director, Mandhana Industries, Thomas Babacan, COO. OC Oerlikon & CEO, Oerlikon Textiles, and Zena Soli Sorabjee, Development Practitioner & Vice Chairperson, Guild of Service.