US cotton production projection lowered, USDA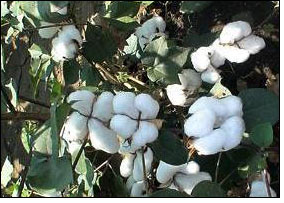 USDA's June projection for the 2011 cotton crop was reduced from 18 million bales in May to 17 million bales due to the drought conditions which are expected to reduce harvested area, particularly in the Southwest region. In 2010, the U.S. cotton crop totaled 18.1 million bales. With U.S. abandonment projected at 19 percent for 2011, harvested acreage is currently estimated at 10.2 million acres, 500,000 acres below 2010 despite 1.6 million additional acres expected to be planted for the 2011 season.

The planting estimate currently at 12.6 million acres will be updated in the Acreage report released by USDA on June 30th. This report will include actual plantings as of early June as well as estimates for any remaining cotton to be planted. As of June 5th, 87 percent of the expected cotton area had been planted, slightly below last season but equal to the 5-year average. In addition to planting progress, 9 percent of the national crop area was squaring, slightly above last season and the 5-year average.

With the June projection, the U.S. cotton yield remains forecast at 800 pounds per harvested acre, as the reduction in production was associated with the expected loss of area to be harvested. The 2011/12 yield projection is 12 pounds below the 2010 season and 19 pounds below the 5-year average. USDA will begin "in field" production surveys in August.

Revisions to Demand and Stock Estimates
Adjustments to June's U.S. cotton demand estimates were limited to exports. For both 2010/11 and 2011/12, U.S. cotton exports were reduced 500,000 bales. The current-year adjustment was the result of continued cancellations of previous sales and includes a small allowance for rollover sales into the new crop year. The reduction for 2011/12 was the result of a smaller U.S. crop projection, which is expected to limit exportable supplies, as well as slightly lower foreign demand.

U.S. exports are estimated at 15 million bales for the current season and 13 million bales for 2011/12. With U.S. exports decreasing and world trade expected to rise 10 percent in 2011/12, the U.S. share of global trade is estimated to decline from 42 percent in 2010/11 to 33 percent, a share similar to 2009/10.

As a result of the reduction in 2010/11 exports, U.S. ending stocks were increased to 2.25 million bales but are still 700,000 bales below the beginning level and the lowest since the mid-1920s; the stocks-to-use ratio is also near historic lows at 12 percent. For 2011/12, ending stocks remain projected at 2.5 million bales, up slightly from the current season. The stocks-to-use ratio rises to 15 percent but remains the second lowest since the 1995 season.

Based on the latest supply and demand estimates, the forecast for the 2011/12 U.S. average farm price is projected to range between 95 and 115 cents per pound, with the midpoint of this range a record. The comparable price for 2010/11 is estimated between 81 and 83 cents per pound, following a 62.9 cent farm price for 2009/10.