Chinese producers demonstrate their flair of home fashion at Intertextile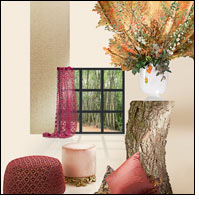 With a 10% increase in scale, Intertextile Shanghai Home Textiles 2011 will occupy 11 halls in the Shanghai New International Expo Centre. The event held from 29 – 31 August 2011 is the largest up to date. Suppliers exhibiting across the international halls include country and regional pavilions from Korea, Pakistan, Taiwan and Turkey, as well as new country pavilions from Greece, Italy and Spain. Exhibitors of bedding, curtain and upholstery fabrics will group into special product zones.

To tap into the Asian markets, Greek, Italian and Spanish pavilion exhibitors will stage their best and latest fabrics at the fairground. Exhibitor highlights will include:

Greek Pavilion
Coco-mat manufactures bedding, mattresses and home products made in natural or recycled materials including cotton, horsehair, seaweed, coco fibres and natural rubber. Its products serve both consumer and contract business.

K. Stamatopoulos S A is one of the largest wholesalers and has set up retail stores in the country. It produces decorative fabrics, upholsteries and curtains as well as a special woven vinyl flooring.

Vasilas Christos & Co Ltd is a leading curtain producer in Greece and the exclusive representative of DISNEY in Europe for rugs, wall to wall carpets, polyester mats and curtains since 2007.

Other leading manufacturers joining this zone include Anartisi Kiourktsoglou K & SIA E E, IFI S A, Sarlas S A and Zogometal S A

Italian Pavilion
Organised by The Chamber of Commerce in Caserta, this new pavilion will feature top suppliers of silk home products and furnishing fabrics from the region. They include S. & C. – Antica Lavorazione Orditi In Seta SRL, Tesseci SRL, S&B – Silk Beyond SRL, Fratelli Bologna E Marcaccio SRL and Gustavo De Negri & Zama SRL Manifattura Tessile. Other companies from Italy include Enzo degli Angiuoni and Luilor SpA. They will introduce high-end upholstery fabrics made from natural fibres, dobby and jacquard at the fair.

Spanish Pavilion
Comersan SA manufactures upholstery and decorative fabrics, home linens, contract products, micro fibres, light curtains and textile wall coverings.

Textiles Joyper SL supplies home decoration fabrics in a wide range of vibrant colours. The company will display its latest collection for the high-end Chinese consumer market.
Rafael Catala SA and Reig Marti SA offer high quality jacquard fabrics for furniture and home decoration products.

Other top suppliers in this pavilion include B&C Fabrics SL, Gonzalo Ferri SA and Textiles Frau Perez SL.

Well-established high-end bedding suppliers and brands also joined the fair to reach the growing luxury market in China. With over 100 years experience in producing bedding in Germany, Ibena will promote its new product line jointly with Cotton Council International. Standard Fiber from the United States will introduce the popular English brand, Peter Reed and new brand, Somerelle specifically for the Chinese market. Spring Global also from the US will represent the luxury brand, Court of Versailles at the fair. These companies will be showcased alongside other famous brands in hall W2.