2010 cotton crop forecast higher in September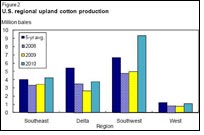 According to USDA's September Crop Production report, the 2010 U.S. cotton crop is projected at 18.8 million bales, up 300,000 bales from last month's forecast and nearly 6.7 million bales above the 2009 production. Higher area and nearrecord low abandonment have contributed to the year-over-year gain. In addition, the third highest national yield is expected to boost the crop to its largest in 3 years.

The U.S. upland crop is estimated at 18.3 million bales, nearly 6.6 million bales above last season and 1 million bales above the 5-year average. During the previous 20 years, the September forecast has been below final cotton production 12 times and above 8 times. Past differences between the September forecast and the final production estimate indicate that chances are 2 out of 3 that the 2010 U.S. upland crop will range between 17.0 and 19.7 million bales.

Compared with last season, 2010 upland cotton production is forecast higher for each region of the Cotton Belt (fig. 2). In the Southwest, a record production is forecast at 9.3 million bales, resulting from the largest harvested area in 5 years and the second highest yield in the region.

For the Southeast region, the cotton crop is estimated at 4.2 million bales—slightly above the 5-year average—as higher area is expected to more than offset a lower yield in 2010. In the Delta, area rebounded after 4 consecutive years of decline and, with the second highest yield on record, Delta production is forecast at 3.7 million bales in 2010, the largest there in 3 years.

In the West, the 2010 upland cotton area and production are projected to rise for the first time in 6 seasons despite an expected decline in yield from last year. In addition, the extra-long staple (ELS) crop is largely grown in the West region, mainly California. ELS production is forecast at 498,000 bales, 24 percent above the 2009 crop, with California expected to account for 90 percent of the total.

Total 2010 cotton planted area in the United States was estimated at 11.0 million acres, the highest since 2006; meanwhile, harvested area is projected at nearly 10.8 million acres, also the largest in 4 years. Abandonment, estimated at 2.4 percent, is well below average and the lowest in over 60 years. The national yield is forecast at 839 pounds per harvested acre, 62 pounds above last season but 40 pounds below the 2007 record. For current production estimates by State, see table 11.

Demand and Stock Estimates Revised
For the 2009/10 season, U.S. mill use and exports were each raised slightly based on the latest data. Mill use was increased to 3.45 million bales based on Department of Commerce data, while the season ending U.S. Exports Sales report indicated shipments for 2009/10 were 12.04 million bales. In addition, ending stocks were reduced to 3.0 million bales based on the preliminary end of season Census Bureau stock data.

For 2010/11, demand was also increased in September with stocks declining further. U.S. mill use was increased to 3.6 million bales based on early season indications that suggest U.S. mill use could rise to the level experienced in 2008/09. At the same time, the U.S. export forecast was raised 500,000 bales to 15.5 million for 2010/11.