BlackHawk introduces life-saving apparel for army men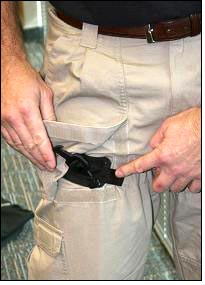 BlackHawk, a leading manufacturer of tactical, military and law enforcement equipment, located in Norfolk, Virginia, has developed a built-in tourniquets outfit, which can prove essential in saving lives of army people in battlefield.

This Warrior Wear system which is being tested for use in military uniforms has eight tourniquets; two in each sleeve and each pant leg and is expected to retail for less than USD 200 by next year.

Mike Noell, President and CEO of Blackhawk! Products Group™ announced the addition of Blackhawk's Integrated Tourniquet System into their new Warrior Wear® apparel line. At recent events directed towards the Law Enforcement and Military Medical Community, Blackhawk announced that the revolutionary system was in the final phases of testing and should be available during Q1 of Calendar 2008.

"At Blackhawk we get up every morning dedicated to using our resources to help save lives," explained Noell. "When medics and doctors that deal with combat and tactical medical needs see the system, they at once understand the immediate life saving potential. Four tourniquets in the pants and four tourniquets in the shirt (two in the short sleeve version), correctly positioned and oriented to the upper and lower extremities, are immediately accessible under existing gear and can be operated by the wearer, their buddy, or a medic.

Immediate application minimizes loss of blood, the single greatest medical problem resulting in deathfrom injuries sustained to the extremities among our troops today. An additional feature is that our design allows users to train with the system over and over rather than having to replace each tourniquet after a single use, whether during training or in the field using the same system they will wear in tactical operation," further explained Noell.