R. N. Kanungo
1.0 INTRODUCTION

Since the advent of the three major synthetic fibres i.e. Nylon in 1938 followed by Polyester and Acrylics in the 1950s, man-made synthetic fibres have been consistently developed and grown in volume as well as in global consumption[1]. In recent years, these synthetic fibres have almost overtaken the share of natural fibres even in the fields of apparel and home furnishings.

Amongst the synthetic fibres, however, presently Polyester occupies the leading position and dominates the global fibre scene by having 66% of the total synthetic fibre output (almost two-thirds) leaving the remaining one third output to traditional synthetics, elastane and other high-tech. and high-performance fibres etc. (Table-1).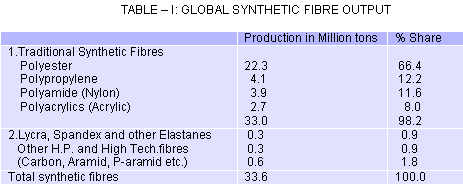 2.0 GLOBAL PP FILAMENTS AND FIBRES

In the last decade Polypropylene (PP) fibres (including PP tapes) have developed into the world wide second most important fibre next to Polyester.

However, excluding tapes or split films, total world production of PP in 2003 had already touched 4.1 million tons (around 12.2%) of the total synthetic fibre output, out of which 2.8 million tons (68.3%) were filament yarns including 1.1 million tons of spun bonds and 1.3 million tons (31.7%) of the staple fibers (fig.1) [2].

In recent years PP staple fibres and filaments including spun bond non-woven for textile applications also have made considerable progress and went through a period of explosive growth in 70s and 80s. At present it shares around 6.5% of the global market activity and is showing signs of developing a wider potential market base [2], [3].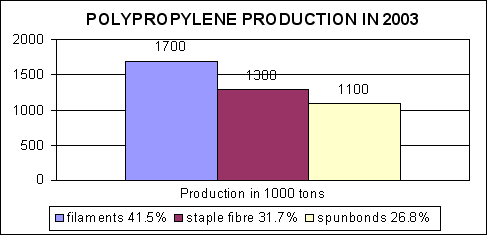 10.0 SUMMARY AND CONCLUSION

1. In the last decade Polypropylene (PP) fibres have developed into the world wide second most important fibre next to Polyester.

2. The demand for PP fibres will continue to grow in view of the growth in world population, technical progress in the growth of synthetic vis a vis natural fibres and innovative applications of PP fibres towards new product development, in apparel, home furnishing and other textile marketing segments.

3. Today, Polypropylene fibre usage (excluding Tapes and monofilaments) shares around 6.5% of the Global market activity and are showing signs of developing a wider potential market base.

4. New challenges are emerging for PP in Asia Pacific countries due to cheap polymer cost advantage of PP over Polyester by about 5% or more and the main focus of PP fibre growth will remain Apparel, which is not the traditional heartland of PP business today.

5. In order that PP would have a wider role in Apparel sector, particularly in Denims, the fabric attributes that can bring textile differentiation in new product development had been closely examined through three cotton warp/PP weft denims experimental fabrics, against a controlled 100% cotton denim fabric of about similar weight and fabric cover, and the tested fabric attributes of these Cotton/ PP weft fabrics for Performance Durability Comfort and Aesthetic aspects have been found to be quite encouraging and superior as compared to that of the controlled 100% cotton weft fabric.

6. Subjective evaluation of certain aesthetic properties of fabrics by eight observers showed that all of them rated the sample No.2 (Cotton/PP samples 36 p.p.i., with least weight) as Best among the four followed by the very close rating of the sample No.1 (100% cotton sample 46 p.p.i.)

7. The combined analysis of the fabric test results for performance, durability and comfort properties with the subjective evaluation of certain fabric aesthetic attributes and the subsequent economics of fabric costing seemed to establish that the fabric of Cotton warp with the lowest possible specific weight of PP weft (sample No.2 C/PP 36 p.p.i.) emerges to be the best fabric in terms of balancing of such properties in an apparel denim against a 100% Cotton fabric of similar weight and fabric cover range.

REFERENCES:

1. Technologies for a new Century Kajiwara Nori and Okamoto, J.T.I., Vol.2000, Part III, Pg.32 78.
2. Hans J. Koslowski Man Made Fiber Year Book pg. 4
3. Olefin opportunities Textile Month July 2003 - pg. 22 25.
4. Claus P. Schobesberger - Textile Month June 2003 pg. 31 33
5. Vengsarker S.R. & Gupta Vikas Innovation Proceedings, 2nd International Conference of NISTI pg. 42 55
6. Patel Seema Disertation M.Text. Eng., M.S. University, Baroda 2000
7. Jadeja V.S. & Shah Ashish, Testing Systems of Kawabata Evaluation Systems, ATIRA.
8. Peirce F.T. J.T.I. 1937.

---
To read more articles on Textile, Fashion, Apparel, Technology, Retail and General please visit www.fibre2fashion.com/industry-article

To promote your company, product and services via promotional article, follow this link: http://www.fibre2fashion.com/services/featrued-article/featured_article.asp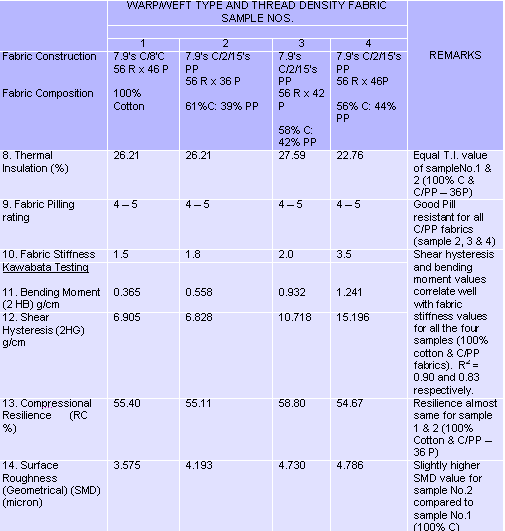 8.0 SUBJECTIVE EVALUATION

All the four fabric samples were put to overall subjective evaluation for certain aesthetic properties of fabrics such as smooth feel, soft touch, cleaner appearance, pleasing to the eye etc. by eight independent observers.

All the observers rated the sample No.2 (Cotton/PP with 36 p.p.i. with least weight) as Best among the four followed by the very close rating of the sample No.1 (100% cotton sample 46 p.p.i.)

9.0. ECONOMICS

In terms of the fabric costing (Table-VI), the Cotton/PP 36 p.p.i, sample No.2 having the lowest specific weight has been found to be costing almost equal price to that of the 100% Cotton-46 p.p.i. sample. The relatively higher yarn price of PP staple yarn seems to have been almost compensated by its lower weft input cost and the higher weaving production rate, without the fabric cover being sacrificed.

With the increase in PP pick density in sample Nos.3 and 4, however, the fabric price showed an upward trend.

2.0.1. PP use and applications
2.0.1.1 Filaments
The world PP filament yarn market comprises of

(1) Textile Yarn
(2) Industrial Yarn
(3) Yarn for carpet application

PP filament yarns predominantly used in carpet applications at present show new market niches for textile applications. These demands are for upholstery, sportswear, home and functional textiles. Increasing world wide consumption of PP filament yarns are also seen in knitted stockings and socks.

PP industrial yarn applications also recently show increased usage of High tenacity yarns in ropes, twines, belts and cordages etc.

2.0.1.2 PP Staple fibre
The majority of PP staple fibres are being used in non-wovens particularly in spun bonded and melt blown fabrics, geo textiles, agro textiles, medical and hygiene products etc.

In woven sectors, PP staple fibres are consumed in carpets as floor coverings, filter fabrics, anti microbial fabrics, for hygiene products, fire resistant, PP yarn fabrics and in other technical textiles.

3.0 FOCUS OF PP MARKET GROWTH

PP is used primarily in economies with high per capita GDP Western Europe, North America and Japan are key consumers and a significant part of the association derives from the non-wovens and carpet linkage of PP sectors most closely associated with high income economies [3]. The following fig. illustrates the world PP market (including slit films) in various segments for the year 2002 and expected growth in the year 2010 (Fig.II).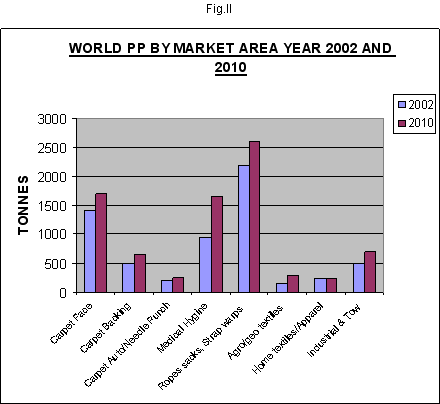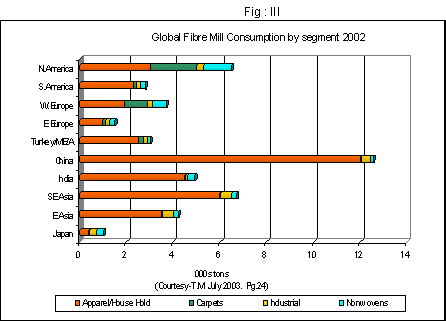 A notable feature of PP, however, is that, its range of market penetration has been greatly assisted by its relatively low cost. Since 2002 inspired by over capacity in the polyester market, world wide investments by conversion of polyester lines to PP manufacturing has also risen to an all time high. Even in existing PP end uses new challenges are emerging and when examining the cost base of the major synthetic fibres, particularly in Asia Pacific, in reality, PP, the cheap polymer has enjoyed a little more than 5% cost advantage over Polyester.

As is evident from fig.III which illustrates the global fibre mill consumption (2002) in major market segments, the main focus of fibre growth will remain Apparel Sector which of course, is not the traditional market for Polypropylene. The fig. IV [3] which indicates the polymer to yarn differentials for a range of textile products clearly shows that PP fails to add value to its polymer cost base as effectively as do the Polyesters or Nylon sectors.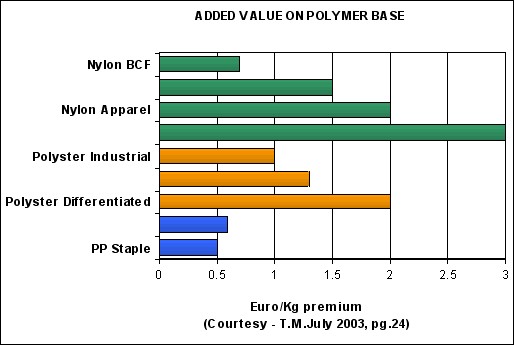 End use applications, it needs to be examined in far more detail the attributes that it can bring to textile differentiation whether as 100% PP or in combination with other yarn types as blends.

4.0 PP FOR APPAREL DEVELOPMENT INDIAN CONTEXT

At present, globally PP has some modest representation in socks, thermal underwear and sports apparel, but very little presence in the mainstream garment sectors [3]. The restrictions appear to relate to certain physical and chemical properties of PP fibre which had been the limiting factors for its use in apparel development. For example, PP has a low melting point and, besides this property, PP has all the advantages and uniqueness in properties such as its low specific weight, chemical inertness, hydrophobicity, insulating ability, UV stability, colour fastness, recyclabity and finally price, to have its competitive advantage over other synthetic fibres such as Polyester, Nylons and Acrylics.

The technical fibre data [4] of a typical PP fibre developed by Asota GmbH, Austria is given in the following table (Table II), alongwith the PP Staple fibre properties produced at M/s. Zenith Fibres, India.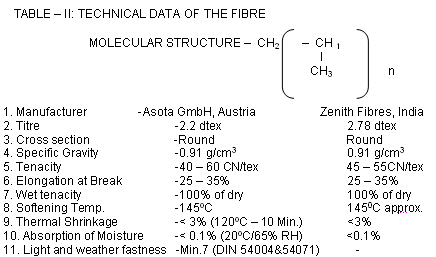 5.0 PP FIBRE PRODUCTION AND USAGE IN INDIA

In India PP fibre and filament production still, is in a state of infancy. On an average around 20,000 tons per annum of filament yarn and much less staple fibres are produced by few Indian manufacturers. In terms of usage of PP fabrics in our country, PP geo textiles have received serious attention in the infrastructural development industry. Moreover, good usage to PP fibre have been well established in (a) woven filter fabrics for chemical filtration (b) filtration cartridges for drinking water (c) manufacturing of asbestos sheets/pipes (d) the construction industry (e) manufacture of low cement castable refractory (f) use of antimicrobial PP fibres for hygienic application (g) fire resistant PP grade in non-woven carpet applications etc [5].

PP fabrics woven out of staple fibre yarns in our country, have also been put to use as back grey fabrics during fabric printing and also as leader fabrics on Jigger dyeing machines.

Since, usage of PP fabrics mentioned above, mostly relates to fabrics in industrial and technical textiles sector and apparel applications seem to be too limited, the scope of the present paper envisaged to use PP staple fibre yarn in certain woven apparel denim fabric applications.

6.0 EXPERIMENTAL

Thus, in order to develop certain innovative woven products in Polypropylene (PP) fibre for apparel sector experimental trials were planned initially in Denim fabrics to use PP staple fibre yarn as weft in conjunction with a 100% cotton Indigo warp, and compare the overall performance as well as the aesthetic characteristics of such cotton/PP fabrics with 100% cotton denims of almost equal weight and fabric cover range. In view of the low fibre density of the PP fibre and hence of higher yarn volume as compared to a cotton yarn of equivalent count three (3 Nos.) experimental cotton warp/PP weft fabrics were designed to be woven with a common indigo warp sheet, at three levels of reducing picks density (p.p.i) in relation to a 100% cotton warp/weft fabric of almost equal fabric cover, which were to form the fourth experimental fabric sample.

In this regard, advantages of lighter weight of PP fabrics could be taken of against a 100% cotton fabric of equal cover. Hence, besides certain unique properties of PP fabrics such as higher tensile and tearing strength, higher abrasion resistance for durability, better thermal insulating ability, higher wickability for better moisture management, non-pilling property etc., the relatively lower cost of lighter weight cotton/PP weft (with reduced picks) fabrics in similar fabric cover could be fairly exploited to market advantage against that of a 100% cotton fabric.

In order to know exactly, the extent of increase in diameter of 100% PP yarns as compared to the 100% Cotton Yarns, (because of the lower density and higher volume of the PP of equivalent count) diameter measurements of 8s OE yarn to be used as weft in experimental fabrics along with that of a 8s PP yarn sample were undertaken, on a Projectina Microscope.

In addition, similarly the diameter of 2/15s PP weft that was to be used as weft in the experiment was also measured.
All the yarn diameter measurement results are shown in the Table III:

The difference in the yarn diameter values observed between the yarns of 100% PP and 100% Cotton of equivalent count i.e. 8s Ne, showed the PP yarn to be having 25% more diameter than the equivalent 8s Ne 100% cotton yarn. This indicated that the PP fabrics would have 25% higher fabric cover than that of a 100% Cotton yarn fabric or in other words while using as weft, at least 20% (1 1/1.25) less threads of PP could be inserted as compared to a Cotton fabric of equal cover. Thus PP yarn would have the advantage of around 20% lighter weight fabrics, hence would be more economical as compared to a similar cover 100% cotton fabric.

6.0.1 Yarn and Fabric Detail

The details of yarn and fabric parameters used in the four fabric samples as per the experimental plan are as shown in the following table (Table IV).

For the above experimental trial, a common indigo warp of 100% cotton was chosen; the warp sheet, consisted of two yarns one of 6.4 Ur Ne (uneven ring) mixed with another 9s regular yarn in 1 : 2 ratio, to arrive at an average count of warp yarn of 7.9s Ne .

Weft yarn used for the fabric sample No.1 was 100% cotton 8s Ne OE Yarn and for the remaining three samples i.e. No.2, 3 and 4, 2/15s Ne Polypropylene yarn was used at three different pick levels.

Thus, in the experimental plan (Table IV), one of the three samples with 2/15s PP weft (Sample No.2) was chosen to have 10 picks reduction as compared to the controlled 100% cotton fabric (sample No.1) with 46 picks per inch, thus aiming to reduce the weight of high volume PP weft by around 20 25%.

Out of the other two samples with PP weft one fabric (sample No.3) contained 42 picks per inch i.e. 4 picks less and in the other (sample No.4) no picks were reduced and same 46 picks per inch was kept to match the weight of the 100% cotton controlled fabric (sample No.1)

Weft yarn test results of 100% cotton 8s Ne O.E. yarn and 2/15s PP yarn are tabulated In Table V.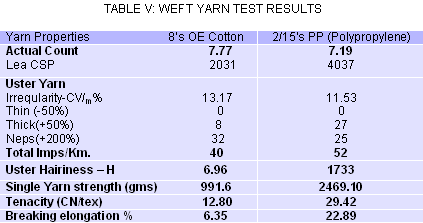 PROCESSING

All the four fabric samples outlined in the experimental plan after weaving, were processed in the following process route.

6.0.2 Fabric Testing

All the four finished sample fabrics were tested for thread count, fabric weight, fabric thickness, tensile strength, tearing strength and abrasion resistance (No. of cycles) by standard ASTM methods and test designations using standard test instruments.

Subsequently warp and weft cover factor, fabric density (thickness & weight) and fabric bulk (thickness/weight) were also calculated for all the fabric samples from their respective test parameter results.
For evaluating the comfort properties, all the four fabric samples were tested for (a) Air permeability (b) Fabric Pilling (c) Vertical Wicking (d) Thermal insulation and (e) Fabric stiffness using, also standard test methods and instruments.

Further, some other mechanical properties of fabrics such as (a) Bending Moment (b) Shear Hysteresis (c) Compressional resilience and (d) Surface friction properties were also tested through respective Kawabata instrument modules, in order to correlate these fabric properties with the fabric hand through subjective evaluation [6] [7].

6.0.3 Fabric Costing

In order to arrive at the economics of using PP Weft in the experimental fabrics, all the four fabric samples were costed for selling price at various levels of contribution (Table VI).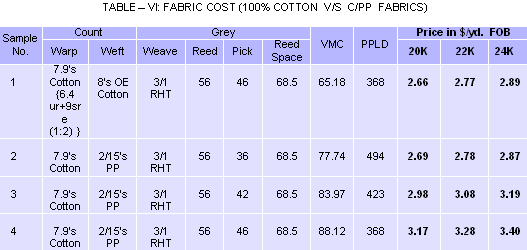 VMC Variable Manufacturing Cost. PPLD Production per loom day

7.0 RESULTS AND DISCUSSION

7.0.1 Equivalent Cotton Cover Factor (Yarn and Fabric)

From the finished fabric test results of thread counts, the warp and weft cover factor of all the four samples were calculated and shown in the following table (Table-VII)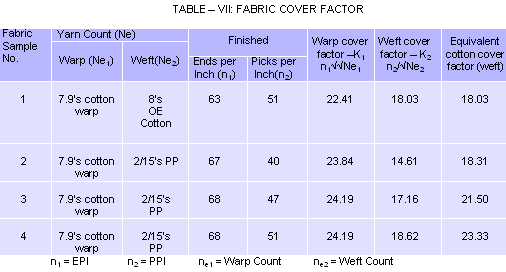 Since the calculation of the yarn cover factor (C.F = n/ N where n = no. of threads/inch and N = count of yarn respectively) is based on the Pierces assumption of cotton yarn Sp. vol. of 1.1, the weft cover factors of Cotton/PP fabrics (samples 2,3, and 4) needs to be corrected with respect to PP yarn diameter [8]. Therefore the weft cover factor for samples 2,3 and 4 were corrected from the yarn diameter difference results 8s PP and 8s cotton yarn (25.3%) i.e. a factor of 1.253 was multiplied with the weft cover factor values of samples 2,3 and 4 to get equivalent Cotton cover factor for these samples.

7.0.2 Results of Fabric properties

Results of fabric performance and durable properties and fabric comfort and aesthetic properties for all the four samples have been shown in Table VIII and Table IX respectively.

7.0.2.1 Performance and Durable Properties (Table C VIII)

a) Performance and Durability properties of Cotton/PP union denim fabric samples in general have shown higher mean tensile strength, tear strength and abrasion resistance (around 2 C 3 times tensile strength, 3 times tearing strength and 1.5 times abrasion resistance) than that of the 100% controlled cotton denim fabric.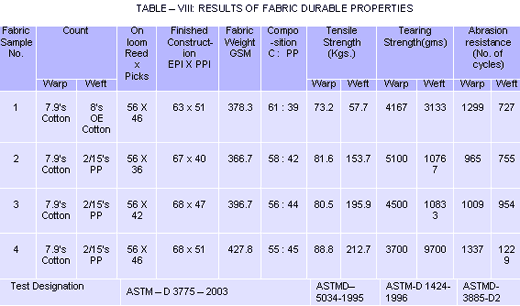 7.0.1.2 Comfort and Aesthetic Properties (Table C lX)

a) Low Specific Weight:
Yarn diameter studies of 100% Cotton and 100% PP yarns both of 8s Ne Count, showed PP yarn to be 25% more voluminous thereby allowing around 20% reduced picks (10 p.p.i. less) in the Cotton/PP sample No.2 which was found to have almost the same equivalent weft cover with relatively low specific weight of the fabric than the 100% Cotton fabric (sample No.1).

b) Moisture Management:
The related moisture management properties of fabrics such as Air permeability and wickability has been found to be significantly higher for all Cotton/PP weft fabrics (sample No.2, 3 and 4) against the 100% cotton fabric sample No.1.

c) Fabric Bulk and Thermal Insulation:
As compared 100% Cotton fabrics, the three Cotton/PP fabrics showed higher thickness, and in sample No.2, the least weight fabric has shown to have the highest fabric bulk equated as thickness to weight ratio. The thermal insulating ability of this least weight high bulk fabric has been found to be same as that of the 100% Cotton fabric (Sample No.1).

d) Fabric Pilling:
Fabric Pilling rating for all C/PP fabrics (Samples Nos. 2,3, and 4) were found to be having excellent pill resistant properties (Rating 4 5) as that of 100% Cotton (Sample No.1).

e) Fabric Stiffness:
As compared to the sample No.1 (100% Cotton fabric), all the three Cotton/PP fabrics (Samples 2, 3 and 4) showed higher stiffness and the stiffness increased with the increase in Polypropylene picks, thereby signifying the stiffer nature of PP fibres. Thus the sample No.2 with lowest PP picks has the relatively lower stiffness and closer to that of 100% Cotton fabric sample No.1.

f) Kawabata Testing:
With Kawabata testing of fabric comfort properties such as Shear hysteresis, Bending moment and Geometrical surface roughness, the results of all the four samples (one 100% Cotton and three Cotton/PP samples) correlated well with their respective fabric stiffness values.