After its accession to WTO in 2002, China garments and cloth exports to UK, US and EU markets increased enormously reaching US$78.8 billion in 2003, which represents about 18 percent of China total garment export. In the first half of the 2004, the Chinese total textiles growth stood at US$25.96 billion increasing 21 percent. The main markets for these exports are UK, US, South Korea and EU countries. Other than UK, China is also overtaking US market. For example, in 2005 China clothing jumped by 245 percent in Seattle alone.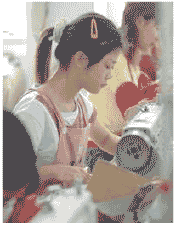 Today China accounts for about 17 percent of the global textiles sales, which according to expert can rise up to 50 percent if measures are not taken against it. It is true that Chinese garment industry style and design may not par with EU countries, however the Chinese share is predicted to rise in US by 50 percent from 16 percent, while in EU it will reach 18 percent from 11 percent. In 2003 to meet the growing demand China imported 870,000 tons of cotton worth US$1.169 billion.

There has been an obsession in China with big brands; such as Giordano, Nike, and Reebok, including the clothes with Disney cartoon characters. The reason for this change is the continuous democratic movement and the rising influence of the Western culture. A lot of Chinese students went overseas; on way back they brought back the Western knowledge technology and culture in the shape of western style dressing. In the late 1980s and early 1990s, China became more exposed to Western elements, such as pop culture, pubs and American Cinema. The youngsters learned new ideas from the Western movies forming new relation and imitating heroes and heroines, wearing trousers and shirts and checked shirts.

As a result there has been a phenomenal increase in garment industry; for example there are about 45000 garment companies in China, out which Shanghai alone has 7000 companies with 1000 famous local brands in Mainland China, while 100 brands are exported from international markets .In 2004 China exported more than US$50 billion worth of garment, which made it the world largest exporter, yet Chinese industries are growing up with a rate of 15 percent annually for past ten years. It is estimated that China will be controlling 50 percent of garment market in the next 10 years. This huge success is not solely based on cheap labour; there are countries, such as Vietnam and Bangladesh where garments manufacturing are much cheaper, but China's main advantage is its fast response to the changing business needs and its keen attitude towards business and understanding the customer demand.

The garment industry is Hong Kong one of the few strong remaining sector with a gross output of US$4.6 billion, which makes Hong Kong one of the biggest clothing center. Hong Kong apparel market was worth US$1.4 billion in 2001. The Hong Kong people compared to Mainland Chinese are trendier and style conscious, especially casual wear and everyday use garments follow the European style. As a result the local markets in China are looking to increasing US supplies. The locally made brands such as Gap, Banana republic and Mango are setting their stores but facing pressure from the imported brands. A few local brands include Lai Sun Garments, Trinity Textiles, Smart Shirts, Giordano, Tal Apparel, Fang Brothers Knitting, Unimix, Peninsula Knitters, Esquel Enterprises, Yangtzekiang Garments, Crystal Knitters, Goldlion and Winner Co Garments.

During the last two decades, the British industry went through relocation, bankruptcies, and labour cost saving and enormous job loss. The total job in the textile sector has been about 218, 00. Other than this the number of home workers, small workshops and networks number is yet to be counted. Unfortunately these small businesses were run by minorities such as Asians who are poor, added job losses has increased their misery and in some case even if they are working, they are under constant far of jobless.
Marks and Spencer a traditional British brand also sought to find manufactures in Mediterranean and Asia and they now have factories in many developing countries ranging from Tunisia to Turkey and China for two main reason; low cost budget clothes to compete with imported Chinese material, and cheap labour which creates greater profitability. By 2002, 70 percent of their production will be manufactured overseas. Since 1986, British import has been enormously increased from China, Hong Kong (China and Hong Kong are linked economies) and also added import from Turkey and India.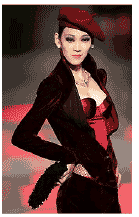 Globalization is exerting pressure on all countries; sometimes even between the different regions with in the same country. Countries loose competitive advantage not due to only cheap labour. Often workers in China are pushed for longer hours without any benefits, while the investors are subsided in many ways by the respective governments, such as tax holidays, surcharge exemption, ready made facilities, subsided buildings, cheap land and power, all these factors contribute to lure the investors to go overseas. At present many countries including China are following such kind of practices in an attempt to supersede each other, which will have ruinous impact on the economies of these countries in the long run.

It is not all evil associated with China, for example in 2003 China imported 870,000 tons of cotton, worth US$1.169 billion, which also boosted the demand of cotton in the US. China is technically still far behind in certain technologies; the industrialized countries like UK, Japan and US can cash in on this area in the coming decades. As China moves ahead and gears up for phase II, it will need to invest more money in machinery and skill development; it will also need help from developed countries; such as UK, US and Japan. One on side the developed countries will gain from selling the technical machinery and on the other; the copyright and intellectual property rights will also generate revenue for these countries. This extra cost will increase the price of Chinese products making their product better in quality, but also raising manufacturing cost, which will create a favorable situation for industrialized countries in future.