Clothing is always subject to change based on changes in fashion. Fashion is now developing with a richness of creativity that was unidentified previously. The world of fashion looks constantly for a change with an inspiration of the past. The latest trends will be a modern interpretation of the past. Mostly fashion trends stay for a year. After the tide of electric and metallic colors in womens wardrobes during the previous year, the changing trends for spring 2008 move towards softer sections of the color segment. Light and cloudy colors dominate the fashion world this year by making their way into this seasons favorite garments.
Womens Wardrobe:
Sheer Fabrics:
Spring colors are always accompanied with a nautical theme. The colorful palette of this spring will contain transparent, semi-transparent, flimsy, and delicate fabrics in a wide assortment of soft colors of yellow, ivory, green pink and red. Silky, delicate fabrics in pale pastel colors, pleated and draped in ethereal forms will become trendy. Fluid skirts with layers of transparent fabric will look appealing for an evening wear. Feminine dresses like tops and skirts with panels, sleeves, ruffles, etc will find their way into the market this season. Flowing skirts with ruffles in butter cream yellow reminding of the frosting on magnolia cupcakes will be in demand this season. Gowns in buff, beige, adorned with ruffles will elongate the fashion savvy womans silhouette and emerge as a trendy evening wear.

Mini skirts were in vogue for the previous year. On the contrary, maxi will be in fashion for this year. The secret of looking good in a maxi is to select the right type of cut that would enhance the feature of a woman. Flowing skirts are apt for taller women, while shorter women should avoid big flowing skirts as it would make them look still shorter. High heels with a tight fitting waist coat will highlight the long skirt and present a look that is both feminine and glamorous.
Top Five Fashion Trends: Fortune magazine has picked up the top five fashion trends for 2008:
1) Sneakers: Looking cool and casual.
2) See through clothing: Sheer fabric garments.
3) Industrial Fabrics: That are odor resistant, maintain shape etc.
4) Scarf: That gives a warm and classy look.
5) Local boutique: A place to drink coffee, listen to music, read books etc.
Scarf Print and Tie-dye tops:
Tie-dye clothes have resurfaced again in fashion. A tie-dye garment will boost energy to every womans wardrobe. The designs available on the tops are paisley, animal prints, repeating geometrics, dots, etc, and match well with denim.
Going with the Trend:
While going with the fashion trend is in focus, care should also be taken to exhibit the attire in the right way. Sheer fabrics should be worn over camisoles or under jackets or vests so that they do not reveal transparency. See-through skirts and dresses should be worn over opaque inner garments like slips, skirts or shorts. Glowing skin, smoky eyes and soft looking lips decked by a nude gloss will enhance the appearance of apparels in washed out colors.
Mens Wardrobe:
Mens fashion does not change as often as womens. Pink can give the toughest lad, a gentleman look and will be the hot color for men during this spring. Muted orange combined with the soft colors of pink are hitting the runways of Paris and Milan. Classic colors of caramel and olive take an inevitable part in the collection of trousers and shorts. Black and silver-gray ensemble heavily while white will continue to dominate the scene.

Sheer fabric as like womens fashion, will rule the mens segment as well. Sheer shirts in hues of mauve, and blue along with loose fitting and wide legged pants exemplify a typical spring trend. Leather jackets with many zipped features are showcased by leading designers. Cardigan sweaters will be most sought after. Plaid attires have hit the runaways as well.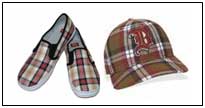 Spring time Accessories: Plaid pattern accessories of belt, shoes, and bow ties will be the spring time trend. School satchel leather bags in burgundy, black, and green and Bottega Venetta leather bags in white will be the novel accessories for a fashion savvy man.
A good apparel makes a person look stylish and confident. The clothes a person wears will accentuate the real person in them and right clothes for the occasion will induce their confidence. These intimate shades of spring would create a dreamy mood where colors speak with the impact of accurately tailored and right fitting attire displaying an intricate, rich and classical elegance.
References:
To read more articles on Textile, Industry, Technical Textile, Dyes & Chemicals, Machinery, Fashion, Apparel, Technology, Retail, Leather, Footwear & Jewellery, Software and General please visit http://articles.fibre2fashion.com

To promote your company, product and services via promotional article, follow this link: http://www.fibre2fashion.com/services/article-writing-service/content-promotion-services.asp