The Beijing Silk Street Co., a Beijing clothing market that owns Chinas Silk Street Market, has now come up with its own brand of products, silk scarves, shirts, ties, teacups and other products in the name "Silk Street". The new Silk Street brand shirts will be priced for 180 Yuan. This brand is introduced, focused on the profits from the foreign visitors for the Olympics. The markets manager has issued a warning that, if any one tries to sell fake Silk street goods, legal action would be taken against them. The irony of this declaration is that this market itself is infamous for selling fake products.
The 'Silk Street Market':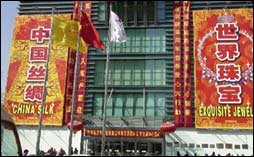 The Silk Street Co. owns a multistory building called "Silk Street Market" consisting of hundreds of clothing stores. It is also known as "Xiushui Market". As the name speaks initially, the market was dealing with silk clothes and traditional products. Later, it became famous for selling fake designer brands. Many of the stores in this building deal in selling Burberry and Ralph Lauren fakes. Started in 1985 near luxury hotels, this market is described by the foreign tourists as the third best-known tourist destination in Beijing. The market owner tries to defend the allegation of selling fake products by stating that fake brand garments are specially 'customized' according the individual customers preference and is not available for sale generally.
Law suits against the Market:
In 2006, September a law suit was filed against Silk Street market for selling fake products by five popular, international luxury brands namely, Burberry, Chanel, Gucci, Louis Vuitton and Prada. Six big boxes with fake garments and handbags bearing international logos were brought to the court as proof from various stalls of this market. They won 10,000 Yuan ($1,387 USD) as compensation from Silk Street market. This law suit has the credit of being the first law suit ever settled in China with such a settlement, since such type of legal actions are seldom enforced in China. Following this, some global sports wear and fashion brands signed an agreement with Beijings retail markets in June 2006, stating not to sell counterfeit bags and clothing. French brand Lacoste has also filed a law suit against this market and is awaiting the verdict. Despite this, many stores in this market continue to sell fake products.
The manager Mr. Wang states that he wishes popular U.S. brands like North Face to open stores in Silk Street. North Face recently won a lawsuit with a hefty compensation of 40,000 Yuan ($5,300 USD) against their market for infringement. He further states that global brands hesitate to open stalls there fearing their brand name will be ruined if associated with the market. The new Silk Street brand is expected to brew a new pride to the market and might possibly bring original global branded products in their stalls. Wang says that the management has come up with new strategies to eliminate counterfeit goods like offering 20 percent discount for stalls that do not sell fake products. The market administration believes that establishing a brand name would be essential to protect intellectual property rights.
References:
1) http://www.manufacturing.net/
2) http://www.businessweek.com
4) http://www.chinadaily.com.cn/
To read more articles on Textile, Industry, Technical Textile, Dyes & Chemicals, Machinery, Fashion, Apparel, Technology, Retail, Leather, Footwear & Jewellery, Software and General please visit http://articles.fibre2fashion.com
To promote your company, product and services via promotional article, follow this link: http://www.fibre2fashion.com/services/article-writing-service/content-promotion-services.asp