Introduction
Quality means customer needs is to be satisfied. Failure to maintain an adequate quality standard can therefore be unsuccessful. But maintaining an adequate standard of quality also costs effort. From the first investigation to find out what the potential customer for a new product really wants, through the processes of design, specification, controlled manufacture and sale.


There are a number of factors on which quality fitness of garment industry is based such as - performance, reliability, durability, visual and perceived quality of the garment. Quality needs to be defined in terms of a particular framework of cost.
Quality Control
Quality is of prime importance in any aspect of business. Customers demand and expect value for money. As producers of apparel there must be a constant endeavor to produce work of good quality.
"The systems required for programming and coordinating the efforts of the various groups in an organization to maintain the requisite quality". As such Quality Control is seen as the agent of Quality Assurance or Total Quality Control.
In the garment industry quality control is practiced right from the initial stage of sourcing raw materials to the stage of final finished garment. For textile and apparel industry product quality is calculated in terms of quality and standard of fibres, yarns, fabric construction, colour fastness, surface designs and the final finished garment products. However quality expectations for export are related to the type of customer segments and the retail outlets.
Quality control and standards are one of the most important aspects of the content of any job and therefore a major factor in training.
Total Quality Control
"To ensure that the requisite quality of product is achieved". This ensures customer satisfaction, but it leaves quality control as a necessary but expensive evil.
To ensure, at minimum practicable cost, that the requisite quality of product is being achieved at every stage of manufacture from raw materials to boxed stock
Objectives
To maximize the production of goods within the specified tolerances correctly the first time.

To achieve a satisfactory design of the fabric or garment in relation to the level of choice in design, styles, colours, suitability of components and fitness of product for the market.
Approach
Itemize the variables that occur in fabric and garment production in order to provide a complete specification.

Develop a specification in a number of parts or sections to ensure that all design and production staff has a clear idea as to what is needed.

Establish acceptable working tolerances in relation to all values on the specification.

Establish fault rate recording systems.

Improve technical understanding of the product including,

Fabric geometry and the interrelationship of yarn count, loop length, pick count, relaxation and fabric properties.

Sewing problems.

Causes and prevention of seam breakdown.

The effects of various factors on the apparent shade of goods affecting shade matching.
Quality Control Function of Textile Materials
1. Test Properties of Yarn
a) If routine checks are carried out on yarn choose a delivery of average Tex (count, denier).
b) If incoming yarn is not checked then check the Tex (count, denier) of the delivery intended for samples and only use if it is within acceptable limits.
c) Carry out other appropriate tests on yarn e.g. crimp nylon-Crimp Rigidity test. Knit a small sample and check that dye is fast to light, washing and perspiration etc.
d) Record details of yarn type, supplier, Tex (denier, count) etc. and pass information to knitting room.
2. Knitting Specification
a) Record all details required to produce the fabric or garment blanks including chain set out, stitch length and any instrument measurements.
b) Record all details of making the trimmings.
c) Note any difficulties encountered e.g. stitch pattern causing occasional drop stitches. Pass information to making-up room.
3. Making-up Specification
a) Record all details of making-up, including the type and count of the sewing thread, and the order of seaming the parts.
b) Note any difficulties encountered e.g. difficult operation to attach collar.
4. Test for Physical Properties of Garments
a) Record the dimensions of the garment as soon as it is completed.
b) For a fibre of high moisture regain find the weight in correct condition.
c) Wash garment and recheck the measurements.
5. Liaison of Quality Control with Cost Department
a) On completion, supply cost department with all information.
b) For the correct Tex (count, denier) of yarn, costing may be made directly on sample. For a count which is above or below the average (although within an acceptable tolerance) make an appropriate adjustment to yarn costs and weight.
c) Make an allowance for any anticipated extra difficulties, or a higher than normal rate of seconds.
6. Subsequent Alteration
a) Make any necessary alterations required by firm or by buyers.
b) Record changes at each stage.
Analysis of Results of Quality Control Checks
We have to analyse the obtained results to fix the appropriate quality. To get that assurance we must compare
a) Present results with earlier ones in the one set of results.
b) Different materials on same machines with the same operatives.
c) Different machines using same materials with same operatives.
d) Different operatives using same type of machine and same materials.
e) Results with outside sources to confirm or modify standards.
Quality Control in the Design and Development Department
The following rules should followed by the Design and Development Department to control the quality of the product.
If disorganization in sampling is to be avoided guideline procedure must be established beforehand.

Modifications to the development sample must be noted for inclusion in the final specification.

A handle sample (sealed if necessary) must be established as well as a working sample.

A proper flow diagram must be established with appropriate time factors, and all personnel concerned informed of the duty and timing of their part.
Q.C. can be involved in development at an earlier stage by sampling new yarns. In combination with wearer trials and laboratory tests, assessments of seasonal and other goods can be made.
Quality System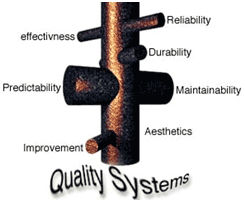 To achieve the overall objective we shall need to establish, document and maintain a system capable of ensuring that products conform in total to standards, specifications and sealed samples. This will be required at every stage of manufacture. Records must be maintained to give objective evidence that the specified requirements. There are a number of factors on which quality fitness of garment industry is based such as - performance, reliability, durability, visual and perceived quality of the garment. Quality needs to be defined in terms of a particular framework of cost.
Review of the Quality System
To be effective the system requires planned periodic review by Senior Management to ensure its effectiveness is maintained. This will entail internal audits, which must be positive and not conducted solely as a matter of expediency resulting from a quality problem.
By a Quality Standard we mean the establishment of the threshold at which level of severity a defect becomes unacceptable, i.e. a fault. It is the equivalent of tolerances applicable to measurable factors.
Quality Standards like AATCC, ASTM, BS, DIN, JIS and ISO must be recognized and agreed by all levels of Management. In the absence of such agreement the operative does not know what is expected of him or her, becomes frustrated, and leaves, with the ensuing needlessly high labour-turnover and training costs of new labour.
Quality Related Problems in Garment Manufacturing
Sewing defects

Colour effects

Sizing defects

G

arment defects
Sewing defects - Like open seams, wrong stitching techniques used, same colour garment, but usage of different colour threads on the garment, miss out of stitches in between, creasing of the garment, erroneous thread tension and raw edges are some sewing defects that could occur so should be taken care of.
Colour effects - Colour defects that could occur are - difference of the colour of final produced garment to the sample shown, accessories used are of wrong colour combination and mismatching of dye amongst the pieces.
Sizing defects - Wrong gradation of sizes, difference in measurement of a garment part from other, for example- sleeves of 'XL' size but body of 'L' size. Such defects do not occur has to be seen too.
Garment defects - During manufacturing process defects could occur like - faulty zippers, irregular hemming, loose buttons, raw edges, improper button holes, uneven parts, inappropriate trimming, and difference in fabric colours.
Fault Analysis Card or Chart
Once the faults have been collected they should be written down and recorded on a fault analysis card or chart. These are also known as FACERAP cards.
FACERAP is a mnemonic for Fault, Appearance, Cause, Effect, Responsibility, Action, And Prevention.
The information is recorded under the following headings to facilitate teaching: -
Fault - Correct name/agreed name. So that trainees can report to the Instructor/Supervisor/Mechanics).
Appearance - Clear description or an example attached. Trainee cannot take remedial action unless he can recognize the appearance or feel of the fault.
Cause - All the main causes, for example: - faulty cutting, incorrect machine setting, machine breakdown, mistake by operative or previous operatives.
Effect - Result of the fault, cost of the fault, and weak edges for example: - likely to break away, scrapped or seconds, loss of incentive pay.
Responsibility - Which defects are trainees' own fault and which are the responsibility of others. Do not encourage the passing of blame, similarly, do not blame unfairly.
Action - What action is to be carried out on discovery of the fault, for example: -
Reject, unpick and re-sew, report to Instructor/Supervisor/Mechanic.
Prevention - Any action which can or should be taken to avoid a recurrence of the fault should be recorded, for example: - check tensions and stitches on every third garment. Ensure edges match before sewing, etc.
Fault Analysis Card
FAULT

APPEARANCE

CAUSE

EFFECT

RESPONSIBILITY

ACTION

PREVENTION

Split

Stitch on

Linking

Half stitch or part

Of stitch

Failure to place whole stitch on point

Weak part in seam which under pressure will break away

Operative

Remove fabric from points and run on

Check each stitch is on a constructive point when fabric is run on



Summary
Good quality products or processes can only be produced by the operatives. They cannot produce quality without being fully aware of what exactly is required. Responsibility for the production of good quality lies with, and is in the hands of, the person teaching the job, primarily by good communication, by making the newcomer aware of specifications and tolerances, faults themselves, their effect and the appropriate action to take.
Such communication or training if properly planned and executed will greatly assist in minimizing the cost of poor quality. Only in this way will quality be controlled, costs remain at an acceptable level and customers be satisfied.
All the factors to be investigated must be covered in the one trial. Extensions after the initial investigation and using the same samples do not provide reliable results.
So, at last we conclude that Quality is ultimately a question of customer satisfaction. The perceived quality of a garment is the result of a number of aspects, which together help achieve the desired level of satisfaction for the customer. Therefore quality control in terms of garment, pre-sales service, posts -sales service, delivery, pricing, etc are essentials for any garment exporter the global requirement, by giving excellent quality, quantity and new styles and varieties of garments with no time by using this development. To full these requirements making use of the emerging technology and well trained worker to give best output and complete planning before the production for what? How? When? To whom? Can give the best result for the company and the countries income and profit.
To read more articles on Textile, Industry, Technical Textile, Dyes & Chemicals, Machinery, Fashion, Apparel, Technology, Retail, Leather, Footwear & Jewellery, Software and General please visit http://articles.fibre2fashion.com

To promote your company, product and services via promotional article, follow this link: http://www.fibre2fashion.com/services/article-writing-service/content-promotion-services.asp