Dr. Subrata Das
Manager - Consumer Testing Services (Laboratory)
SGS India Private Limited, Bangalore - India
E-mail: drsubratadas2000@gmail.com
1. Introduction

RMG contributes 76% of total exports in Bangladesh. Major products of apparels include knit and woven shirts, blouses, trousers, skirts, shorts, jackets, sweaters, sports wears and many more casual and fashion items. The sector currently employs approximately 1.5 million workers, mostly females from underprivileged social classes (1).

Clothing, being the largest industrial sector, has been experiencing phenomenal growth for last 10 years as depicted in the Table 1.

This is largely due to the simple level of technology needed by the industry. Moreover, relatively inexpensive and easily available machineries, requirement of smaller premises, abundant supply of cheaper work force, low tariffs on imported machineries and, most significantly, benefits of reserved markets by MFA quota have spurred the growth of the garment industry.

At present the country exports nearly 5 billion US$ per year to around 90 countries in the world which include USA, Canada, Germany, UK, France, Italy, Netherlands, Spain and Belgium. In fact, Bangladesh is the 6th largest supplier of apparels in the US market (2).

In order to export readymade garments, it is now almost mandatory for the exporters to disclose the quality parameters towards acceptance of the product as per the intended end use as decided by the Worlds leading brands. Knowledge in regulations pertaining to the area of flammability, care label and fiber products identification act are very important for export oriented garment trade, which is not only to satisfy the requirement of U.S. Federal Trade regulation but also to safeguard the interest of consumers. Performance evaluation of the garments is essential prior to shipment with a view to meet the specific requirement standards of the buyers. Working environment, wherein the garments are to be produced, is equally important to protect human rights and the code of conduct derives the basic objectives of social compliance issues. Thus, Bangladesh has a stiff challenge ahead to meet the demand of world market.

The author during his pioneering work of setting up of an international laboratory i.e. MTL(now known as Bureau Veritas Consumer Product Services) inside the export processing zone in Dhaka, Bangladesh, had extensively glanced through the garment sector and in this paper he has made an attempt to highlight some of the essential international performance standards applicable to the export of RMG and the present quality status of export oriented apparels of Bangladesh. The code of conduct applicable to the workplace with particular reference to the creation of a better working environment in the apparel sector of Bangladesh has also been discussed by the author based on his practical experience in the social accountability.

2. Performance Standard:
2.1 Flammability :

In accordance with code of Federal Regulation, Title 16 CFR Part 1610 regulates flammability of general clothing textiles. This standard measures the speed and intensity of flame and ease of ignition. All items of wearing apparel must meet the criteria of Class 1, Normal Flammability. Fabrics classified as Class 2, intermediate flammability, although legal, are not acceptable for sale. Those that are Class 3, rapid and intense burning, can not be legally sold in the United States or imported into the United States from abroad.

Childrens sleepwear is covered under and must meet the requirements of 16 CFR Part 1615/1616 which measures fabric flammability by char length of burn. These standards protect children from serious burn injuries if they come in contact with an open flame, such as a match, lighter, or stove burner.

Typical export oriented items of Bangladesh which have been tested to obtain flammability data are tabulated Table 2
.
Table 5. Seam Strength Data
Garment samples were selected randomly for reputed brands of USA. Those samples were drawn from the bulk production by the experienced merchandisers of garment manufacturing units in Bangladesh and submitted for final testing. The Table 2 indicates that all the items are passed under Normal Flammability category with Class I standard. Burn code depicts the nature of burning character of the items. It is corroborated from the test results that flammability character of garments produced in Bangladesh is satisfactory according to the international standard.

2.2 Care labelling of Garments:

Apparels and textiles are soiled during normal use. Economic realities require used items must be cleaned and refurbished for reuse without substantially altering their functional and aesthetic properties. Consumers have the choice to select the correct technique to restore the attributes of the textiles. With a view to assisting consumers in getting information about clothing care, U.S. Federal Trade Commission has promulgated care labeling rule under 16 CFR, Part 423 in 1971 and amended it in 1983.
The purpose of the rule is to give the consumer accurate care information to extend the useful life of garments. Care labels must be permanently attached and remain legible for the life of the garment. Sometimes symbols may be used in conjunction with words but will not by themselves satisfy the requirements.

Though there is relaxation in using only temporary labels for products such as totally reversible clothing without pockets and products that may be washed, bleached, dried, ironed, or drycleaned by the harshest procedures available, but interestingly, no care instruction is needed for some of the cases such as products sold to institutional buyers for commercial use and products which are completely washable and sold at retail for $3 or less.

Care label rule requires that manufacturers and importers of textile wearing apparel have a reasonable basis and reliable evidence in support of care instruction. That is why different verification tests are involved while determining the care label of a garment. For instance, washing, bleaching, drying, ironing, drycleaning are the major processes associated before final recommendation. Symbols that communicate care procedures may be used in addition to words, but the words must fulfill the requirement of the care label rule. Typical example of a popular export oriented garment variety of Bangladesh, such as 100% cotton single jersey T-shirt, is represented below: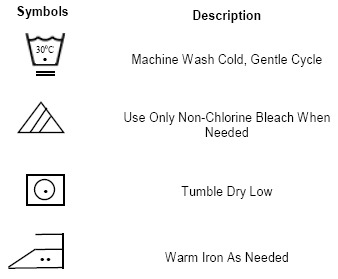 Readymade garments in Bangladesh are investigated for the completeness, accuracy and consistency in care label regulation. Major export oriented apparels evaluated against the standard care instruction are depicted in Table 3.
It has been observed that in majority of cases proposed care instructions by the garment manufacturers are similar to those obtained through product verification. Deviation of care instruction in around 12% cases may be due to the wrong submission of care advice to the nominated laboratories of the brand buyers before final inspection, which had been subsequently revised and correctly proposed during final shipment of the consignment. Bleaching instruction seems to be the important factor affecting the evaluation of care label. In fact, failure in the care instruction in the relevant cases is due to incorrect bleaching advice only.

Sometimes, for exports to USA, multiple care instructions are provided when one style has different colourways. This is also due to the failure of some colours in the bleaching test. Care label recommendations, in this case, depend on colour. And the judgement must be directed to prohibit the use of one standard care label for all colours. In certain exception and mainly due to commercial reason, buyers tend to use a safe care instruction which may be applicable to all colours in the same style. However, such cases are obviously considered as violation of the FTC rules and regulations for care labeling.

2.3 Fiber Products Identification :

The textile Fiber Products Identification Act was passed to protect the public against misbranding and false advertising of textile articles. This act is under the jurisdiction of the Federal Trade Commission.

Under this act, the generic name, and percentage of all fibers in amounts of 5% or more, must be listed in predominance by weight . Fiber trade names may be used in conjunction with generic name, but may not be used exclusively. Fibers present in amounts less than 5% can not be identified by their generic names but should be labeled as Other fibers unless the fibers have functional significance, such as 96% Cotton and 4% Spandex for elasticity. However, Wool fiber that is present in amounts less than 5% should be disclosed under Wool Products Labeling Act.

No tolerance exists for products made wholly of one fiber. In such a case, product should be labeled as100% or All. But there is a  3% tolerance, by weight, for products composed of more than one fiber.

According to this act, different garment products exported from Bangladesh to the leading stores in USA in the month of May2003 were evaluated by using the AATCC 20A, ASTM D 629 and ASTM D 1909. The identified fiber content is presented in the Table 4 along with the proposed label of garment producers. The garments were submitted to a third party for verification before finalization of fiber content label.

It has been found from the above Table that Fiber Products Identification Act was not satisfied in 45% cases due to the improper disclosure of label on the submitted garment samples. Further investigation revealed that exporters did not consider the trimming portion of the garments which includes braiding, collars, embroidery, appliques etc. while preparing the fiber label. In fact, as per the regulation, the statement Exclusive of Decoration should have been included in the label along with the actual fiber content because of the following reasons:

i) Decorative trim or design does not exceed 15% of the surface area of the product

ii) No representation is made about the fiber content of the decorative portion

iii) Difference in fiber content of base fabric with reference to trim.

2.4 Seam Strength:

In garment industry, stitching of different areas of a product is a key character to determine the quality. The efficiency of which depends on strength, elasticity, durability, security and appearance of the constructed seam balanced with the properties of the material to be joined. Seam strength/slippage has been considered as extensively used parameter in the apparel trade for acceptance testing of a product manufactured under a particular international brand.

Seam strength property of randomly selected garment products was evaluated for brand buyers of USA and tabulated in Table 5. The test was carried out at 21C and 65% relative humidity by following ASTM D 1683.

It has been observed from the results that the requirement of the buyers for selected seam points of various garments are fulfilled satisfactorily. In actual cases, all the stress areas of the seam throughout the garments were tested and similar trend was found. This study reveals that the export oriented garments of Bangladesh are acceptable for seam strength properties to the international buyers.
2.5 Colour Fastness to Laundering:

Various export oriented garments of Bangladesh were subjected to accelerated laundering by using AATCC 61, 2A, depending on the care label recommendations.

Colour fastness to laundering for export oriented garments of different brand buyers of USA is depicted in Table 6. Test results of this accelerated evaluation are the simulation of colour change effects of five typical home or commercial launderings. Required level of acceleration has been achieved by purposely increasing certain parameter such as temperature.

It is corroborated from the study that requirements of buyers were not satisfied in only 9% cases, which reflects the suitability of garment items of Bangladesh for international garment arena.

2.6 Colour Fastness to Crocking :

Colour fastness to crocking is regarded as one of the easiest ways to examine the performance of a garment in day to day use. Thus, lot of emphasis has been given by the internationally reputed buyers on this important property.

To assess the quality of RMG of Bangladesh with respect to this property, several cases were studied for reputed buyers of USA market by determining the colour fastness to crocking by using the method AATCC-8.

The results enumerated in Table 7 indicate that colour fastness to crocking for garment products of Bangladesh meets international requirement standards of reputed stores except in one case. As per the requirements of buyers, consumers are to be informed if the result of the crocking is failed at original state and is passed after one wash stage. It is, therefore, mandatory to add the statement Wash before Wearing on the care instruction label in such cases.

2.7 Dimensional Stability to Washing:

Dimensional change of garment after washing and drying is a favourite and essential parameter for consumers to judge the suitability of it for the intended end use. In order to do performance evaluation of export oriented garments of Bangladesh, some products were tested wherein the actual shrinkage and related change in skewness / torque were measured vis--vis acceptable limits of reputed buyers. Dimensional Stability was measured according to AATCC 135 and AATCC 150, and the skewness / torque change was determined by AATCC 179. Results are computed in Table 8.

It has been found that, in around 21% cases, garments could not satisfy the requirement of buyers. In fact, the reported shrinkage is not only affected by original fabric but also factors such as construction of garment, tensions applied in related processes, use of sewing threads and trims are responsible for the drift from the desired bench mark of shrinkage. However, the change in skewness / torque is within the limit of acceptance in the international consumer market.

3. Social Accountability:

It is not only the quality of garments which is important but also the working environment has a major role to play to gain and strengthen consumer confidence and to build-up more reliable relationships with vendors. In order to do so, the reputed and leading market players in the garment trade have imposed compulsion on the related factories to achieve those objectives as a condition of the export contract. Even the exports were either withheld or cancelled elsewhere in the event of non-compliance to such issues.

Code of Conduct (COC)
Social Accountability standards have been developed by the international organizations such as FLA, WRAP, CEPAA, ETI and BSR. Reputed brand buyers in large supply chain have taken the guideline from those organizations and formulated their own standard of COC and also the acceptance criteria.

The basic principles of COC have been derived from the principles of international human rights norms as delineated in International Labour Organization Conventions, the United Nations Convention on the Rights of the Child and the Universal Declaration of Human Rights.
It has nine core areas to be addressed upon. These are as follows:

1. Child labour
2. Forced labour
3. Health and safety
4. Compensation
5. Working hours
6. Discrimination
7. Discipline
8. Free association and collective bargaining
9. Management systems

While following the above criteria is compulsory for satisfying COC, local culture and regulation of Govt. can not be overlooked. For instance, limit of working hours and compensation for extra work may not be the same for all geographical zones in the globe. Minimum basic wage also depends on the economic situation of a particular country in question. The introduction of rights of free association and collective bargaining is guided by the political environment, the maturity level of workforce and above all the basic training of the management of the organization.

Current level of maintenance of compliance with hygiene and safety standards is not adequate in Bangladesh and the reported tragedies like the incidence of fire in the garment industry (4) support the fact to a certain degree. Such accidents seriously tarnish the image of Bangladesh and could cause buyers to turn to countries where tragedies of this type are less likely or are hidden from the international press.

In spite of the promulgation of laws by the Government, the majority of garment workers remain deprived of their legal rights. Laws are there in the papers but its implementation is not always felt while looking at it from the micro level right on the ground. Some of the issues which still remain neglected are:

i) Minimum basic salary, ii) Working hours, iii) Overtime calculation, iv) Off day in a week and v) Yearly increment.

4. Concluding Remarks:

Bangladesh apparel exporters are likely to lose the protected market in the US and EU because of stiff competition from the major players, including China, India, Thailand and Pakistan during the post MFA era, according to the observers in the garments sector in Bangladesh. Once the quota regime passes into history, they feared, major buyers may not use Bangladesh as a source country on the ground that it has a handful of companies which serve the global market of the ready-made garments.

Bangladesh has already been facing tough competition in the US market from the Sub-Saharan and Caribbean countries due to USTDA-2000 (US Trade and Development Act-2000). A total of 72 Sub-Saharan and Caribbean countries have been enjoying this controversial advantage reducing Dhakas competitive edge.

Economists identified high lead time, less productivity comparing to other competing nations despite relatively low wages, poor law and order situation and infrastructure bottleneck as the major impediments for garment industries. In the absence of adequate number of backward linkage industries, duration of producing apparels take comparatively more time, as enterprises need to import raw materials and face an unnecessary delay due to bureaucratic Red Tape, sluggishness of customs formalities and the loading and unloading of ships. In order to shorten these periods, the garment manufacturers tend to force their workers into lengthy working hours when a large order comes in, but this arrangement, which ignores the workers basic right, is ineffective in both the short and long term in international business.

References:
1. Garments made in Bangladesh. The social reality behind the label, Samuel Grumiau, European Initiatives on Monitoring and Verification of Codes of conduct in the Garment and Sportswear industry, Centre for research on multinational corporations, 22nd December, 2002, Page 9.

2. A blessing for garment workers, Buyers Evaluation, The Independent, 11th August, 2000, Page 6.

3. Backward Linkage to Ready Made Garments - Bangladesh Perspective, Khandker Habib Ahmed, Academic press and Publishers Limited, Dhaka, January 2002, Page 189.

4. Showcause on govt, garments factories, The Daily Star archive, 29th August, 1997.