Microbial infestation poses danger to both living and nonliving matters. Obnoxious smell from the inner garments such as socks, spread of diseases, staining and degradation of textiles are some of the detrimental effects of bad microbes. Bamboo fiber clothes have actually been showing up in department stores and womens boutiques. Bamboo is now being made into a fiber that has wonderful characteristics. Bamboo fibers are the newest thing to hit the textile arena. An exclusive manufacturing process makes it possible to create heavily breathable, absorbent samples entirely from bamboo fiber.
Bamboo fiber has particular and natural functions of anti-bacteria, bacteriostasis and deodorization. It is validated by Japan Textile Inspection Association that, even after fifty times of washing, bamboo fiber samples still possesses excellent function of anti-bacteria, bacteriostasis. Its test result shows over 70% death rate after bacteria being incubated on bamboo fiber samples. Bamboo fibers natural anti-bacteria function differs greatly from that of chemical anti-microbial. The latter often tend to cause skin allergy when added to apparel.
This paper deals with the anti-microbial behavior of bamboo fibers with the use of socks.
This report deals with a study to assess the anti-bacterial and anti-fungal properties of socks made out of bamboo fibers compared with the socks those made from 100%cotton,100% viscose and 50/50% bam/cot (before and after wear of socks)
SOCKS CONSTRUCTION DETAILS
| | |
| --- | --- |
| Yarn count | 30s |
| Knit Structure | Flat Knit (Single Jersey) |
| Size | 9 to 11 |
| Cylinder | Double Cylinder |
| Diameter | 4 |
| Needles | 168 |
| Weight (Socks) | 0.015gms |
PROCEDURE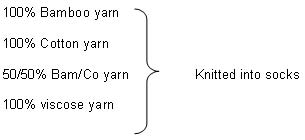 Grey knitted socks were given pretreatment by using appropriate recipes. After bleaching microbial testing were conducted. Then microbial growth of bamboo socks was compared with the socks those made from 100% cotton, 100% viscose & 50/50% bam/cot.