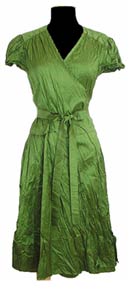 Clothing is a basic human need besides food and shelter. Garment is not only a factor of comfort, but is also a status symbol, fad and an expression of one's creativity. Today, there are varieties of fabrics ranging from the toughest canvas to delicate gossamers, with each one having its unique features. To make a fabric look extraordinary, manufacturers think 'out of the box'. Various techniques are being applied to the fabrics to give unique and charming finishes. One such technique is the 'Crushed effect fabrics'.
Making of Crushed Fabrics:
Methods such as trimming the fibers, using patterned rolls, treating with hot fluids, using heated drums etc, are followed to create designs or sculptured effects on the fabric. Through these ways, fibers in the fabrics are selectively cut, and crushed by means of heating. Then they are softened so that a pattern or sculptured effect is obtained. Fabrics are immersed in a liquid such as an aqueous dye solution, and are made wet. They are then crumpled and squeezed into a ball like mass. The excess of water is removed, and the fabric is crushed randomly. The crushed fabric is then dried in a tumble dryer.
Crushed Velvet: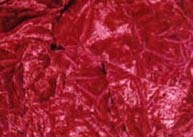 Crushing velvet clothes will produce two types of fabrics. One is 'crushed velvet' in which the fabric is crushed and twisted when it is still wet. Second one is 'panne velvet' made by applying pressure to the pile in one direction. Crushed velvet is preferably used for making upholsteries like drapes, curtains, pillows, car seat covers, handbags etc. When used for such purposes, crushed velvet is usually coated with a backing to provide stability to the fabric. It is also used in the manufacture of fashionable garments. Apparels made with crushed velvet have an appealing luster effect in the direction of the pile and gives a vintage appearance to the wearer.
Crushed Silk Fabrics:
Silk fabrics are first manufactured and then are crushed deliberately to give is a special texture and pattern. A special kind of cocoon is used to create the base silk material which is being used in the manufacture of crushed silk fabrics. This technique gives an elegant and graceful beauty to the silk fabrics thus manufactured. This type of fabric is mainly used for making designer clothes.
Versatile applications of crushed fabric

Maintenance:
Crushed fabrics are completely wrinkly free. It should be folded loosely and kept in the closet with proper care as tight folds and creases will flatten the fabric. It should not be directly ironed. In case of velvet fabrics, they can be machine washed, or a velvet board should be used while washing. This will protect the pile when the cloth is being ironed. Crushed silk fabrics should be dry cleaned. Scars and marks on crushed fabrics can be removed by brushing them slightly. If it is wet completely, then the cloth should be steamed or dry cleaned to revive the life of the pile.
Crushed fabrics are beautiful and luxurious and enhance the appearance of the wearer, or the interior of a place when used as upholsteries. Crushed appearance exhibits an aesthetic value and ensures prolonged usage. Some additional attention should be given to the care and maintenance of such fabrics.
References:
--------------x--------------