Introduction
Many Apparel manufacturers are suffering lot due to the competitive market that minimizes the Profitability. Everyone think of revolutionary method for minimizing the production cost. In the existing production system the cutting and sewing process is mostly labour oriented. The sewing process may create needle hole on the sewn product that reduce the marketability and also the stress created at the seam portion will also leads to premature failure1 in the garment. Finally the cutting and sewing is a labour intensive process which creates the human error, and then the cutting process creates more fabric wastages.
Seamless garment technology is advancement in apparel industry which eliminates the fabric laying, cutting and sewing process. Ultimately we can minimize the production cost by 40% compared2 from the existing apparel production system as well as production time. In addition to that seamless garment gives more comfort because of having no seam in its structure, even though sleeve and neckline of the garment could be joined through sewing. Circular knitting machines were used for making seamless garment in earlier days. During 80's V bed flat bed knitting machine were used for seamless under wear manufacturing. The leading knitting machine manufacturers for making seamless garments are SANTONI, SANGIACOMO etc...
The Growth rate of Seamless garment is described from the below table
| | |
| --- | --- |
| Year | Growth rate |
| 1998 | 2% |
| 2001 | 9% |
| 2003 | 18% |
| 2007 | 35% |
(Source Santoni report)
In the year of 1998 seamless garment contributes 2% of global underwear garment production, within 3 years it reached up to 9% likewise 2003 it was 18% improvement, 2007 it was 35%. In future growth rate is expected to increase very high. Earlier Seamless garment manufacturing was limited to underwear. But now lots of fashion wear are being developed with this technology. This Technology not only reduce the post labour work after fabric forming but also gives comfort and perfect fit to the wearer.
Advantages of Seamless garments:
New technology has their unique advantages both commercial as well as economical, this seamless technology also not exception .The following advantages we can find from seamless technology.
Freedom of body movement:

Generally the seam portion of any garment is not having the same elasticity as compared to the body fabric, so the difference in elasticity will affect the free body movement. Since the seamless garment doesnt have any seam in it structure this problem has been eliminated.



Wider range of fit for different range of body shapes:

In a single garment measurement can suitable for wider range of fit for different range of body shapes because of its higher elasticity





Inherent softness:

There are no bulky and annoying stitches at the underarm points, shoulders and neck lines, which may cause

irritation to the wearer, since the garment having seam free structure it provides the soft feel only.





It reduces labour cost:

Due to the elimination cutting and sewing process it is obvious to reduce more labour involvement.
Minimum yarn consumption:

Most of the fabric wastages occur at cutting stage, since this seamless garment excludes this process fabric consumption per garment is less, so the yarn consumption also very low. Additionally, yarn consumption can be minimized at knitting by means of effectively analyzing yarn feed through the computerized system on the knitting machine. E.g. DSCS (Digital Stitch Control System) on Shima Seiki machine predetermines how much yarn is required for the each stitch3.



Smaller work space:

Involvement of sewing operation is less except few cases in the garment production system, which leads less space requirement.



Reduce yarn and fabric inventory:

Cutting and sewing process require more fabric as well as yarn inventory due the absence of this process no need of maintaining huge inventory.



Quick samples:

Sampling is a costly as well as time consuming process, because small portion of fabric as well accessories need to be prepared .since this seamless garment is exemption, here we can prepare quick samples.



Fewer product failure:

Most of the garment failures are due to seam failure the seamless garment doesn't have the seam, so that garment failure is also very less.



Engineered

features like comfort, fit, and ventilation we can obtain from this technology.



Cost of production is less:

This leads to saving of production costs up to 40 percent compared to the customary garment production system



Design possibilities:

Seamless garment Technology not only to create several types of tubular formed knitting but also to build diverse design structures on the tubular knitted garments simultaneously.



Just in time production:

Just-in-time production is possible with the help of seamless technology. In certain markets, seamless knitting could be considered for mass customization4 by rapid design changes according to customers' requirements through computerized knitting systems.
In addition to the above an entire piece produced from seamless technology is claimed to provide more consistent product quality .Consequently, seamless knitwear is promoted to look better, fit better and is believed to be much more comfortable. This technology also allows knit designers to create design structures and patterns across the entire garment, and also it allows for mass customization with respect to customer requirement .In the global environment, according to Shima, seamless garment knitting puts less stress on the environment by minimizing waste disposal
Technical Issues
Although seamless garment knitting technology provides a variety of advantages for the knitting industry, it still has several technical issues.
1) The main problem in complete garment knitting is fabric take up5.
2) Maintaining the tension of each loop (i.e., stitch) is difficult.
3) Fabric design as well as garment design on jacquard is highly difficult task.
4) Problem to make the welt and cuff portions.
5) Frequent changes in the knitting machine setting
Application of seamless garments
Apparel:
A Variety of seam free products has been created like hand gloves, socks, hats, T shirts and Sweaters. Based on the machine type and gauge the product design will be varied. In addition to that complete garment making machines are available in pilot form to produce trousers and skirts.
Automotives
Courtaulds and General Motors Corporation had developed the new three dimensional knitting technologies for their seat cover making in the year of 1985 6. Marjorie Sorge also proposed a seamless knitting concept for the same type of application. Researches are showing that the automotive seat covers made by seamless knitting is having great market potential and that brings down the warranty cost. Likewise Lear Corporation has patents on three dimensional knitting technologies which will help to design a new seat cover with computer modeling tool that will reduce the design time by 25% 8.

Medical textiles
Three dimensional Knitted fabrics have also been used for medical purpose .Some of the tubular knitted structures like bandages, orthopedic support and medical compression stockings are examples .wearable electronic made from Knitted structures also used for online health monitoring purpose as well as military application 10. Textronics Inc has developed Textro-monitoring system which is used to monitor human bio physical parameters like respiration and heart rhythm12.
The circular knitting machine produced9 by IRMAC used to produce caps, head bands and scarves which can be available in 18, 24, 36 and 48 needles per inch. The cam set of this knitting machine can be controlled by electro neumatic drives .In addition to that this machine contains swing cams with sliders that allows the needle to form different design15.
Difference between Cut and Sew Production and Fully Fashioning Garments
| | |
| --- | --- |
| Cut and Sew Production | Fully Fashioning Garments |
| | |
| In cut and sew production system the panels are cut by means of cutting knife and then sewing is carried out | Shape of the Garment can be widening and narrowing by means of loop transfer mechanism. Loop transfer is nothing but the move the stitches between the needles. |
| Here additional cost will be incurred for cutting and sewing | This eliminates cutting and sewing operation. |
Mechanism of Loop Transfer in a V Bed Knitting Machine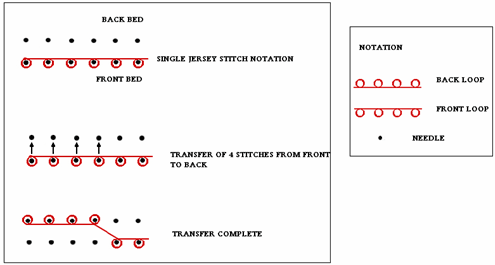 Loop transfer mechanism at V bed knitting machine13
Seamless garment can be developed through knitting technology by widening or narrowing the fabric by doing the loop transfer mechanism. Loop transfer is nothing but transfer of stitches from one needle to other needle this mechanism is described with the above figure that is how the loop transfer taking place. For the fully fashioned garment body portion, sleeve portion are prepared separately but the joining of these portion require a sewing process or linking process.
Seamless Knitting Machines

Santoni is now known as the world leader in Seamless Machine Manufacturing. They have produced the seamless warp knitting machine with the model of SDW 8. It is a double needle bar Raschel machine contains 8 guide bars with a working width of 44 inches. This machine can form 2 seamless garments side by side in a chain formation which can be separated later by cutting. [

Billy Hunter reports from Brescia

-Santoni Report]


Santoni has recently introduced the SM4 TL2 machine which shapes the knitted tube and will eliminate the cutting process 14.


The new Machine produced from KARL MAYER, called "Seamless Smart" is designated as 'DJ' series. The very first machine in this series is DJ 4/2, was developed by Nippon MAYER Ltd. The working width of this Machine is 42", can operate at a rate of 1, 000 stitches/minute.


The Shima Seiki company invented the WholeGarment machine and introduced the commercial complete garment knitting (SWG-V machine) in 1995 at ITMA (International Textile Machinery Association) 16.

Conclusion
This seam less technology can directly produce nearly finished product. Seamless garments are in vogue and the demand for such garments particularly under wears is increasing. Presently these seamless garments available in the market are knitted one. Woven garments are not available. Seamless garment made of tubular material are well known. Lot of innovations are being carried out in to this technology, very soon this will change the transformation in apparel business
References:
Seamless textiles with inherent shape -Thesis submitted by Kim Anderson

Knitting-A High Technology Industry. Textile outlook International by Millington. j

Loop Tension and Fabric quality-Knitting international by Hunter .B

Mass customization of knitted garments- JTA- Sanjay Gupta

Complete Garment-evolution or revolution?(part II)-knitting international by Hunter B

A Stitch in time -Inland Fisher guide's low cost, high-tech seat covers by Sorge .M

Shima Seki Instruction manual-Shimatronic whole Garment Machine

Mass customization in Transportation Textiles through shaped three dimensional knitting- Proceedings on International Textile Design & Engineering conference by Powell. N. B

Complete Garment- evolution or revolution?(part III)-knitting international by Hunter B

Development of electronic textile to support networks, communication and medical applications in future U.S Military productive clothing system-Winterhalter

Textronics- Electrical and electronic textiles, sensors for breathing frequency measurement Janusz zieba

Three Dimensional Seamless Garment knitting on V bed flat bed machine by Wonseok and Nancy

Know -how Santoni Gruppo lonati Brecia, Italy-Santoni (2004)

Shima Seki Instruction manual, Shimatronic Whole Garment Machine-Shima Seki (2004)