'Wills Lifestyle India Fashion Week: Making a Mark in Business and Grand Finale'
Source: The Stitch Times: November 2008
Fashion Design Council of India unveiled the 12th edition of Wills Lifestyle India Fashion Week (WLIFW) on 15 October, ushering a new season of refreshed colour pallets, clothing construction and of course many new talents on schedule, of course, which was a day later than the other fashion week, Delhi Fashion Week (DFW), organized by a breakaway group of designers. While the Delhi Fashion Week had its stars and a stronger-than-initially-expected line-up, in totality, the balance of big names has stayed with the Wills Lifestyle India Fashion Week.
FDCI, in order to support the emerging fashion design industry of India, organised WLlFW which provided high business mentoring to the up-and-coming 18 new designers by an established team of fashion industry experts and professionals in areas such as business planning, marketing, sourcing, production and export with a view to help them to consolidate their businesses and helping them to grow up internationally to the next level.
Let us have a peek of what our creative designers had to offer.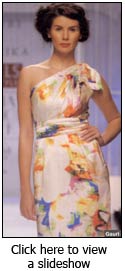 Gauri and Nainika Make A Statement
The opening show by Gauri and Nainika was impressive and set the ball rolling at the right note. Their collection emphasized on tall and slim silhouettes with narrow cut dresses and soft and flowing hemlines.
Each style was softly constructed with subtle drapes and details with femininity, grace and elegance in each. The prints were a splash of vivid colours welcoming spring with subtle fluidity. They presented beautifully the understated nudes and grey palette evolving softly into shocking greens merging into dreamy gowns in delicate chiffon with classic use of tulle. Completely devoid of surface embellishment, decoration, embroideries or use of accessories, the whole collection in muted shades gradually flowed into spring colours.
The collection also had an old world splendor and grandeur very well captured in form and colour. The fabric used were crepes, heavy silk, chiffons, satin taffeta, mesh georgette with dramatic use of tulle flaunting the French nostaligic appeal. Free flowing swirls and subtle soft appeal and forms has been achieved through softer lines in construction details and softer cowl drapes at neckline.
Ritu Personifies Elegance
Ritu and Amrish Kumar's creations are synonymous with traditional Indian embroideries and textiles. Their range presented a look reminiscent of European fashion from the 60's and 70's. The dresses, ranging from thigh and knee lengths to full-length maxis, shifts and spaghettis and pallazos, ghararas and wide bottom denims in loud prints and textured wovens were laudable. Every creation had strong flower power feel with a contemporary appeal. Varied influence from the "Maasai" tribes of East Africa, Bengal sari weaves, Maheswaris and the signature Ritu Kumar style resulted in a collection that is a heady mix of voluminous and free flowing shapes, long and glamorous silhouettes and young, energetic and refined looks. The colour story that spilled through the collection is a beautiful flow of earthy "Teal Blue" and "Brick Red", purples, organs, off whites and yellows and an amalgamation of the same in a well planned manner.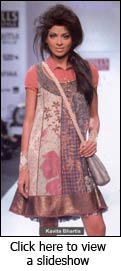 Dramatic Dressing by Kavita Bhartia
Kavita Bhatia revived a feeling of Woodstock and the hippie era when she presented her collection for Spring/Summer 2009. The colour palette had elegantly subdued warm hues ranging from chocolate to mustard, rust, navy blue, forest green and wine. Fabrics such as satin, georgettes and crepes showed body and were embellished with stylish concoction of cross-cultural print motifs and techniques. Typical structural elements such as fringes, a tiered skirts, frills, panels, layers and border prints were used to create a collection which clearly spoke of a refined and elegant bohemian chic. Her collection showed interesting combinations like dresses with mini waistcoats and scarves worn over tight fitted tops as well as wrap pants. Others such as tunic blouses with emphasized empire line along with pleated front and back created an interesting mix of silhouettes on the ramp.
Nitin Bal Chauhan Wears Attitude on His Sleeves
Nitin Bal Chauhan's linear expression of an evergreen winning combination of black and ivory white can be described in a single word "Superlative". Cords intertwined to create motifs, pleating, knotting, layered patchwork were proportionate and had worked to the advantage of the creation. Floor length, pencil skirts, fitted above the knee length dress, short weave jackets, long and short tops were in eclectic colour combinations of muted pink and dull teal with a hint of surprise elements, apart from the classic black and white. Controlled graphic print, which looked like brush spray print, striped and all over batik effect is fused with, gathers and loops and blended into the concept. While the fabrics appeared very matt, one could not miss the metallic glitter that gave the cloth a very serious appeal. The wearer would have to carry off this wonderful collection with an air of confidence and an attitude of personal style.
Shantanu and Nikhil's Perfect Amalgamation
Shantanu & Nikhil's collection 'Serenity' drew inspiration from Ladakh, finely balancing the stark, harsh, unforgiving mountainous region with the innocence of its people.
Digital prints, asymmetric drapes in pristine white in the first line led into intricate surface textures using quilting, cording and zipper embellishments towards the end. High quality tailoring and technical finesse was evident in the collection with the use of undulating ruching, pleating and ruffles. Honeycomb jackets are nicely paired with new slim fit trousers. The use of exaggerated tiered sleeves in the collection added drama to the show. Blue accents in trimmings reflected the clear blue waters of the great Pangong Lake. Marbled effects using surface ornamentation and hand paintings effectively showed off the terrain on knits, taffetas and silk jerseys.
Manoviraj Khosla's Macho Style
In his men's wear collection, 'Hugging the softness within masculinity'; Manoviraj Khosla presented a complete range of soft details, designed skillfully for the young male client. The designer has cleverly used great textures as patchwork, pleating, pin tucks, piping and French knots as detailing in a mixture of styles for men.
The range had cardigans, linen shirts, jackets and pleated details on pant pockets with surprising creative elements. There was innovative placement of Batik on lowers, cowled cardigan and shirts. The interesting use of construction details on trousers front and waist bands done with minimal use of colours attracted attention. Details offered in soft colour palette used in contrast combinations and other elements added lots of soft, yet bolder details for Spring/Summer 09 men's wear.
The lowers - pleated knit pants, churidars, three-fourth pants, denim zipper jackets with detailing done with rivets added element of modesty to masculinity. These were complimented with knit-shirt, denim coats, sky gray linen wrap shirt and off- white Nehru jacket. Not to ignore were the flame orange denim waistcoat with linen embroidered pants, white linen hooded jacket with orange knit hot pants, sleeveless lavender linen and shirtdress with purple knit chudi pants. It was a presentation that had delectable diversity in colour palette, cuts, surface embellishments and textures.
Satya Paul's Nine Yards of Elegance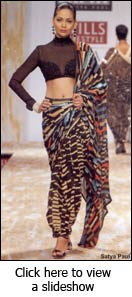 Satya Paul lives up to every ones expectation while presenting SATYA - a collection of evening sarees and dresses replete with bold prints, graphics and sparkling embellishments. Flowing crepes and georgettes have been used for well-draped sarees, which illustrate digitally printed bold graphic abstract and geometric motifs.
The colour palette has shades of cool blues and ocean greens as well as a range of spicy hues including warm browns, burgundy reds and chilly red besides vibrant oranges. Colour combination of black with sand has been highlighted with random sequin work for a glamorous limelight appeal.
A range of black outfits, which has been embellished with contrasting silver sequin represent a modern Indian wear through randomly and spontaneously placed bold print motifs.
The flowing sarees coordinated with small bustier-like tops and mini cholis, some with transparent sleeves, exudes elegance. Transparent materials are also used to create see through leggings and churidars, which has been suggested to be worn with straight cut tunic dresses. SATYA is a collection that represents contemporary Indian festive wear at its best.
Preeti Kapoor's Expresses Volumes
An amalgamation of tastefully combined silhouettes and beautifully spaced out colour palette was Preeti S Kapoor's offering. The cynosure of designs befittingly holds an aura in the intricate finesse of multihued jamevar inspired surface ornamentation. A riot of colours ranging from forest blacks, steel greys, enchanting purples to reds, cobalt blues, mass greens and passionate pinks juxtaposed cleverly with translucent and edgy silhouettes.
The look of the collection was extremely festive, dressy and ultra feminine. Ethnic sensibilities fused with just the right amount of embellishment with golden shimmer and subtle threadwork. Symmetrical detailing and proportionate placements of embroideries displayed Preeti's expression and translation of a vision inspired by Victorian elegance as it spoke of a poet's rendition via paint brush.
The overall feel of the range was very pleasing to the eye, well focused, chic and exuded immaculate style as it also made one nostalgic about the 70's era. The range comprised a very wearable mix of sarees with well cut blouses and cholis, short tunics coordinated with churidars, and gorgeous stoles - all of which could be a healthy addition to a wedding trousseau and also go well as an evening ensemble. Complementing the 'Art Boulevard' collection was a sleek, pristine look reflecting a penultimate feel and expressing volumes of the designer's creative sensibilities.
Ashii's Collection Represented Functional Fashion
Ashima Singh making a debut with her label Ashii in the WIFW Spring/Summer '09 has presented a unique collection, which is urban, chic and is complete with contemporary styles. The silhouettes mainly included caftans, wide legged pants, short shift dresses and maxi dresses. She has taken a keen interest in adding wearablity and commercial aspects in each ensemble of her collection.
The collection clearly shows that she has taken inspiration from nature especially for the surface ornamentation. It has been used most economically minimalistic with a trendy flavour, which is easy to execute and has a very fresh appeal.
The playful use of young colours like shell beige, moss green, angel pink, piistachio greens and whites give the collection a young feel to it. The fabric story unfolds with nets, chiffons and georgettes, being designed with perfection. The fabrics have been developed with complex weaves to add textures. The ensembles have value additions with metal chains and sequins. The collection has a wearable chic look with interesting detailing like pleated shorts and butterfly knots at the front. The black ensembles add a hint of festivity to the young and bright collection. The soft printed dress is adding sensuality to the whole look.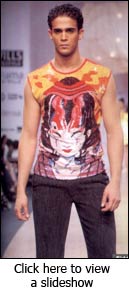 Siddarth's Understated Opulence
Siddartha Tytler's ageless ode to fashion titled 'Ambrosia' gave birth to an exhalation of creativity displaying a variety of silhouettes, lengths and opulent chic. 'Ambrosia' offered an insight into the journey of extremes in a color range of orange, lavender, turquoise, copper, matt gold, powder blues and mint. The creations were presented in satins, georgettes, lamme, glass nylon and linen. Embroideries in contrasts and tone on tone added to the finesse of this luxurious collection. Silhouettes were trendy and modern bringing a good balance to the collection.
Embellishments and effects came through with flowing pleats, frills, padded corsages set off with crystals. Stitch detailing, appliqud floral, delicate silk rosettes and effective 'chatai' yokes combined to bring alive a subtle and oomph look. The color contrasts and proportionate lengths of the garments, the controlled metallic expression and the vibrant tones combined with shimmer bring forward the designer's skill to capture the drama of the night. Siddhartha has meticulously manifested detailing, silhouettes and embellishments to represent a statement of his design philosophy.
Ranna Gill Presents Mediterranean Beauty
A signature statement for her Spring/Summer '09 collection in an amalgamation of textures, colours, graphics and ornamentation infused with different silhouettes, lengths and shapes, is very typical of Ranna Gill.
The figure hugging fabrics gives a sensuous appeal to the feminine body.
Sexy swim wears are there to flaunt well toned bodies combined with oversized jewelled embellishments in ruby reds, sapphire blues and emerald greens. The collection flowed easily from elegant day collection to sensuous evening dresses in digital prints, balanced mosaic touches and sunburst placements of colours and panels. Contemporary digitized prints effortlessly imitate traditional Ikats translated into dresses, shifts and maxi dresses. Emphasis on necklines, shoulders, empire lines, halters combined with tapestry weaves juxtaposed with jerseys, velvets, crepes, knits and finely quilted and corded shapes are a result of Ranna's inspiration from the Mediterranean landscapes.
Elegance seems to be contrasted with muted colour palette of teal blue, mustard, off whites, cherry, grape and rose pink. The collection evokes a perfectionist approach with all key elements obvious in the innovative ornamentation on the garment.
The evening wears with not so over the top shimmer and geometric motifs are eclectic piece of art. However, the focus around the neck and back exhibits the finer nuances of designing.
The Grandest Finale Ever Was Manish Arora's Circus
Voluminous jackets and ruffled skirts in funky hues of bright pink, blue and green - all crafted by designer Manish Arora - featured at the truly grand finale of the Spring/Summer edition of the Wills Lifestyle India Fashion Week on late Sunday night, a show that was an eclectic mix of style and showbiz. The entire main show area (MSA) was draped in red and a live band - Bollywood Brass from Britain - belted out Hindi film tunes from one of the two elevated platforms that had been erected on either side of the T-point of the runway from where the models entered the runway. A melange of animal statues was arrayed on the other platform.
So magnificent was the collection and so infectious the music that a clutch of international buyers stood up and enthusiastically applauded- and then danced with gay abandon on the ramp - as the show ended. Rarely, if ever, has such a grand finale been witnessed at the fashion week.
"He is the only one in the world who is unique. The colours he chooses are very bright. He is the best," gushed Japanese buyer Tomoko, who is a self-confessed die-hard Arora fan. "Fashion means fun and fashion means to be different. This is what Manish presented today," said Vittorio Radice, a buyer from upmarket Italian fashion outlet laRinascente. "His collection is not just meant for domestic buyers. This will be a big hit internationally," Radice added.
"It was 60,000 watts of electricity," commented Pradeep Hirani of swish Mumbai fashion outlet Kimaaya. "The show was so imaginative and the music was excellent. It was so full of composition. It was so lively that was the full experience of a circus," said French ambassador Jerome Bonnafont. The comment couldn't have been more apt - because the collection was titled "Circus".
As for Arora, he was self-effacing. "I just wanted a good show and a good finale. I wanted to do it my way," the designer said. Arora's line also had short dresses, mini skirts, trousers and dresses as well as pieces largely inspired from circus costumes including bra tops, multiple bows and jump suits.
Elaborating on his collection, Arora said: "I feel that a circus is a part of everybody's life. The way we live our life these days is like a circus - entertaining and hilarious." The collection explored innovative techniques of embroidery like hand-sewn appliqu, digitally printed sequin and traditional Indian gota embroidery that gelled well with his signature style.
Since Arora's show was the grand finale, his collection will also be retailed from Wills Lifestyle stores across the country.
Buyers show keen interest
A good number of serious buyers, both international and domestic, were present at the fashion show. These included Vittorio Radice of La Rinascente of Italy; Ms. Kwan Chung of Villa Moda at Kuwait; Ms. Tomoko Inuzuka of Beams, Tokyo; Ahmed Hashim and Mrs. Samira Raouaha of Harvey Nichols from Riyadh; Ms. Jessica Steffanizi, Ms. Nicole Rohe all of Anthropologie, USA; Ms. Tamara De Peon, Ms. Meenal Jethi and James Watson from Liberty, London; Ms. Pat Liew of British India from Kuala Lumpur; Martin Hadid of L'eclaireur of Paris; Katya and Mahipat Singh from Viva, Russia and Ms. Yamagishi of Sun Motoyama from Japan, besides Erika Harm from Harmony Fashion in the Netherlands.
There were an equally good number of domestic buyers, representing Ensemble, Aza, Kimaya, Samsara, Elahe, Evoluzione, Bombay Electric, Carma, Ogaan, Amarraa and Fuel.
In the course of discussion Erika said she is very positive about Indian fashion. When asked as to which designers show she has seen and how it was, she said that she had seen Ranna Gill and it was mind blowing. She said, she is opening a boutique in the Netherlands and is therefore a prospective buyer. She plans to rope in designers for her boutique and Ranna Gill is definitely on the list. She disclosed that her present visit was the second one, but she did not find anything different. She also complained that there are two venues (of two different fashion weeks) and it is indeed difficult to shuttle between two far-flung areas. She wished that all the designers should have been at the same place. She also informed that the prices of designer wear were really high and these would be further higher in Europe after all others like her travel expenses, retailer's cost and transportation costs etc. are added up. When asked about the demand for Indian fashion products in the Netherlands, she said there is no demand for India fashion in her country, as nobody knows about it. She was, however, hopeful that if she markets Indian fashion well, demand will soon be created.
It was, however, unfortunate that there were two fashion shows that were currently on at the same time, as was pointed out by Erika as well. There was an undercurrent fear that the buyers invited by WLlFW could be wooed by Delhi Fashion Week. When quizzed on this, Sunil Sethi, FDCI said, "Some of the buyers present here do not even know about the other show happening in Delhi. I request you all not to spill the beans." Ruling out the possibility of the buyers invited by FDCI being approached by the organizers of the other fashion week, he added "I think that those who are our loyal buyers and those who appreciate our clothes will come here." On the question of Sumeet Nair, organizer of Delhi Fashion Week saying they will continue to pitch the fashion weeks on a head-to-head basis, Sethi said, "We do not do anything as a reaction to what they are doing. And that is hardly going to be a factor in the FDCI's schedule for future events." He felt that he should let the event and the attendance at WLlFW do the talking as he urged a visitor to "take a look at the crowd in the lunges and in the shows, and judge himself."
Originally published in "The Stitch Times": November 2008