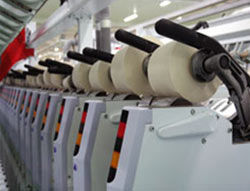 The Thai textile industry is a success story -for the economy in Thailand as well as in the global textile market.
In 2007, textile and clothing goods around 7 billion US$ were exported, mainly to the top-markets in the United States and the European Union. In the first half of 2008, Thai textile manufacturers increased their exports about 8% compared to 2007. Within the next decade, Thailand is supposed to become one of the top five export markets in the clothing industry, worldwide. On this way to become one of the leading textile nations, innovation, strict future-orientation and focusing on customer-demands are required from all parties in the textile sector.
In the next decade, one of the key-challenges for the textile industry will be climate change and its impact to the consumer market. At least once a week, you can read in the newspapers about the negative impacts of greenhouse gas emissions and the future risks (storms, flood, heat waves etc.). Currently, the focus is on cars and energy consumption in households. Sooner or later consumers will also consider the climate impact when purchasing goods such as textiles. People will become aware that textiles are shipped around the world and that airfreights from Asia to European or American stores cause immense carbon emissions. They will take care of the performance of textile-factories regarding their energy-efficiency. And they may consider which climate-impact fertilizers in cotton growing have.
Consumers and the media have recently started to raise questions about the so-called carbon footprint. The carbon footprint reveals how much CO2 in total is emitted along the value chain of a product. A T-shirt, produced in Asia, has an average carbon footprint of six kilogram CO2 from farming through manufacturing and transportation to the shop. That is 20 times more than the net weight of a T-shirt!

The textile business can wait until the market demands transparency about carbon emissions as well as programs for reducing them. But companies can also start now and pro-actively address the carbon footprint. It is a decision between stagnancy now and missing future trends or working hard as a first mover but being prepared and innovative.
Collaborating with partners that are competent as well as committed to environmental protection is essential for entering such a new field like carbon foot printing. All parties can benefit from sharing ideas and experiences to identify appropriate strategies for tackling carbon emissions.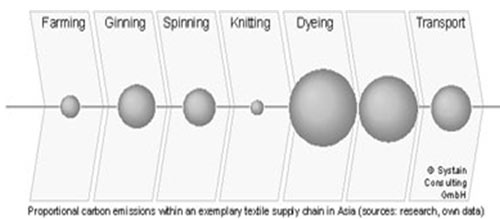 What may such an approach of linking front-runners look like? Witt Weiden a German based, high-end textile retailer has committed to high environmental standards for several years. Now the company addresses the issue of carbon emissions within the supply chain. In Thailand two engaged partners joined this approach: Art On Stitch and M+R Spedag Group.
Art On Stitch (AOS) is a medium sized export factory for ready made garment in Jom Thong, Bangkok. AOS is committed to highest quality and ethical standards for its high profile customers. The company participated in a GRI-pilot-project for SMEs to publish a sustainability report, partnered by the German OTTO-Group. In the first step data have been collected for evaluating the carbon footprint: around 600 grams CO2 per piece. Currently, AOS investigates options for reducing the carbon footprint such as switching from Diesel to a LPG fired boiler or installing solar generation for pre-heating the boiler.
The M+R Spedag Group is a carrier with headquarter in Bangkok. This logistic service provider is absolutely committed to customer orientation and best quality. M+R Spedag has evaluated emissions of transporting from door to door in a project called CO2PERATION together with Witt Weiden and logistic partners in Germany and Turkey. Various options for reducing CO2-emissions are examined. The collaborative work is essential to implement effective measures. For example, order processes of buyers should avoid short term deliveries that determine carbon-intensive airfreights. Calculations in the CO2PERATION-project have shown that the seafreight from Thailand to the warehouse in Weiden/ Germany releases ca. 0.35 kg CO2 per kg textile whereas airfreight causes ca. 5.3 kg CO2. Besides developing a common strategy for reducing airfreights, M+R Spedag has bought CNG-trucks for picking up the cargo and transporting it to sea- or airport. Trucks running by natural gas emit 20% less CO2 compared to Diesel and eliminate most of other pollutants such as fine particles, nitrogen oxide.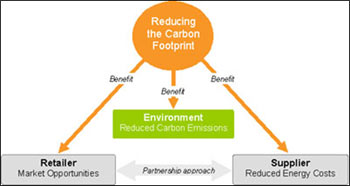 AOS as well as M+R Spedag evaluate their processes to increase energy efficiency, ranging from improving lighting systems to bundling transports. These measures bring with them only small amounts of reductions, but the accumulation of these single reductions has an enormous impact to the carbon footprint. Furthermore, all these actions initiate a continuous improvement process and induce further reduction potential. Only a systematic approach including a continuous improvement process reduces the carbon footprint of textiles. Actions that were taken just once and are neglected, then, do not have any impact at all; the reductions will soon be eaten up.
Reducing carbon emissions is a learning process. Companies will realize how they can benefit from increasing energy efficiency and thus cutting costs for fuel and electricity. Moreover, it is the best adjustment to increasing energy-prices in the next years. It may also offer options for approaching attractive customers with environmental awareness. In fact, it can be a triple win for the textile retailer, supplier and the environment. The Thai textile sector with its challenging potential in the world market should also take the lead in tackling climate change. A joint partnership approach may provide mutual support among engaged and future-oriented companies for gaining benefits. First movers are usually confronted with demanding efforts -common strengths do minimize these. The key lies in engaging the own company and getting business partners involved for joint, and therefore effective actions -for a triple win.
Dedicated to Ulrike Kellner, Managing Director Witt Weiden for her intensive support in the field of sustainable textile production and transporting
Article Source: Systain Consulting GmbH: Dr. Michael Arretz and Karl Borgschulze are Managing Directors from Germany and Hong Kong branches; respectively.