Basic Sewing Techniques
The finished item of clothing is one step ahead of just the cut and sewn fabric. The following pointers will make the procedure simpler to perform. The process is divided in to three phases namely pre-production, production and post-production.
Pre-Production
► A. Planning
If you ever go to buy household things without a shopping list, you are bound to forget certain items or you are sure to buy more than the targeted products; same thing happens when you kick off sewing garment. It has been discovered that a tailor, who mulls over and designs a garment, complete with colour sketches and smart thinking as well as a list of ideas that he will want, he would require less money and time for manufacturing the garment than if he simply banks on fate.

A manufacturer should sit with sketchbooks and scribble pads with thoughts on garments, nice designs and bits and pieces of fabric. Mainly the pages are placed with a sketch of a garment, lists of things like hooks and eyes or approximate lengths of trim as well as buttons, embroidery thread or other accessories. If you have got some fabric at home that you would like to manufacture a garment out of, you should add a piece of that in the sketchbook with the line drawing; thus, you can choose lining fabric to compare or distinguish.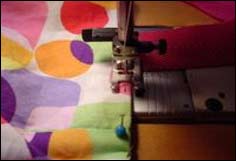 The surprising matter is that you don't need any artistic skill to apply this technique. Just sketch out a rough, add colour in and make your lists; now your action plan is prepared to be followed. You can get somebody, who has good knowledge of drawing, to delineate a primary shape of the types of garments you want to manufacture. Get them photocopied and apply them to draw on and colour. In any case, you'll be prepared when you hit the fabric stall and they're running a sale. With a sketchbook nearby, you can compare the colour of that $1.99 linen to the sample of cloth of brocade in your book and either purchase it or leave it.

One more mode of making this method work for you is to photocopy pictures of the several types of garments and pieces of garments you need to make and staple those in your sketchbook together with fabric swatches.
► B. Choice of Material
Garments manufactured in 16th and 17th century had a specific weight to them that is created by the types of fabrics both on hand and used. When sources state that a particular garment was manufactured of silk lined with taffeta, they are speaking of a quite heavy bodied silk with a crisp silk taffeta lining. We can bear only such kind of silks that are much softer and thinner than would have been used.
This problem can be overcome in two manners. First, shift to a heavier but less costly material that reproduces the appearance you're struggling to accomplish. Second, if heavier material is not available, or you like to work with thinner material, you can interline the garment.

Interlining: Cut the interlining coating as with the outer coating. Place them together and handle them as one single coating of fabric during the creation stage. Baste or pin together as required.
► C. Pre-washing

Everything should be given a pre-wash without any exception. Even though it says 'dry clean only'. Give a burn test first to ensure there are no wonders; give pre-wash and then wash everything that is created of natural fibres together with silk and linen. The dryer is the main damager that wears and tears fabric. Therefore, dry the fabric after pre-washing but the garment may finish up being drip-dried till it is thrown in trash relying on the fabric used. Before pre-washing, take a small swatch of the fabric and match it with the fabric after it has been pre-washed and dried. As a general principle, garments manufactured from upholstery brocades or jacquards must be drip-dried. If the garment is manufactured from high-class cotton, linen or silk, it gets washed and dried per normal until and unless the pre-wash swatch pointed out a severe loss of colour, reduction or other unwanted influences. Then, it gets drip dried only.

We cannot overstress pre-washing. During the stage of manufacturing, contemporary fabrics are tremendously 'sized'. The term 'sizing' mentions the soak that most fabrics endures, which provides them more body and shine after they are pressed through rollers and then placed on boards for transfer to the stall. After the fabric is washed, the 'size' is washed out and the fabric becomes softer and less shiny.

Shrinking can also be prevented by pre-washing. Most contemporary fabrics are extended (a little or a lot, banking on quality) during the weaving and sizing procedure. If your fabric is not pre-washed before cutting and making project, you will have to be sorry after when you drop project and it gets smaller in very unwanted ways.

The perfect mode to decide whether your fabric is made of a natural fibre is a burn test. If you are at a store and not sure of a fabric matter, you should ask for a cut, and take burn test in the parking lot.
► D. Ironing

Since it is not easy to draw on wrinkled paper, it is tremendously difficult to cut out a garment on a wrinkled piece of cloth. It is advisable to iron out the fabric before cutting.
► E. Laying out the fabric

If you are cutting doubles and on the fold, it is really significant to line up the fabric before cutting it. If the fabric is not lined up before cutting doubles and on the fold, the grain lines for some of the parts could finish up being much dissimilar and this will create a poor effect on the finished item.
► F. Pattern Cutting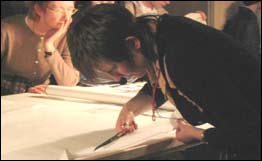 The grain lines cannot be taken for granted! You should cut out all parts of the garment (if shell, lining and interlining are used) at the same time. Avoid using pins, use pattern weights instead. This will prevent your patterns from getting punctured and it makes the process more efficient. The costlier weights sold in fabric stores can be replaced by Tuna fish cans, which provide inexpensive, superior options. Since the Tuna fish packed in oil is not suitable, you are requested to choose the weight of Tuna fish packed in spring water.
Production
► A. Construction

Separate the garment into various small parts and build those parts first. For example, labour the bodice first, building it and bringing it to the spot where the other parts will be stored or connected. Next, go to the sleeves. Your approach should be to begin with the most challenging part, so that it might not come in your way later on. You can also set off with the middle part, sense the part that everything else relies on. For the most part, this is the body section.
► B. Grading Seams and Points

This decreases volume and enables points to make a brittle line. Decreasing volume was popular in many of the garments of the 16th and 17th century.
► C. Clipping Seams

Concave and convex are enabled by clipping seams to do their thing without wrinkling. Many of the seams in garments from the period are convex or concave. Clip them, therefore they cannot pull or wrinkle and this clipping also makes the finishing fit improved and enables those seams to move and mould themselves around the body as they were intended to do.
► D. Pressing Seams

Unless and until (and even though) you're sewing by hand, you are always advised to unlock all seams and iron them flat. Pressing is the major distinction between a dressmaking garment and a regular, readymade garment. Seams without press appear bulky and do not behave. Pressed seams have a beautiful, finished look to them that considers the rest of the garment.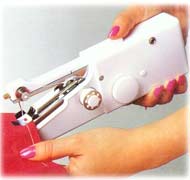 ► E. Adding Trim

At this phase, to insert trim either by hand or by machine assures that you can tuck the tails into closed seams afterwards and makes it possible to lay the trim down on the shell only. Adding trim later signifies that you'll have to insert trim after all the parts are sewn together and you'll have to work out what to do with the incomplete ends.

► F. Put It All Together

Sew the shell and lining together after the shell parts and lining parts have been sewn together. This is how garment is constructed at present. You would put the lining and shell parts together and deal with them as one in the construction procedure if you were sewing by hand.
► G. Fitting

Make your final fitting before reaching the post-production state. Find out if armholes and neck gaps are too small. This final finish fitting will also establish the accuracy of the finished fit. On the whole this is your last opportunity to modify things effortlessly. After things are completed, it's much more difficult to go back and mend fit.
Post-Production

► A. Hand Finish

It's a lot quicker to finish seams closed by operating the sewing machine from one side to other side of them. Don't get tempted! A seam finished by hands is unbeatable. It appears improved lies flatter and doesn't upset the rest of the garment. Prejudice or seam fastening always looks beautiful if finished by hand.

► B. Finishing Strokes

Life is generated in the garment by hand sewing buttons, buttonholes and eyelet holes and by other minute particulars. It may be trouble-free and quicker to achieve these things with your machine, but it won't seem as good and it won't seem at period, which is the complete thought.