Gone are the stodgy old ideas about how a Mother of the Bride should dress. Here are the top trends in Mother of the Bride Dresses that give us hope!
1) Bright Colors
It used to be that Mother of the Bride dresses only came in four colors: blah, boring, beige, and blech. Pastels and navy blue are only part of the selection nowadays! Finally, the industry is starting to show a spectrum of different colors, from spring greens to royal purples. Whether you love bold jewel tones or lean towards rich earth tones, there will be something out there for you. Since more saturated colors are better for aging, pale skin tones, liven up your look by choosing a color with some pizzazz!
2) Bolero Jackets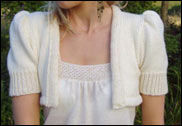 You may be sick of those boring Mother of the Bride jacket dresses, but the good news is there's finally a fresh new take on them! Designers have addressed the need for a removable jacket to cover the arms that is also very fashionable. The bolero jacket, with different sleeve lengths, is in. It's elegant and practical. Take it off when you're hot, and you will still have a great dress underneath. Wear it to cover up during the ceremony- no one will guess you're trying to cover those wobbly chicken wings under your arms!
3) Tiered Dresses and Skirts
Tiered skirts are showing up in stores this season and are especially appropriate for formal wear for the over-40 set. They're modern and feminine and can be very flattering if they are not too frilly. Try one before you buy, and make sure it suits your body. With all that extra material, this Mother of the Bride style is not for everyone!
4) New Lengths

Say goodbye to floor length when it come to Mother of the Bride Dresses. Plenty of different hemlines are popping up, mainly due to the huge variety of different wedding styles and venues these days. We're seeing plenty of cocktail-length, knee-length, and handkerchief hems, as well as hi-lo dress lengths. (High in the front; long in the back). At the knee, or slightly above the knee is as high as you want to go. Remember: All these new hemlines give you one more reason to wear some fabulous, head-turning shoes!
5) "Green" Fabrics (no, we don't mean color!)
Environmentally responsible weddings are all the rage. Couples are using recycled materials for invitations and donating to charity instead of offering plastic, landfill bound favors to their guests. The "green" theme even reaches all the way down to wedding attire. You may have to explore specialty stores, but organic cotton and silk dresses are growing in popularity. The best part about them is because the dresses are made with natural fibers, they are more comfortable and breathable. When you're outside at an August wedding, you'll appreciate why this is so necessary!
© 2009, Boland-Tyler Productions. All rights reserved.
About the Authors
Deborah Boland and JoJami Tyler (The Glam Gals) are Image and Style Experts specializing in helping women 40 plus look and feel fabulous. They are the authors of the book, The Glam Plan~ 12 Simple Steps to Take You from Frumpy to Fabulous, as well as coaches for their Tweak Your chic™, Image make-over program.
To learn more tips about choosing your mother of the bride (or groom) dress visit: &sec=article&uinfo=<%=server.URLEncode(1893)%>" target="_blank">http://www.fabulousafter40.com/ebooks/mother-of-the-bride/ , sign up for their bi-weekly newsletter and visit &sec=article&uinfo=<%=server.URLEncode(1893)%>" target="_blank">http://www.fabulousafter40.com/shop/100-style-links-women-will-love/ to see 100 Style Links Women Will Love.