Monsoon is one more opportunity for fashionistas to display a fashion statement.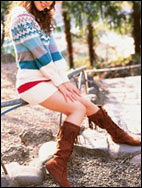 Every time when the sky opens and there is a heavy downpour, people lose interest in dressing and going out of their houses. But this is the right season to organize a cheerful wardrobe, wear bold colors and have a fashion fiesta. Saggy clothes and wet boots are a part of the monsoon, but right choice of accessories, will help to dodge the puddles and give a trendy look. The first and best clothing would be colorful raincoats. Cream, brown and black make normal attire, whilst a pink coat with a belt will look attractive. Any clothing ranging from tops, skirts, and dresses will go with the season, while a knee length costume along with a colored pair of leggings would best sustain the monsoon sprit.
Hues for the Rain:
Designers say that bright shades of indigo, green and blue hold good for monsoon. Various hues of sea to dark shades of green will be the choice of the season. Designer's favorite palette of purple, lemon yellow and white are also the best picks of monsoon. Not just vibrant colors, but even light hues of fuschia pink and soft pastels of pink, orange and peach help to lighten the mood. Wrinkle free clothing in dark shades of black and brown make an ideal formal wear. Beige tined with multi-colors and black seem perfect during the rain.
Fabrics for the Rain: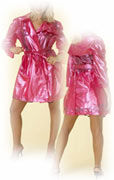 Blended fabrics of polynylon and, cotton will be ideal. A right choice of fabric is more important, as some of them lose their sheen and get spoilt quickly once they get wet. Avoiding crepe and chiffon clothes are desirable, as they will lose their sheen one they become wet. Capri and beach wear designed with a proper fit will flatter the shape and also protect the wearer from wet conditions. Cool casuals for the season would be a jeans fitted with a cotton shirt. Silk and rayon will also make a popular choice during this season adding depth to the hues with variances in the color palette which is otherwise not seen.
Palazzo pants teamed with tank tops make good fusion wears whereas, elegant zardosi work on satin fabrics make the mark on ethnic collection. Denims are all time favorite even during the heavy downpour making a perfect combination with trendy T-shirts. Polka dot tops with boat necks will look great for evening wear.
Greet the monsoon with colorful accessories:
The right combination of colorful accessories makes the monsoon attire all the more appealing. Metal and leather can be avoided during the rainy season. Aqua colored glass beads, and funky translucent bangles make the match for monsoon clothing. These colorful and trendy accessories can be teamed with any outfit. Multicolored and semi transparent jelly sandals will add a dash to the play. A girlish jewelry like single pendant and acrylic accessories give a sporty look for the rainy season. Beautiful bracelets, earrings, and neck pieces made of plastic, rubber, and acrylic make a trendy fad.
Showers of the monsoon time are a right time to refurbish the wardrobe. Fashion designers continue to improve the art of fashion with beautiful patterns and give a sunny look on a rainy day. Special trends hit the shop racks and make a perfect choice of wardrobe for the monsoon wear.
References: