Global, apparel market place is now going through a paradigm shift moving towards increased product differentiation, and customers becoming more diverse, and demanding. What are the changing attitudes of apparel shoppers? What are the emerging retail trends?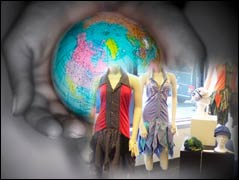 Global market for apparels has gone through a rapid transformation in the recent past. Along with the market, so has the end user's awareness, and demand of the various offerings. This makes competition in the apparel sector tougher. As, the fads keep changing rapidly, there is no appropriate road map for guaranteed success in the apparel market. Forecasting the retail apparel market trends is 'a hard nut to crack' due to the drastic changes in fashion, and simultaneously the customer preferences. However, based on the retail, manufacturing, and fashion merchandising business, a few facts can be predicted to be the forthcoming trends in the retail apparel market. A few clear trends do emerge based on demographic shift, societal influences, economic influence, and environmental concerns.
Pressure on Retailers through restricted customer spending:
Customers will curtail on their expenditure, and go for less shopping is specific stores. Thus retailers who focus on loyalty programs will be benefited. Shoppers of today are more segmented by demographics, lifestyle attitudes, and cultures. Their 'love affair' with apparel shopping will see a slight decline due to the swelling pressure of global economic turmoil.
Retailers seek entry into global markets:
Apart from their own domestic market, retailers will look for business opportunities in global markets. With the apparel markets in US, and EU getting saturated, a paradigm shift will be seen in markets of Asia, and South America. To be successful in the international market, retailers need to have a strong brand image for their products. While a few barriers still remain, they will plan to expand into foreign marketplaces with a high level of retail market. To further accelerate the process, they will seek local partners.
Fast fashion and customization gain control over supply chain:
More and more consumers will prefer to buy apparels that will match with their status, and lifestyle, and also go with their needs and aspirations. More efforts will be made to tailor merchandise assortments to local markets. The trend of customization runs further than that. Retailers will show willingness to sell on trend apparels which matches more with the consumers needs, feelings, and comfort. Supply chain systems will be altered and configured to suit the changing desires of the customers. Retailers will plan to curtail excess manufacturing expenses by maintaining a balance between demand and supply.
Increased focus towards Sustainability:
Material trends will be going green and bright. Apparel industry is turning greener these days with sustainable trends evolving to be a major influence on the industry at a global level. Mounting pressure on the garment sector to reduce environmental impacts for cultivating, processing, dyeing, bleaching, and making of fabrics will induce the retailers towards a sustainable path. Also there is an expectation to eliminate exploitation of labor, remove the existing labor inequalities, and have a fashion forward approach towards the manufacturing process. Fibres from wood pulp, bamboo, soy, corn and many other natural fibres will become a staple fashion.