Customer Engagement After the Recession - A New Take on the Dating Game?
How to build the perfect customer relationship is a well-worn subject for many retailers. Much time, energy and cutting edge business thinking has been devoted to the topic, with concepts such as 'commitment', 'intimacy', 'loyalty', and 'communication' echoing much of the sentiment found in agony aunt columns. This shouldn't surprise us. After all, it makes sense that there are parallels between how retailers covet their most valued customers, and how we, as individuals, conduct our intimate relationships. But what do these sentiments mean today, during one of the toughest recessions many of us have ever known?
The retail landscape has changed dramatically since late 2008. It is now a case of survival of the fittest. Traders can no longer hide behind over zealous, case spending consumers, and the credit crunch means that customers are thinking much more carefully about where and how they spend their money.
So, where to start? Stores need to woo their customers all over again-with a new set of priorities in mind. Consumers now require different things from this important relationship, and retailers need to act quickly to craft an attractive and sustainable offer that is superior to their competitors to win back the 'new look' customer-and secure their future business. How might they do this according to the rules of the dating game? Read on...
1. It's a numbers game
The more dates one goes on... the greater the chance of finding that special one and romantic fulfilment. In retail, we want to maximise the number of customer interactions, so we are actually looking for many 'special ones'. The more people you can reach out to and draw in, the higher the likelihood of you connecting with a larger number of the 'right' customers. Make sure that what you are offering appeals to a wide and attractive audience, not just a select few.
2. First impressions are everything
Something needs to 'click' between both parties at first sight for there to be an interest in what each has to offer. So, make sure you look the part and are sending out the right messages. In the dating game, lots of thought goes into what clothes to wear, how you smell, where to meet, and in making interesting conversation. In retail, first impressions are as equally important. On entering your store the customer should feel at ease, be attracted to what they see, and feel 'this is for me'.
3. Give out positive vibes
On a date, each party is looking for hints that indicate the other's interest, whether they are visual, verbal or subconscious. In face-to-face retail selling, a skilled salesperson will hone in on buying signals, however, in self-service environments, visual merchandising fulfils this role - assortment, promotion, pricing and display trigger positive customer responses that make them feel 'this is the retail experience for me'. Get this right and the following vital stage of commitment will be confirmed, achieving that vital second date/visit.
4. Communicate, communicate, communicate!
Communication is the essential catalyst in forming and sustaining relationships. In the dating game, good communication requires active listening from both parties and finding out about the other person-helping them to feel comfortable and valued. Equally for retailers to enjoy beneficial customer relationships they need to listen to, acknowledge and reward their customers for what they put in to this relationship. Get to know your consumer and make use of any variety of communication channels including face to face forums, online marketing, and social networking sites-just be sure that however you communicate it is in a way that means something positive to them.
5. Be aware of the tipping points
On a first date there are two critical tipping points-making the first move and handling rejection. Making the first move requires self-confidence, and retailers should demonstrate this in moves which align their offer with customer expectations and requirements. This assurance is based on intuitive customer understanding,
and awareness of the dynamics of the trading environment. The second tipping point is handling rejection-never easy, even for the most confident of suitors! Retailers quickly realise when customers are rejecting their offer, but need to be agile to get back on track. This agility comes from knowing when and what to measure, and implementing strategic and operational contingencies. The important lesson for both daters and retailers is to learn quickly from rejection-why it went wrong and how to avoid repeating the mistake.
6. Is this Mr or Ms Right?
This question is rarely answered on a first date, however many suitors have a clear picture of who their ideal partner would be, how to attract this person, and where to find them, in their head. The same goes for retailers. A clear picture of target customer segments, an understanding of their shopping expectations, requirements and behaviours, and a robust strategy for acquiring and retaining these customers are all essential-particularly in the changing market place.
Conclusion
Waiting for the recession to be over is a false hope-2010 will simply be replaced by new challenges. Retailers have got to get their businesses in a position where they can cope with whatever the economy or market throws at them next.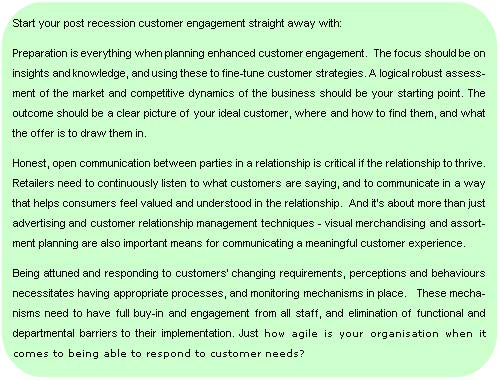 The author is Director of Consultancy Services at Retail Assist