Summary
Oligomer: summing up
The complete removal of the oligomers is not possible. However, they can be partly eliminated using speciality chemicals in dyeing, reduction clearing of dark/ heavy dark polyester fibre in acidic medium, proper finish having less affinity for the oligomers, and regular machine cleaning. Here are some things to remember:
Clean machine periodically

Use of high liquor ratio

Avoid prolonged treatments at 1300°C and frequent/sudden temperature changes

Use oligomer dispersants during dyeing

Drain the bath at highest possible temperature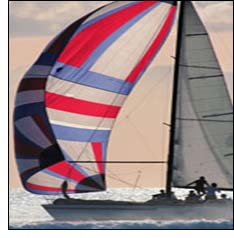 Summing up Polyester processing
All good things are difficult to achieve
People in the Textile processing industry are no different than this boat. It is moving despite facing the resistance from the waves and the flow of current.
Similarly, we have to solve problems faced in day-to-day processing as and when it occurs. Despite the best possible process controls and control over dye quality and weighing, problems still persist. Identification of the precise cause of fault is not always easy on the shop floor where production is given a priority over quality. Very often the precise cause of the fault is difficult to identify from the dyed fabric.
So, let me conclude by saying that attention to these factors. They alone can help you reduce the problems and discover remedies to processing problems:
Chemicals used in the processing

Method of dyeing, printing, pretreatment and finishing

Machinery used for all the processing

Selection of right types of disperse dyes and right dye auxiliaries
After the globalization of the textile industry in 2004 it is now even more important to stay competitive in the world textile market, by cost reduction which can only be achieved by right first time and eliminating all the shop-floor problems in the polyester processing.
References
ND Iyer, 'Polyester the most versatile synthetic fibre', Colourage, 01 September to 04 February (series of 26 articles)

AK Samnta, 'Road map for wet processing of micro denier polyester fabric and relevant studies on its dyeability', Man Made Textiles, October '03

Dr Bharat Desai, Oligomer control in polyester fibre processing, Colourage June 05

Prof

VA

Shenai, Technology of dyeing

Mr CN Sivaramkrishnan, 'Dispersing Agent', Colourage, September '05

AD Sule, 'Practical Problems in dyeing of polyester off shades', Man Made Textiles, December 03

Search engine 'google.com

'
The author is associated with Resil Chemicals, Ahmedabad