Who said that all the credit of denim apparels is only for America?
History of jeans dates back even before the period of Levi Strauss, which has a renowned association with it. Denim is a fabric, which is used for making jeans. Though denims are more popularly associated with America, India has the credit of its early history. Initially jeans were ordered for the Italian sailors from the French city of Nimes. The fabric was dyed from a blue dye manufactured out of the indigo plant that grew in India.
Jeans has one more interesting Indian connection. The denim garments of Italian sailors, during the span of time, transformed into boilersuits for protecting their clothes. This overall apparel was made from coarse and undyed calico fabric. This fabric is mainly associated with Calicut in India, and hence the name calico. These overalls were mainly manufactured in the Dongri area in Mumbai, and hence acquired the name Dungaree.
Indian Market for Denims:
Indian denim market is among the fastest growing market with a projected growth rate of 8-12%. Fashion is driving the sales of this apparel like never before. Fashion mania that is fascinating the jeans market is ubiquitous, cutting across the price segments and brands. Increasing number of middle-income families in India has given a chance for denim apparels to capture a good market. Satellite Televisions have also played their part in creating a fascination for these apparels associated with the Western culture.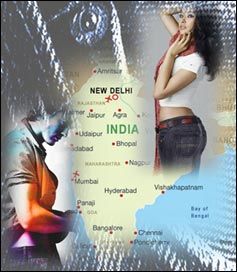 Brands like Hugo Boss, Tommy Hilfiger, and Rathore jeans make the premium segment with a price tag of more than Rs.2, 000. Pepe, Wrangler, and Lee make the premium segment with products ranging from Rs.1, 000-2,000. Numerous brands exist in the Indian market with a price range of Rs.500 -1,000. Other in store jeans is also available at prices ranging from Rs.400.
Fashion gurus believe that fashion wave for denim apparels is driven by innovations in washes, and fabrics. Manufacturers are coming up with novel ideas to capture the minds of consumers especially the younger segment. Crosshatched, broken twill, stretch, and multi-count are a few popular patterns. Jeans are available at all price ranges to suit the budget of every single customer. Even for the people who prefer tailored garments over ready made ones, ready to stitch jeans are available with a pant fabric, leather label, pouch of rivets, and an instruction booklet regarding the stitching process. Manufacturers do not want to lose a single opportunity of marketing their products.
Concept stores are planned by brands conveying an uppity attitude, celebrating snobbery right from its signage to store interiors, furniture, plasma televisions, and other features to captivate the shoppers. These stores provide the consumers with a complete brand experience and communicate the imagery lifestyle and value of the brand. Levi Strauss has chalked out plans for adding 800 stores all across India by 2011. Wrangler brand has diverted from its menswear segment to introduce the new Wrangler girl. Arvind is the third largest denim manufacturer in the world, exporting more than 150 varieties to 66 countries all across the globe. Big brands such as Lee, JC Penny, Wrangler, Marks & Spencer, Gap, and Lee Cooper use their denim fabrics.
Today jeans have become an exemplary outfit in every wardrobe. Every one will have at least one pair of jeans in their closet. Popularity of denim has a ripple effect with other items complementing their usage. Denim industry in India is moving towards a positive phase, with the popularity of variety of denim apparels growing at a phenomenal rate.
References: