Shopping with a conscience for eco friendly products is now in vogue among discerning and environmentally conscious consumers. But how does one identify such products?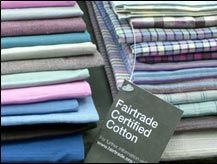 There is a debate that globalization is having a negative impact on the worldwide economic crunch. Hence, the need for a sustainable approach is being felt as a solution to the problems prevailing around; related to the social and economic problems. Fair trade is believed to be one of the best tools for a sustainable economical development. Normally felt as an alternative method of conventional trade, this practice has the norm for poor and backward farmers, and producers.
Our everyday life intervenes with farmers in numerous activities. Most of the products we use have an untold story of the hard work of a farmer or an artisan that lies behind it. Normally in a trade activity, small farmers, and artisans miss out the trade benefits. Fair trade was formulated with a win-win concept of equal distribution so that every one in the supply chain enjoys equal benefits. It gives equally opportunity to everyone, fair wages, safe working conditions, training and empowerment of farmers, ecological farm production, and long term business relationships.
Shop for a Change: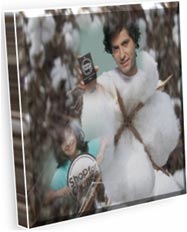 To make the concept more meaningful, clear-cut guidelines are required. Shop for a Change Fair Trade is an Indian section 25 not for Profit Company for building successful international models for fair trade certification and marketing. Established through a partnership between international resources for fair trade and traidcraft, it is financially backed by the EU, and Dutch foundations ICCO and Hivos.
Shop for change sets standards for companies and producers, thus guaranteeing the consumers that the products meet social and environmental standards. The label on the apparel enables the customer to identify the quality of the garment. The company enables brands and retailers about the fair trade concepts and enables supply chain services liking businesses to the suppliers. Additional marketing campaigns are done to support the sale of products. It further ensures consistent supply of quality products for consumers.
Shop for Change in India: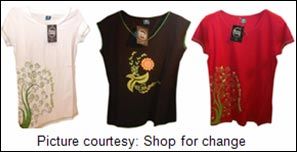 The momentum is now having a swift take off in India. The concept originated with an aim of bringing the disadvantaged farmers and artisans into the system and making available the benefits of fair trade for those who need it the most.

Retailers who sell apparels with shop for change label enjoy the benefits of product differentiation and a responsible brand image. The concept actively targets youth who have independent thinking and are ready to embrace changes in shopping habits. To popularize the concept, tie-ups are made with celebrities and socialites. This will promote the concept, and simultaneously create an impression in the minds of the trend conscious consumers. Currently the company works with more than 5,300 marginalized small scale farmers in Orissa, Gujarat, Maharashtra, and Andhra Pradesh.
To get more detailed information straight 'from the horse's mouth' &sec=article&uinfo=<%=server.URLEncode(2683)%>" target="_blank">Fibre2Fashion approached Mr. Petchers, CEO, Shop for change for an exclusive interview.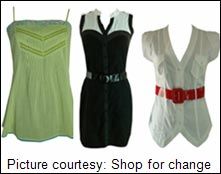 How far has 'Shop for a Change' certification been successful; in a global perspective?

Fair trade is a cutting edge business concept that the biggest, most forward looking global brands like Starbucks, Cadbury, Wal-Mart, and Tesco have already signed on to. Indian customers will be increasingly on the lookout for the Shop for Change Fair Trade label on their textiles, and companies can capitalize on the differentiated status and brand image boost to increase customer loyalty. By sourcing fabrics made from Shop for Change certified cotton, companies that partner with Shop for Change can use our Shop for Change certified label on their textile products.Shop for change will not only position its brand as an option to aid poor farmers, but will also make a fashion statement.


How far has 'Shop for a Change' certification been successful; in a global perspective?
"Shop for Change is focused on bringing the successful, time-tested global model of fair trade to the Indian market. While Shop for Change is domestically focused, we are building on concept that has performed impressively at the global level. In 2008, the global market for fair trade certified products was US$4.1 billion, which represented 22% year on year growth. Fair trade products are sold through Europe, the US, and Australia by companies like Wal-Mart, Tesco, Sainsbury, and Starbucks, to name a few."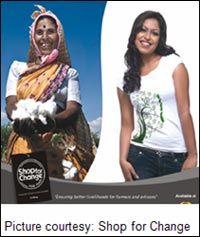 How is the label planning to promote itself in the Indian textile industry?


Shop for Change has partnered with Lintas to launch a national education and awareness campaign about fair trade and the Shop for Change label.
In addition to putting on its own events to promote fair trade, Shop for Change will partner with both industry events and local public events to raise awareness of the concept.
A 'Youth Connect' campaign will specifically target young people, whose independent thinking, embrace of 'change', and consumption habits make them an ideal demographic for products bearing the Shop for Change label.
Shop for Change will work with companies that partner with us to let consumers know that their brands and retail stores are where consumers can find Shop for Change Fair Trade garments and home furnishings.
What challenges are you facing in expanding the process into the Indian market?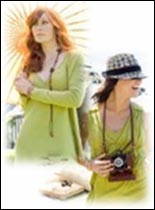 While Western fair trade markets have been a lifeline for many small-scale Indian farmers, there are still millions who have been unable to access these markets internationally. Shop for Change aims to create a fairer, more sustainable market for these farmers by tapping into opportunities created by India's dynamic domestic market. Our challenge and our goal is to build on the opportunities that fair trade has created for farmers previously and scale up the benefits here in India so that more Indian farmers can share in them.
What about pricing? Is the price point an issue for products made following the principles, or sold under this certification?
Shop for Change's focus is on ensuring that farmers get a fairer deal for their crops so that they can care for their families and the environment. How the brands we partner with price their fair trade certified products is ultimately something that is up to them. But based on the experience we've had so far, certified products have been priced quite competitively.
Fair Trade principles are concerned about the making, and the makers of the product. What is your role with the consumers?
Raising awareness about fair trade and the fair trade products offered by the companies we partner with is a big component of our work. Part of the value we offer to companies is the opportunity to use the Shop for Change certification label as a way to differentiate products in the increasingly competitive marketplace. We have launched an ambitious marketing and PR campaign to use media, social networking, partnerships with celebrities, and presence at local events as a way to get the word out to consumers. And we've received positive response. Recently I met a consumer who has just come across some of our promotional work. I asked her how the concept resonated with her and she said,"
You know, this just makes sense. "Give poor farmers a fairer opportunity rather than a handout and they'll be able to pull themselves out of poverty."
Shop for a change standards are specially set to meet the intricate challenges faced by the Indian farmers. Developed by renowned farmer and artisan organizations, specialists, and academics, the system makes it easier for farmers to sell their products on a fair price. Buying a product with this mark is a small choice we can make, which will make a big change in the lives of poor farmers and artisans.
Reference:
http://www.shopforchange.in/
Picture Courtesy:
Shop for Change