Vietnam Garment and Textile Sector: The First is the Opportunity
Despite many difficulties, but 2009 remains a year full of success for the textile sector of Vietnam, located in the top the exports of the country (excluding crude oil), the consumption in the domestic market on a increase, from place to import, textile Vietnam has exported more raw materials abroad.
Not only that, fashion Vietnam has officially become a member of the 6th Asia Fashion Federation (AFF). Mr. Vu Duc Giang General Director of Vietnam Textile and Garment Company (Vinatex) shared lessons successfully, challenge and opportunities to develop our country's textile and apparel industry in the near future. Newspaper Industry and Commerce is pleased to introduce this article.
Find New Markets
Because of the impact of financial crisis and global recession, the textile and garment importers in Vietnam are cutting production, such as the U.S. market down 4.4%, EU down 3.8%. Owners of Vietnam garment and textile enterprises have been active, not sitting idle just to wait for the world market recovery that was reaching out to niche markets such as Turkey, Middle East, Africa, and Eastern Europe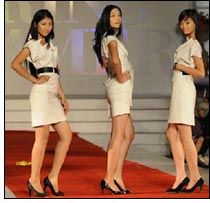 Specifically, in 2009, textile and garment export to the Japanese market increased from 23% to 25%. This is a great success of the textile sector, Vietnam by Vietnam and Japan signed a bilateral agreement from October 1, 2009, the tax rate of textile and apparel goods from Vietnam to Japan to has been cut. Accordingly, Vietnam enterprises using raw materials originating from the fabric of a trade agreement with Japan will enjoy 0% tax rate instead of 5% to 10% as before. In addition, the Japanese importers appreciate stability, level of skilled workers, as well as quality, design rich diversity of the textile and garments from Vietnam. Many Vietnam garment and textile enterprises have built a lasting relationship and working successfully with the Japanese market such as Dong Xuan Knitting, May Nha May 10, Nam Dinh Textile, Garment Vietnam Tien, Binh Minh Garment, Textile & Oriental Metal, Phong Phu Corporation CP. Such as Dong Xuan Knitting cooperation with Japan since 20 years, broke up the next 10 years. The fiber types have very large years. Also in 2009, Dong Xu an Knit- growth rate, to 70% over the previous ting signed a contract to export to the year
Vietnam garment and textile sector has also approached the Middle East market, export fabrics, towels and accessories to some countries like United Arab Emirates, Egypt, South Africa. In particular, Turkey-which is a powerful country on textiles, and imported this year Vietnam's relatively large numbers, especially fibers found. Former Eastern European countries also imported quite a large textile and garment in Vietnam. Notably, many countries before each technical help Vietnam, now is to cooperate with Vietnam to develop the textile and apparel industry, typically as Russia, there are programs to cooperate with Vietnam to develop industries their textiles.
This year, the textile business is expected to achieve export breakthrough, as Hanosimex export 38% of fiber production and export units have 80% of their production capacity. One thing praiseworthy for the textile sector, Vietnam has been exporting raw materials .The fibre types have very large growth rate ,to 70% over the previous year.
Trademarks on textile Made in Vietnam
Vietnam has been successful in building brands and developing brand sustainability, and went into the consciousness of consumers at home and abroad. There are many types of units that are export brands and are present in the foreign markets. Vietnamese units are exporting to Pakistan, Cambodia, Laos. In Cambodia, the Vietnamese Tien is appointing new agents. Tien Vietnam is planning to open in 2010 more agents in Thailand, Malaysia, Indonesia and Singapore, along with the formulation and promoters.
Items such as towels, yarn and fabric Vietnam have built up a reputation in the world market, increasing export volume, due to fulfillment of the rigorous requirements of the importers, requires origin clear. Especially for products of towels, is found to meet technical barriers very closely, especially in the Japanese market. Currently Vietnam is the world's second largest exporter of towels, mainly export to the U.S. market, EU and Japan.
Many domestic units are exporting before processing but they are now investing more in product design, brand building, image promotion, reach more customers, cover more areas throughout the country. In 2009, revenue from the domestic market of the member units of Vietnam Textile and Garment Group increased 26% over the previous year. For example, Vietnamese Progress achieved over 600 billion, up nearly 150 billion compared with 2008
Vinatex has also built up a research laboratory for achieving standard parameters of the Vietnamese products, thereby producing a product suitable to the needs of consumers. It is observed that a lot of countries with the application of advanced textile are very successful. In addition, contests are being held among fashion design students to discover talented young fashion designers, motivate them and encourage Vietnamese fashion designers to enhance creativity so that they can meet the needs of various customers.
Vietnam has officially become a member of the 6th Asia Fashion Federation (AFF). This provides an excellent opportunity to study and work with member countries who have developed in the fashion industry in Asia. This will take the fashion industry in particular and Vietnam Textile and Garment industry in general, on a rapid growth path in future. This will also help to further promote textile and apparel brand "Made in Vietnam" as well as open more export markets for the domestic enterprises.
Goals 2010: 10.5 Billion USD Export
It is forecast that the world economy will recover in 2010, but is expected to still have many unpredictable risks, so Vietnam garment and textile enterprises will have to continue to protect their competitive advantage, actively welcome business opportunities the crisis may offer. To achieve the goal of sustainable growth, textile and Vietnam will focus attention to the training of human resources, especially those who do fashion design. Last time, staff management, technical textile and apparel industry has been increasing in quality, especially fashion design team has the most powerful, switch back to nature. Textiles Vietnam has confirmed the level. Position and prestige of Vietnam garment and textile industry is growing high.
Group also continues to implement restructuring labor, reasonable production process, striving to increase labor productivity by 20% co. compared to 2009, creating momentum for sustainable development. In 2009, the reorganization labor and production processes of the Group helped to increase labor productivity 20 to 30% over the previous year, so to meet the delivery time for customers, while reducing the production costs. So, although export prices were down 15-17% due to recession, but total production for export has increased by 20-40%, in particular, wage of workers has increased 17-20% compared with 2008, thus retain the stability of labor, which are the main stages in the textile industry in the past.
During 2011-2015, textile Vietnam advocates strengthening export, redefine market strategy to establish a stable export market. Specifically, in the new period, textile not only to compete on quality, the price that must be competitive right from the online auction. Now, type of order should provide security and should not be based on design, the price ... there are too outdated
Some fashion companies in France invite bids for new designs on the Internet. Numerous competitors from countries with strengths from all over the world take part in the textile auction. Therefore, human resources must meet these requirements. Must have expert calculations within a short time, the plight of export disruption, many newer designs of such materials must export-oriented textile and garment can be offered at reasonable price, so that enterprises in China have been "going orders can be obtained. Therefore the most important factor for the textile on the one hand, China's textile and apparel industry is still time to create high quality human resources.
If you promote their advantage, textile and Vietnam could reach the target export turnover of 10 to 10.5 billion in 2010.

Image Courtesy:


http://www.modpalacehotel.com/uploads/Image-URL/thumbs/62264fd3505d6aea9c9894d7c33d393d.jpg
Originally published in New Cloth Market: May 2010