Since the medieval ages when man went for hunting, need for work wear came into existence. What are the current trends, market, and future of this attire?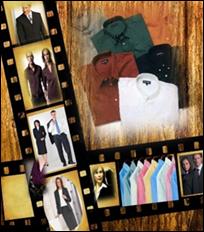 Dress codes are unwritten, and are accepted as an important aspect of human appearance. Over the past decade, corporate wear has become a vivacious sector, representing an enormous market. The umbrella of Corporate wear is broad, and consists of:
Ordinary office wear consisting of cheap and durable overalls, trousers, and shirts.
Corporate wear designed specifically for the working business class emphasizing on color and design. This includes uniforms for the corporate sector as well.
Protective clothing for working in different kinds of environment for manual labor positions. These garments are made of special fabrics, or ordinary fabrics with special coatings such as acid proof, fire proof, bullet, heat and chemical proof fabrics.
Market for Corporate wear:

Current market for corporate wear is estimated to be worth $10 billion in annual sales. Of this workwear comprises to be 45%. Corporate wear are used to motivate employees, enhance customer relations, and build brands. Work wear consists of four separate garments; shirts, jackets, trousers, and skirts. Media and globalization have brought about a rapid transformation to these outfits. Mushrooming growth of numerous multi national, and corporate companies, have fuelled the development of this clothing.


Retail sales of corporate wear consist of suits, skirts, jackets, and trousers. The dividing lines of casual wear and corporate wear are becoming more blurring with the span of time. In some countries, in big corporates, the employees are given an allowance to get their outfits from mass market retailers. Market is highly fragmented in terms of suppliers. Some specialist national companies and few global players dominate the segment.


Trends for Corporate wear:

Getting dressed to office does not mean to leave ones personal style behind. Dressing according to ones individual choices, along with a professional, and polished look will give a competent image. Current trends of the corporate world encompass a professional look with minimal color patters, and stiff fabrics. Appealing fashion trends, both stylish and elegant, are brought into the corporate world. For someone, who wants to look fashionable, and also professionally dressed, fashion brings in a more work appropriate, and job friendly attire than every before. With many companies tightening the casual dress code, fashion is changing even more quickly, taking new dimensions every now and then.

Skirts have made a come back in a big way. Pencil skirts make excellent outfits for office, and goes with almost anything from a long sweater, belt or a shirt. Other types can be tricky and will work out with creativity, and individuality.

The business color palette indicates shades which also communicate the wearers personality. Red shows aggressiveness, navy displays trustworthiness, gray; a conservative image, and black, a chic illustration. These traditional colors remain in the corporate sector always, and mix well with the other accessories. Feminine colors like ice blue, soft pink, ivory, and lilac will also be in style.