The Central Government is considering removing the restrictions on the export of cotton yarn from the coming October. This has put the domestic textile industry in a state of flux.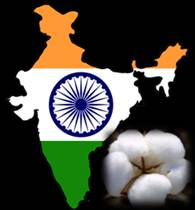 Prices of cotton and cotton yarn showed a steep rise during the recent past increasing by 25% since October 2009. Representations were made to the Government requesting for a ban in the export of cotton, and cotton yarn. High incentives that were given to the exports of raw material were also expected to be withdrawn, thereby restricting the huge volume of exports.


The Government imposed a rule restricting exports of cotton earlier in April 2010. On an average 73 lakh bales of cotton were exported during October 2009-April 2010. Restriction was placed of cotton exports with a view to hold on to the cotton cultivated in the country, and ease the domestic prices. This was positively believed to bring price control in the domestic market. Later in July 2010, the Government partially lifted its limits on cotton exports allowing only the registered exporters to ship. Currently, the Government is considering removing the restrictions on the export of surplus cotton yarn produced that is over and above the required quantity. Good crop prospects for 2010-11 have also motivated the Government to consider in removing the restrictions.

Eliminating the Restriction - the other side:

Spinners, anticipating huge volume of exports have augmented yarn prices, registering a sharp increase. This would have serious implications in the domestic weaving industry. Spinning mills would normally give more preference to exports of cotton yarn. This would lead to an increase in the prices of cotton yarn in the domestic market, which might cause many weaving units to shut down. Ultimately it would jeopardize the jobs, and livelihood of lakhs of workers in this industry.

Textile mills normally keep a stock of raw material required for 30-45 days of production, and smaller mills keep a stock of 20-30 days. Relaxing the exports will be a hit on the industrys performance as majority of the good quality cotton yarn will be exported and the domestic industry would be deprived of it.

Industry analysts observe that this move would benefit neither the farmers, nor the domestic textile industry as increase in the raw material prices would ultimately affect the end products in the price driven export market. They feel that the security of the raw material for the entire textile value chain is facing a threat. Furthermore, the declaration of bringing cotton under the Open General License category even a month before October has encouraged businessmen for a speculative trade which has also caused an increase in cotton yarn prices.

The domestic textile industry believes that allowing premature export of cotton would cause disaster to the industry. They expect the Government to calibrate the relaxation, and prolong it for an extended time.

References:


1. &sec=article&uinfo=<%=server.URLEncode(2904)%>" target="_blank">http://www.thehindu.com
2. &sec=article&uinfo=<%=server.URLEncode(2904)%>" target="_blank">http://economictimes.indiatimes.com
3. &sec=article&uinfo=<%=server.URLEncode(2904)%>" target="_blank">http://www.financialexpress.com
4. &sec=article&uinfo=<%=server.URLEncode(2904)%>" target="_blank">http://www.cmemarkets.com