Just few months to go and India is going to witness one of the hottest fever of IPL new series and with this Brand IPL is going to deliver many new Business ideas apart from Cricket Celebrity License and it's going to reach its new peak, loyal fans could be seen sporting their favorite team colours across India.
Licensing Business is just taking its shape in Indian Market and Down the line we are going to see more home grown characters like Chota Bheem, Little Krishna, Bal Ganesha etc. Licensing Business need to set right process, delivery, and expectation which gels with the Brand value of Character.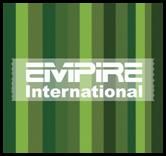 "Empire International gives their clients a one-stop solution for any licensing, Account Management, Creative Services, Public Relations, Special Events, Merchandising and Research need. Vision of Empire International ensure best international practices for corporate brands, television series and characters, fashion brands, sports, Celebrities. Empire International is perfectly geared to expand into diverse sectors of licensing in India like Mobile application, Downloading, Gaming etc. We practice the global standard which integrates with local marketing strengths. It's simple, we move with the market, in every market, and market condition. Timing is everything." say Sumit Zalawadia, A fashion Designer by Profession for NIFT and having experience with Retail companies like Reliance Trends. He continues the comment -"India is country getting ready for significant Retail expansion in coming years. As our economy is matching with Globalization and Industrialization which has resulted in healthy competition between big players. The Next big leap in Licensing Business is going to be Celebrity licensee which India still lags behind from other countries."
"Everybody likes cartoon characters. They make us happy and keep our mind tension-free. Children are now becoming smarter in making their choice from a range of products. The market is flooded with pencil and lunch boxes, stationery items and school bags emblazoned with cartoon characters. India has just started withstanding the Licensing Business in Depth and It picking up really fast" say Mr. Sanjay Manocha Chairman and CEO(Lace N Lingerie) with more than 15 years of experience in the fashion industry.
"Today Animated characters are becoming more popular in kids area and are becoming a selling tool in most of the segments like Apparel, Foot wear, Publication, Confectioneries, Stationary items, Toys, back to school items and in many other segment like watches, glasses, mugs , tooth brush etc. Animated character presence is very well established in Europe and America. India being still very much upcoming market in animated characters the potential is very high for the Business entrepreneurs to look in to animated character licensing. Empire International also gives Promotional Licensing Offers. Our execution is rooted in a "touch-point-strategy" and an unwavering understanding of your consumer. Kids are smart; their play and product usage patterns have underlying purpose and sophistication in a highly competitive market place. We feel we must be boldly aggressive and progressive to maximize a brand's full potential. We approach each brand individually, based on key marketing and business objectives to integrate a cross platform strategic map to the brand development outline of every licensing program." says Manjunath Parikh
Empire International represents Empire International Merchandising Corporation in Manila (Head Office), Singapore, Hong Kong, Taiwan, China, Japan, Malaysia, Thailand, Indonesia and Korea. Our mission is to be the most successful licensing and brand extension specialist in Asia delivering results to both licensing and licensees in the most effective and relevant ways. We are extremely happy to introduce Characters like Simley Central, George of the Jungle, Lizzie Mc Guire, Totally spies, Speed Racer, Funny Faces, Rambo, Tarzan, Zorro, and many more to Indian Audience. Character like smiley central which is known as Emotional faces world over can best with their 12000 plus emotions can mark everlasting impression to anybody face.
Source: &sec=article&uinfo=<%=server.URLEncode(2943)%>" target="_blank">http://www.empireinternational.in/