Introduction:
The textile machinery industry requires great investments in research, deep know-how, long experience in textile, mechanic and electronic fields. Therefore countries having a first class production are few. Italy is today the second producer of textile machinery in the world and the technological level of its production is considered of the highest standard by the competitors themselves.
In 2009, the production of Italian textile machinery amounted to 1.9 billion of Euro, 78% of which (worth 1.5 billion Euros) exported in about 130 countries.
Asia (50%) is the main export area, followed by Europe (31%), South America (8%), North America (5%) and Africa (6%).
Italian textile machinery - export by areas-2009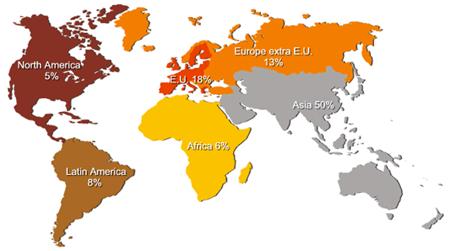 Italian textile machinery - export by categories-2009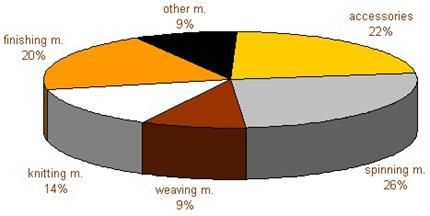 Italian Textile Machinery Exports by Main Countries (Million Euros)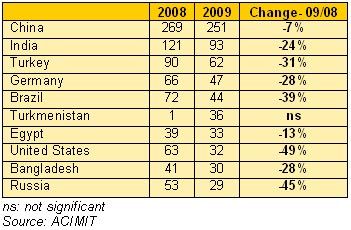 Italian textile machinery export on the period January to April 2010 was worth 425 million Euro (+26% on previous period).

Italian Textile Machinery Sector (including laundry machinery) Main figures - million Euro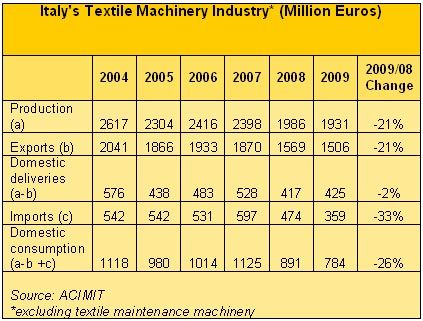 The supply of Italian textile machinery is characterized by a wide and complete range:
Pre-spinning and spinning machinery

Twisting, reeling, winding machinery

Pre-weaving and weaving machinery

Knitting and hosiery machinery
Dyeing, printing and finishing machinery
Laundry dry-cleaning and ironing machinery

Reference: