Introduction
One of the biggest events being sponsored by India is 'The Commonwealth Games' and the thing that adds meat to this 12 days event is the display of Indian Cultural Heritage. RMIT Gallery, Melbourne collaborated with India's leading craft and textile museum, the National Handicrafts and Handloom Museum to organize an exhibition 'Power Cloths of the Commonwealth', which is scheduled to be held from September 25 to October 20. While the games will be the turning on the heat in Delhi, display of Indian culture, heritage and folklore will be held to beat that heat.
Highlights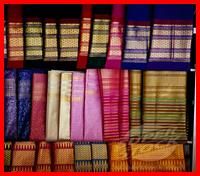 The assorted artistic panorama including regional and classical dances, music, theatres films and other creative skills, arts and crafts will be a cool place to chill out for the visitors and tourists. There are around 21 folk emporia on one of the renowned streets of Connaught Place, New Delhi. The city hopes high for the sales at the CWG which is ready to attract huge numbers by offering heavy discounts for everyone in that period. Handicraft items on display are antiques, leather item, carpets and rugs, silk and cotton fabrics, furniture and jewellery. States like Gujarat, Madhya Pradesh, Orissa, Punjab, Haryana, Kerala, Himachal Pradesh and Tamil Nadu have actively participated and have their outlets for display. In addition to these state emporia some NGOs have also come up with their displays in the Rajiv Gandhi Handicraft Bhavan. Everyone is looking forward to make good profits out of this event cashing on cultural heritage of India.
The government of India is planning to initiate a belligerent campaign to support Indian silk and other handloom and handicrafts items among sports veterans, audience, organizers and bureaucrats in the Commonwealth Games. The campaign will be accompanied by luring road shows and demonstrations. There will be stalls flaunting dress materials, clothing, silk scarves, art metalware, woodware and home decors etc.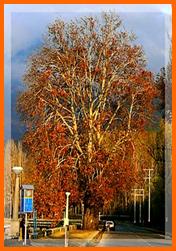 The multihued and stunning Chinar tree made up of hand-woven Indian textiles and fibres will form the milieu for inaugural ceremony of Commonwealth Games to start this coming month. The Chinar tree is made up of bamboo swathed with around 25 sections of colourful silk fabrics woven by conventional artisans of India. It is festooned with traditional silk Fabrics with kalamkari work done by the artists of Andhra Pradesh. India's rich textile and traditional crafts in the 'Fabric of India Segment' will be displayed during the inaugural event of CWG and the main purpose of installing bamboos wrapped in silk fabric is that as the ceremony is likely to be observed by a lot of people round the globe, this will help in promotion of Brand India and creating an International demand for country's products. The Silk Chinar is 'Tree of Knowledge' with the height of 110-foot and 40-inches width integrated with an aerostat, which would flash images of 'Project M'. Kashmir is the region where Chinar is found extensively and is also the state emblem. The exclusively woven colourful fabrics comprises of ikkats from Andhra Pradesh with Kantha embroidery of West Bengal. Besides that, this tree will also be used as a centre-piece for the fashion show to be organized during Commonwealth games.
INA Metro station is also displaying India's wealthy and assorted handlooms and handicrafts from Banarasi brocade to Kanchipuram sarees. The Textile Ministry aims to reveal the centuries-old conventional art of the nation during the Games and so it has espoused the INA Metro station, located nearby to Dilli Haat, where it has displayed 58 sections of well-liked handlooms, handicrafts, paintings and murals.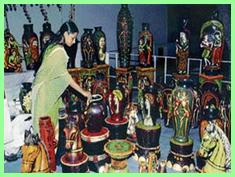 Conclusion
The word 'Power' is used for textiles to captivate attention since power includes number of individualities and magnitude of varieties as well as the power personified in a garment as an asset of the fineness of skills in its making or the worth of the materials used to make them. Clothes of high artistic value which were traded around the world, such as the exceptionally dyed and printed Kalamkari created by Gujarati masters, made in early centuries, will be out on display for the world in a quest to create a remarkable impact on the minds and souls of the Art-Lovers.
References
Image Courtesy