Internet Marketing-One of the Best Marketing Tools which Is Not Yet Utilized Up to the Potential
Introduction
E-commerce stands for electronic commerce and pertains to trading in goods and services through the electronic medium, i.e. the Internet or phone. On the Internet, it pertains to a website, which sells products or services directly from the site using a shopping cart or shopping basket system and allows credit card payments.
E-Commerce in India Today:
Today E-commerce is a byword in Indian society and it has become an integral part of our daily life. There are websites providing any number of goods and services. Then there are those, which provide a specific product along with its allied services.
As per ITU (International Telecommunication union) statistics India has about 81,000,000 internet users which is about 100% greater then compared to 2007 in terms of users.
Growth in internet:
Mobile internet: In these days almost all of the mobile handsets have the facility to access internet and growing competitions had come up with attractive schemes which makes mobile internet a wider reach.

Social Media: According to comscore July 2010 more then 33 million users in India visits social media which includes social blogs, wikis, internet forums etc.
But even after these development and advancement in services we have to really think twice that are we utilizing internet as the media of business development? Answer is 'NO'.
In India Travel sector continues to remain the only e-commerce friendly sector in India. Comscore has published a report on the increase of visitations to travel sites in India which further establishes the fact that Indian consumer is indeed maturing to the e-commerce at least when it comes to booking travel tickets.
Advertisers in India still not utilized or exploited the true potential of India. There is no growth in terms of advertising spends per user during the decade.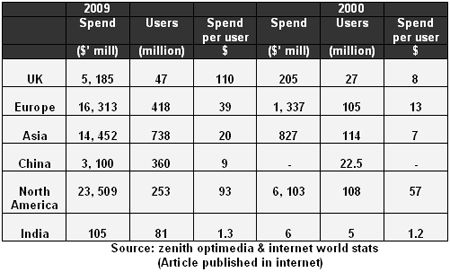 Challenges in Implementing E-Commerce Portals in Retail Segments:
Assumption that selling/buying in online Is not safer

Fear of design duplications

Traditional selling
Majority of retailers highlight these are some of the barriers which stops them implementing Ecommerce portals. But I feel that the above said baseless. Lets see one by one
Safety issue:
As per industry estimates 1 in 3 railway tickets are sold online through IRCTC also it is estimated that 35% people book their air tickets in various travel portals. So safety issue should not be a barrier in E Marketing.
Fear of Design duplicates:
This issue is mostly raised in textile industry which has a fear of design duplicate. In simple many textile merchants feel that through internet competitors can easily copy their design of any particular model through which they can easily replica the same design. But in modern competition world there are so many ways were a merchant can ensure that no one can copy or duplicate or replica his own design or idea, so merchants should think those ways and try to implement the same.

Traditional selling:
This issue is generally raised by the Electronics/ Consumer Durable Brands that have very well established Dealer networks. They think that if they give lower prices online then they will have channel conflicts with their offline retailers which give almost 100% volumes.
Answer is Leading Brands across many categories in India like Consumer Electronics, Real Estate, Automobiles etc. who are advertising heavily online for lead generation, which is passed on to the sales channels for conversions. Hence they are already using online media for Direct Marketing!
Let us look the global scenario:
Forrester Research in its five-year e-commerce forecast for USA has reported that Online sales amounted to a whopping US$ 156 Billion in 2009 and it contributed to estimated 6 % of total retail sales in 2009. They further expect online sales to contribute to almost 8% by 2013.
The top ecommerce product categories in USA* are:
Clothing

Drugs, Beauty Aids

Books & magazines

Electronic Appliances

Furniture

Home furnishings

Toys

Hobbies etc.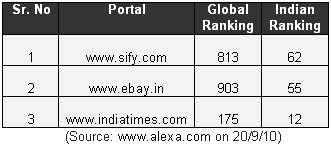 Let us have a look in to traffic ranking for popular Indian shopping sites:
Some tips to effective E-commerce portal:
First and foremost it should be user friendly website; consumer should feel comfort while they access the website.

Web Portal Loading time should be less, avoiding lots of flash and animations will help in achieving this task.

Each and every products should be highlighted in such a way that it appeals and makes a consumer to buy after understanding the need of the products and he should feel the product is going to justify need.

Attractive offers and incentive to promote online shopping.

Payment gateway with multiple payment modes.

Tying with logistics partner to ensure timely deliver

Vendor should also ensure that they have sufficient stock on promoted items.

Ensuring proper customer support to keep customer posted about their shopping.

Portals should be designed with search engine algorithms

Social media should also be used to promote the e-commerce portal.

If vendors implement effective strategy I am sure that internet will be one of the best and supportive and cost effective media in brand building and business development.
Dr. G. Veeramani is Professor and Head of Dept of Management Studies at Dhanalakshmi College of Engineering, Chennai. V. Vinu Chakravarthi holds MBA degree