Textile clusters in India face significant challenges in meeting the demands of customers. They are looking towards IT adoption to overcome these challenges, says a PwC report. The Indian textiles and garment industry is an important player in the world market, owing to the rich variety of fabrics, embellishments, and fabric related work such as embroidery, tie and dye, vegetable dyeing and so on, along with the availability of relatively inexpensive skilled labor for creating both fabrics and garments. In 2007-08, the garment industry grew by 15 per cent while exports exceeded US $9 billion.
The garment industry, according to estimates by the Clothing Manufacturers Association of India (CMAI) and the Asian Apparel Federation (AAF), stands at US $15 billion. Textile and garment clusters in the country comprise small, medium and large exporter units, as well as single-operation units that take up job-work, such as knitting, embroidery, printing or dyeing. These clusters, especially in Tirupur, show significant potential for growth, more so with the end of the quota regime.
However, the exporters also face serious challenges in meeting the demands of overseas customers and intermediaries such as buying houses. The insistence on shorter lead times and pressure on the margins of export and other units has grown over time, along with the need to stick to delivery schedules strictly and to improve quality to grow in an exceedingly competitive market. To meet such challenges, units in the cluster are looking at IT adoption as a solution. Through appropriate IT infrastructure, comprising hardware, software and solutions, some processes can be automated, while communication and collaboration can be expedited.
Current IT Adoption Scenario

Firms in the textile clusters include small, medium and large-sized firms. Most job-work oriented, single-operation units are small, with revenues ranging from Rs 1-30 crore. Revenues of small size export units range from Rs 10-40 crore; those of medium sized export units range from Rs 40-80 crore; and those of large-sized units exceed Rs 80 crore. Take the case of Tirupur garment cluster. It is a somewhat mature cluster and many firms have adopted IT to a great or small extent. Small firms have basic finance and accounting solutions such as Tally; slightly larger firms use some order tracking systems. Firms that operate on a bigger scale have custom-built or in-house solutions that are developed in conjunction with a third party.

While these solutions have the necessary functionality, they also have scalability issues. In some cases, the order tracking solutions also create certain usability issues for instance, some of these solutions expect the production to begin from yarn (raw material) stage and cannot process a production order, if it begins from the fabric (semi-finished material stage). Therefore, heavy customisation is required for a firm to use these solutions. Only a few of the large export units, with turnover of Rs 100 crore or more, are process mature enough to use full-featured ERP software. Firms that are in the process of implementing these applications include those that deal in high-volume, low-variety garments, such as innerwear.

The Challenges

Export units and other units in the garment cluster face several challenges in the course of doing business. In a scenario of demand exceeding supply, exporters are in the process of increasing capacity and scaling operations to meet customer demand. However, the supply side is highly fragmented, with each unit catering to a small number of select customers. Such export units feel the need to widen their customer base, for which sales, marketing and business development are key functions. A B2B portal, for instance, could help suppliers collaborate with customers, and enable such units in getting in touch with prospective customers and vice versa.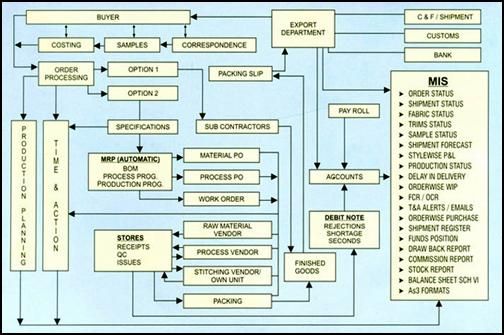 In several other workflow processessuch as responding to enquiries and providing ready samples to prospective customers or managing quotations before the generation of a purchase orderinteracting with several parties in the supply chain, from customer to sales team to production team to outsourced work team (if any) takes considerable time.


IT could help standardise and expedite some parts of these processes, thereby increasing operational efficiency. In almost all other aspects or processesmaterial management, plant maintenance, production, finance and payrollusing IT solutions would help units save time and effort by standardising and automating certain processes, improve productivity, and enhance collaboration and communication. In times of increasing pressure on unit margins, IT adoption could help the units get better ROI and improve their bottom lines as well.

Where IT/ERP can help

In many firms, basic IT infrastructure, such as email and Web servers are also missing. This makes IT adoption a difficult task. However, most firms, irrespective of size, are aware that adopting IT would help them in tasks such as order tracking, machine maintenance, accounting, purchase and sales management, inventory management, human resources and payroll management and so on, thereby helping them increase operational efficiency. For small, job-work oriented units, for instance, the minimum IT requirements are basic process automations in inventory management, procurement, sales, finance and basic order management integrated with the finance or accounting functionality. Similarly small and medium sized export units would be greatly aided if the processes of order tracking, procurement, sales, finance and production could be automated. For small units, a basic order tracking application would suffice, where customers and suppliers can track their orders online. For medium export units, along with order tracking, an application to track approval workflows for material management and subcontracting would be ideal. Along with production planning and material management, quality and payroll management could also be integrated into the system.
Large export units could benefit from using IT for payroll and human resource management as well. These units would require full-fledged ERP applications, including procurement systems and vendor management; production and inventory management; order management; customer interaction; modules for finance, accounting, payroll, quality, and human resources; as well as analytical reports and tools that would integrate the application with the mobile platform. A key feature of all these applications would be scalability, along with flexibility, customisability and extensibility. For small and medium sized units, taking the hosted application route may be more viable as a first step, since the units would not need to get into IT support and maintenance at this stage. For large units, the choice is between multi-tiered distributed architecture at the enterprise level over a LAN, or in a hosted environment. Another possible solution is a collaborative business portal (CBP) for the entire cluster, which would enable production planning at the cluster level. This would also enable large units to get in touch with job workers and smaller units for subcontracting; small units and raw material suppliers could also proactively contact larger units.

The portal would enable different entities to advertise available services and requirements; it would also help the different units in enquiry and quotation management. Exporters, job workers and raw material suppliers would be able to engage in buying and selling of material and services through auctions and negotiation. Other functionalities such as order tracking for subcontracting services and inventory management would also be available to all the units. Such a portal could help first time adopters of IT to invest in IT at a low risk and to use it to their advantage.

Originally published in New Cloth Market, Nov-2010

Image Courtesy: shimaseiki.co.jp