Digital signage is the newest way of promoting your product when the target audience is huge and the product is targeted to reach to customers in a shorter time span. The new age digital signage retail industry has been enhanced with an expanded ability of reaching to the masses and this starts a new era of positive expectations in retail environment.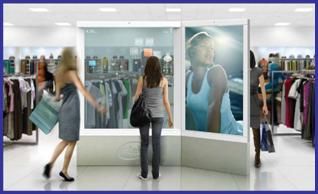 Signage in Retail industry has gone beyond the other advertising media and the statistical growth in the recent past is considerably satisfactory and is well appreciated by the advertising gurus. There has been a global rise of digital signage in all the places, now-a-days you find signage in Retail sectors like shops, showrooms, malls and public places. Its accessibility is easier, simple and more effective than the traditional bill board advertisements. Because people are comfortable with the television ads, the new approach to reach them in public places leaves a way for them to decide what they would like to accept and what they would not like. This independent decision making and optional advertising system is more effective being an audio visual system. It catches and retains attention and makes people remember the product.
Display of advertisements of different products and services between soap operas or movies is one of the ways for taking the brand name to a large audience. TV ads are often ignored for being annoying. Displaying digital signage inside the retail store opens a lot of options for you to showcase your product to all the customers visiting the store since they are out with an intention to buy or obtain information leading to a purchase. They are not watching movies. They are focused on the product now.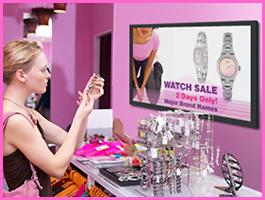 Signage in Retail is a more accepted version of television commercial which can be used more effectively than the television commercials. They are targeted at customers who are really interested in watching the displaying and knowing more about the product on display. Attention is retained. This normally does not happen in television commercials. The digital signage has brought new opportunities with minimal or one time investment plans which cut down the risk and cost of bill board commercials and consumers are more attracted to see the digital signage wherever they go and see products in a more vivid and detailed way.
There are several ways to promote a product or services in signage for retail industry; it can comprise simply of a video with audio or video-audio-text. Any digital signage campaign is displayed with a media player. The regular digital signage program for retail stores can be divided into three major types: Simple plug & play models, formatted content, and multi-frame advertising networked with Live TV.
As the normal internet video commercials or television commercials, a signage in Retail can be something as simple as a slide show presentation which can be played by inserting a flash drive to your plug and play device which can send the signal to the wall mount or stand screen. These audio video digital signage systems can be used in many different kinds of retail stores and provide an optimum advertising solution. Take a retailer who begins the ad with a flash announcing a special offer for the first 100 customers and then goes on to detail the product on the digital signage. Announcing the offer and following it up with detailed description, live demo and testimonials on a TV screen are bound to influence people to make a buy and take advantage. This is one way how digital signage is proving effective and indispensable in retail.
Source: http://EzineArticles.com
Image Courtesy:
ezevue.com
ampronix.com
ubertablet.blogspot.com