Fad and rugged look is the fashion motif of current time. This is one of the garment finishes which attracts the present generation and the rough & tough people. And for the same reason the garment dyeing process have been developed, which uses pigment dyes to develop popular weathered look.
Pigment dyeing is not dyeing in the real sense as the pigment sticks on the fabric because of the binders. The pigments are insoluble in the water.
Mechanism of pigment dyeing



Flow chart for pigment dyeing: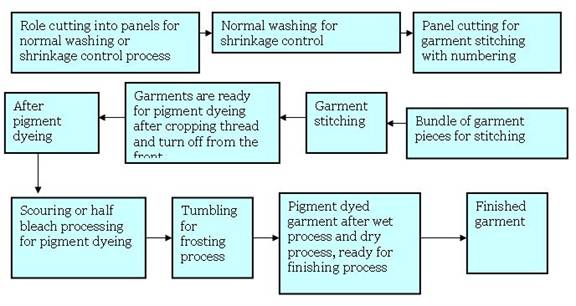 There are three major steps in the pigment Dyed garment:
1) Giving electric charge to fabric by cationic pretreatment:
To-gather with wetting agent and acetic acid, the cationic agent is applied on the fabric in the dyeing machine. And the left in the machine for some time and then fabric is rinsed.