Fad and rugged look is the fashion motif of current time. This is one of the garment finishes which attracts the present generation and the rough & tough people. And for the same reason the garment dyeing process have been developed, which uses pigment dyes to develop popular weathered look.
Pigment dyeing is not dyeing in the real sense as the pigment sticks on the fabric because of the binders. The pigments are insoluble in the water.
Mechanism of pigment dyeing



Flow chart for pigment dyeing: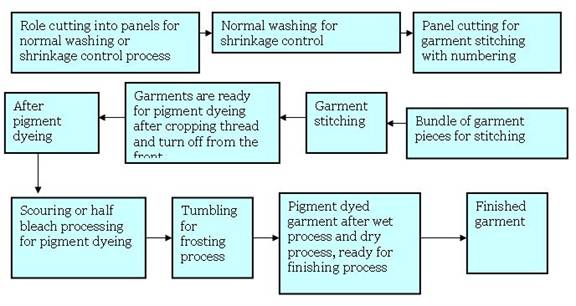 There are three major steps in the pigment Dyed garment:
1) Giving electric charge to fabric by cationic pretreatment:
To-gather with wetting agent and acetic acid, the cationic agent is applied on the fabric in the dyeing machine. And the left in the machine for some time and then fabric is rinsed.
2) Pigment exhaustion on the fabric:
An anionic charge is imparted to pigments, by first mixing mixing the pigments with water and dispersing agent.
Then after, so made negatively charged pigment is added slowly to the dyeing machine. The temperature of the bath is slowly increased and the machine held to high temperature for about 20 min. The temperature is kept high for the fabric to increase the adsorption of the pigment on the fabric surface.
3) Binder application:
After pigment is exhausted, the binder is fed into the dyeing machine and exhausted onto the fabric over the period of time and then acetic acid is added to the bath which facilitates binder polymerization.Then the fabric is rinsed, the dyeing machine is drained.
Dyeing process:
Step: 1 Scouring (Half bleach) the garments through caustic soda then rinse the garment with the normal water
Step: 2 Take new water and make it soft with the acidic acid.
Step: 3 Apply pigment dyes with the dyeing recipe ratio.
Step: 4 After the wet process, tumble dry the garment for curing the dyeing.

Step: 5 After the dry process, put the garment in to the garment dyeing machine (winch) for the bio-polish enzyme to remove the unfix dyes and developing the frosting look.
Step: 6 After the washing process, tumbles dry the garment.
Advantages of pigment dyeing
It is applicable to wide range of Textile. It has ability to adhere to a wide range of textiles, not just natural fabrics, due to which it is especially important with synthetics or blends, which often cannot be dyed with conventional dyes. Its relatively cheap process of dyeing as it does not include any high specialist equipments. Its environment friendly process as the process chemicals used is less toxic. The colour fades as the garment is used as in denims. As the pigment dyeing can be easily done on any fabric, it is used in basic dyeing projects.
Disadvantages of pigment dyeing
The major disadvantage of pigment dyeing is the Colour may fade, if that is not desired and the same shades of colour may not be available.
Sources
http://www.wisegeek.com/what-are-the-advantages-of-pigment-dyeing.htm

http://dyeingworld1.blogspot.com/2010/01/pigment-dyeing.html




Image courtesy
http://www.pigmentdyeing.com/