Source: Textile Review
Retailing consists of the sale of goods or merchandise from a fixed location, such as a department store, boutique, or by mail, in small or individual lots for direct consumption by the purchaser. Retailing may include subordinated services, such as delivery. Purchasers may be individuals or businessmen. Businessmen buying in bulk either directly or through a wholesaler for resale is known as retailer in commerce language. Retail establishments are often called shops or stores. Retailers are at the end of the supply chain. Manufacturing marketers see the process of retailing as a necessary part of their overall distribution strategy.
The concept of Retailing
The term "retailer" is also applied where a service provider services the needs of a large number of individuals such as a public utility, like electric power.
According to Swapana Pradhan, Retailing includes all the business activities involved in selling goods and services to the final consumers for personal, non business use. It is the final step in the distribution of merchandise for consumption by the ultimate consumers.
Some of the most common distribution channels for retailing to ultimate consumers are:



Customer orientation:

The retailer determines the attributes and needs of its consumers and endeavors to satisfy them to the fullest.
Co-ordinates efforts:

The retailer integrates all the plans and activities to maximize efficiency.
Value-driven:

Retailer offers good value to the customers, whether it be upscale or discount. This means having appropriate prices for the level of products and customer service.
Goal orientation:

Retailer sets goal and then uses its strategy to attain them.
The major role of a retailer is to collect an assortment from various sources and act as the contact between manufacturers, wholesaler and the consumers.
Classification of retail format
The store based retailing is categorized on the basis of :


Ownership

Merchandise offered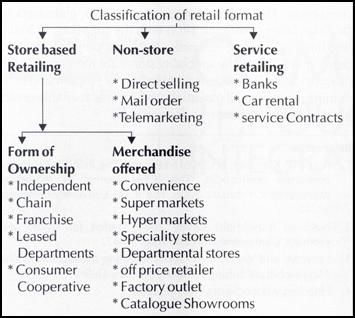 Classification based on ownership
Independent Retailer:

An independent retailer is one who owns and operates only one retail outlet. The owner and few other local hands or family members working as assistants in the shop manages such an outlet. Many independent stores tend to be passed on from generations to generations.
A chain retailer or a corporate retail chain:

When two or more outlets are under a common ownership it is called a retail chain. These stores are characterized by similarity in merchandise offered to the consumers, the ambience, advertising and promotions.
Franchising:

A franchise is a contractual agreement between the franchiser and franchisee which allows the franchise to conduct business under an established name as per a particular business format in return for a fee or compensation. Franchising can be a product or trademark where the franchise sells the products under franchiser's name.
Leased Department:

They are also termed as shop in shops. When a section of a department in a retail store is rented to an outside party, it is termed as a leased department.
Consumer co-operative:

A consumer co-operative is a retail institution owned by its member customer. These many arise largely because of dissatisfied consumer whose needs are not fulfilled by the existing retailers.
Classification on the basis of merchandise offered
Convenience store:

They are relatively small stores located near residential areas. They are open for long hours, seven days a week and offer a limited line of convenience products like bread, eggs, mil k etc.
Department store:

It is large scale retail outlet, often multileveled whose merchandise offer spans a number of different product categories. They are defined as those establishments depending on good, clothing and home related items.
Super markets and hyper markets:

Super markets are large, low cost, low margin, high volume, self service operations designed to meet the needs for food, groceries and other non food items like health and beauty care products. Hyper markets are a combination of super markets and departmental stores. A retail store with a sales area of over 2500 square meter, with at least 35 per cent of selling space devoted to non-grocery products like clothes, jewellery, hardware etc. are called hyper markets.
Speciality stores:

A stores specializing in a particular type of merchandise or single product goods categories is termed as a speciality store. Speciality stores are owing to their unique designs and patterns. There is dramatic increase in the availability of apparel products due to consumers rising demand and higher disposable income. These are characterized by a narrow product line with deep assortments in that product line. Specialty stores usually concentrate on apparel, jewellery, fabrics, furniture etc.
Off-price retailers:

They buy products from manufactures in off seasons as a deep discount and sell them at less than retail prices. The merchandise may be in odd sizes, unpopular colors or with minor defects. They may be manufacturer owned and care called factory outlets.
Catalogue showroom

:

Catalogue retailers usually specialize in hard good such as house wear, jewellery, and consumer electronics. A customer walks into this retail show room, goes through the catalogue of the products that he would like to purchase.
Strategy- The Retail Perspective
A strategy in commercial parlance means to plan or a method by which an organization wishes to achieve its objectives. Therefore, a retail strategy can be defined as a clear and definite plan that the retailer outlines to tap the market and build a long-term relationship with the consumers. Retail strategy helps in defining the organization, it's purpose and the approach of the retailer to face various challenges in the environment and market place.
The first strategy of retailer is to select store location and it should be depend on the business model. The second factor that is influenced by the strategy is the type of merchandise to be stocked. If the retailer chooses to dominate the market place on the basis of product selection, he need to be ensure that he has the largest and widest selection of product category imaginable, and that is so unique, people will seek out the store.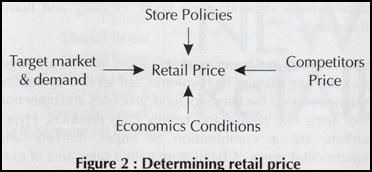 Elements of retail price
Price is an internal part of retail marketing mix. It is the factor, which is the source of revenue for the retailer. The price of the merchandise also communicates the image of the retail store to the customers. Various factors like the target market, store policies, competition and the economic conditions need to be taken in to consideration while arriving at the price of a product.
Conclusion
The apparel retail business is flourishing full pace owing to the globalization. Consumer preferences have been changing very rapidly with regards to designs, innovation, and price competitiveness. Today's era of globalization is offering a wide range of products both nationally and internationally thus, it becomes necessary for the retailer to accentuate best merchandise at reasonable price for the consumers. The e- knowledge is essential in global era to facilitate faster communication with the suppliers. In India, retailing is moving towards the shopping malls and department's store, the speciality stores are merging up with them to stay in existence. Number of supermarkets is coming up, where all essential products are available under roof to cater the consumer's demands.
References
Rao, P. P. Kanchan, N (2006) Music retailing in India: Exploring consumer preferences, The ICFAI Journal of marketing management, February 2006, The ICFAI University Press, pg. 41-47.

National fousehhold survey 2001 Market for textile and clothing, Clothesline, may 2003, pg. 38-47.

Levy, M. and Weitz, B.A. (2004) Retailing Management, Tata Mcgraw hill publishing company Itd, New Delhi.

http://en.wikipedia.org/wiki/Retailing
Originally published in Textile Review, Feb-2011
The authors are associated with Dept. of Clothing & Textiles, Faculty of Family & Community Sciences, The M.S. University of Baroda.
Image courtesy: flickr.com