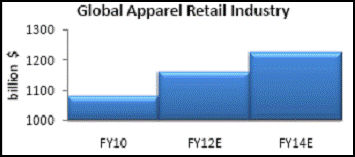 The global apparel retail industry grew by 2.1% in FY10 to reach a value of $1,078.2 billion, whereas, the Indian apparel retail industry had total revenue of $28,102.6 million in FY10, representing a compound annual growth rate (CAGR) of 9.9% for the period spanning 2005-2009. Indias exports have also recovered in FY10 following increased global demand and is currently worth $ 23.5 billion.
Retail business contributes around 11 percent of Indias GDP. Retailing as a sector is witnessing revolution in India. Retailing in India is gradually becoming the next boom industry. The growth of India's retail sector not only limited to urban areas but also growing in rural areas. In the next five years, it is expected that, India's retail industry will expand more than 80%.
India has been ranked as the top retail destination globally for retail investment attractiveness among 30 emerging markets in the world. The Indian retail sector is the second largest untapped market after China.

The analyst of the report is associated with Northbridge Capital, an Investment Bank.
Image Courtesy: businessreviewindia.in