We have traveled quite a bit from 1994 that saw the end of Multi-Fibre Agreement. There was an increasing dependence on sourcing garments from China for a number of reasons. As a matter of fact, no country could match China's advantages of volume, product variety, expertise, quality and timely shipments. This did help making China a dependable source for garments. So heavy was the dependence on China that it could walk away with almost 40% of world total garment exports.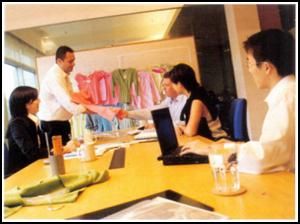 Of late, China has had its own share of problems, which started some three years back. There has been phenomena of rising prices of basic material, soaring labour costs, ascending bank interests and rising cost of land, pushing garment manufacturers more towards the hinterland, which further escalated their transport costs. With this, many apparel buyers are taking steps to mitigate rising labour costs and raw material costs by diversifying their supply base into new geographies. But while diversification is a good strategy, it's just not practical to move overnight. But any such shift has its own set of problems. There has also been some appreciation of Chinese Yuan even if it is up to the level that could not satisfy the US and the EU.
However, China's changing currency policy will exacerbate the impact of wage increases, and the risk of trade conflict with China is growing. Put these things together, and it's easy to understand why sourcing teams are now scrambling to move beyond China.
Does this mean that companies will stop sourcing from China? No. But China will no longer be the default destination, and sourcing teams will need to grow their capabilities outside of China. For clothing buyers, China's appeal as the core sourcing location has been based on its reliability, low cost, ease of finding services or trims, and a skilled workforce capable of carrying out complicated orders.
After all, why else would the country sit as the top apparel and textile supplier to the US, where its textile and apparel imports have risen 21.2% in the eleven months to November 2010 - giving it a 41.2% share of the market? In volume terms the growth is even more marked, with growth of 27.1 % taking it to a market share of 46.9%. Buyers have traditionally been relaxed about paying a slight premium for a Chinese garment over the same garment from elsewhere in Asia because they've learned they can place an order in China in reasonable certainty that order will leave a port, at the price agreed, pretty much conforming to the specification, on more or less the day agreed.
But as China's share of the world clothing market has grown, buyers have become increasingly aware of the need for an alternative source if anything goes wrong. Some are also worried that price inflation in China might be faster than its rivals. Perhaps most importantly, they're concerned that widespread delivery and quality problems reported in China during late 2010 might indicate the reliability of its manufacturers' can no longer be taken for granted. In short, the main reason to be dismal about China is the real possibility its garment makers have been hit by factors making China likely to be less reliable in the future. Those fears are spreading.
Any Alternatives to China?
Of course, finding real alternatives to China is easier said than done. Not only is there the challenge of finding a facility anywhere else with the right mix of capabilities, but bringing new suppliers on-board carries significant added expense in training and development of the new relationship.
And other countries have their problems too. In Asia, for example, Indonesia, Pakistan and much of Bangladesh and India are plagued by unreliable power. India isn't building new factories fast enough. Port infrastructure in Vietnam, Cambodia and Bangladesh is weak. Cambodian and Bangladeshi industrial relations are weak. And Malaysia and Thailand have serious labour shortages. Even historic manufacturing centres such as Egypt and Tunisia have this year been hit by widespread but totally unexpected political violence, giving rise to concerns that the trouble might spread further to other big garment supply countries like Jordan and Morocco. Likewise, seemingly unrelated issues like the rising price of food can impact on an otherwise reliable supplier. In developing countries food inflation hits the urban poor, who make up garment factory workforces, hard and can rapidly provoke aggressive wage demands - or more industrial disruption if workers are dissatisfied with their employers' response.
Protectionism on the Rise
Differing rates of economic growth and uncertainty about what the future holds could also inflame protectionism in the year ahead, although instead of controls by rich countries it seems that poorer nations are the ones fanning the flames. The European Union (EU) is not only withdrawing anti-dumping duty on imports of shoes from China and Vietnam, but from the beginning of 2011 has also relaxed its rules of origin for products such as clothing which are imported under the generalised system of preferences (GSP).
This should make it easier for Least Developed Countries (LDCs) countries like Cambodia and Bangladesh to be eligible for dutyfree access wherever their raw materials originate, including woven fabric from China. But at the same time Turkey has announced plans to slap "safeguard duties" of up to 60% on garments and knitted fabric from almost everywhere outside Europe or the Mediterranean; Mexico launched an anti-dumping investigation into Chinese denim; and India retained its export controls on cotton.
In late November India, Bangladesh, Vietnam and Peru also forced the WTO to reject EU concessions for Pakistani apparel and textile products intended to boost recovery from the August floods. The US is also now focusing on boosting domestic exports, such as the recently concluded negotiations on a free trade agreement with South Korea. On 30 September 2012 the rule giving garments from most African countries duty-free access to the US, wherever their raw materials come from, expires.
Unless it is extended, duty-free garments will need to be made from African or US fabric - and there have been next to no African fabric mills established in the past decade, and there's now no time to build any. "Unless they're prepared to gamble on a political near-miracle, US buyers should work on the assumption that, from October 2012, most garments imported from Africa will be subject to full duty."
Manipulation of Yuan
Diplomatic wrangling over China's currency policy was another recurring feature of 2010, with Europe and America shouting loudest about China's alleged "currency manipulation." Critics claim the Yuan is undervalued by as much as 40%, which puts US-made goods at a disadvantage against cheaper Chinese imports. But so far they've been reluctant to do anything about it. A proposed bill - the Currency Reform and Fair Trade Act that would enable US companies to defend themselves using countervailing duties and antidumping law against countries that manipulate their currency, was voted down at the end of the 2010 US Congress. It is, however, coming up again.
"You need to always have some other eggs in your basket depending on what the economy and even geopolitical area brings," agrees John Long, retail strategist at consumer goods consultancy Kurt Salmon. And he believes the quest for new - and cheaper - production sources will perhaps even accelerate "as prices break out of certain tolerance thresholds. There's certainly enough retailers out there who are continually looking at new avenues. "For many product development organisations there will also be ongoing experimentation with locally or close to home venues simply as a way of spreading the risk that exists."
Originally published in The Stitch Times, March-2011
Image Courtesy: ncti-india.com