Introduction
Quality needs to be defined in terms of a particular framework of cost. The national regulatory quality certification and international quality programmes like ISO 9000 series lay down the broad quality parameters based on which companies maintain the export quality in the garment and apparel industry. Here we will discuss Variation in results occurring during checking the color fastness to rubbing test.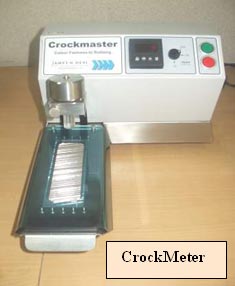 Summary of Test Method
Standard cotton fabric is rubbed against the surface of coloured textile specimen to check the transfer of colour.
Specimen to be tested is clamped on base plate.

Crocksquare (Standard cotton fabric) is mounted on rubbing finger.

Rubbing finger is moved against the fabric surface for defined number of cycles.

Crocksquare is removed from rubbing finger. It is conditioned and then evaluated for staining using grey scales.

In case of wet rubbing, the crocksquare is wetted with water and rubbed against the specimen in the same way as mentioned above.
Apparatus and materials
Crock meter, Crocking Cloth (Cotton rubbing fabric), Grey Scales Staining, Colour Matching Cabinet & Distilled /De-ionised Grade 3 Water for wet rubbing
Testing specifications as per AATCC & ISO Standards
AATCC - 8


Wet pick-up : 65% +/- 5% ,Specimen size at least 50 x 130 mm

Vertical Load : 9 N +/- 10% ,Finger Diameter : 16 +/- 0.3 mm

Position long dimension oblique to warp and filling or wales and courses.
ISO 105 X12


Wet pick-up : 95 - 100%

Specimen size at least 50 x 140 mm

Vertical Load - 9 +/- 0.2 N ,Finger Diameter - 16 mm

Position warp parallel to long dimension for one specimen and weft parallel to long dimension for other specimen or diagonally.

Rubbing distance: 104 +/- 3mm