The Electro coagulation process is based on valid scientific principles involving responses of water contaminants to strong electric fields and electrically induced oxidation and reduction reactions. This process is able to take out over 99 percent of some heavy metal cations and also appears to be able to electrocute microorganisms in the water. It is also able to precipitate charged colloids and remove significant amounts of other ions, colour, colloids and emulsions.
What is Chemical Coagulation?
Chemical Coagulation has been in practice for several decades to precipitate the soluble heavy metals present in the waste water, as hydroxides and facilitate their removal by physical separation through sedimentation process. Ferrous Sulphate, Hydrated Lime, Alum etc. are the most common chemical coagulants being used in Industries.
The inherent disadvantage of this process is the generation of large quantities of chemical sludge and its classification as hazardous waste, necessitating the need for secured land-filling of hazardous solid wastes. Due to unavailability of suitable open area the dumping of sludge is creating a problem.
What is Electro coagulation?
Electro coagulation (EC) is the process where an electrical current is introduced into an aqueous medium in an electrochemical cell, usually with an Al or Fe anode. Aluminum is commonly the best anode material, as it is the most affordable material that provides trivalent cations and can be used in almost all kinds of waste water treatment application.
Advantages of Electro-Coagulation-
Following are the advantages
No Addition of Lime, Ferric and Coagulant chemicals.

Very Low operating cost compared to conventional systems.

Very less civil area and construction.

Color removal up to 95%.

BOD removal > 60% Without Biological treatment.

COD removal > 70% Without Biological treatment.

Very less quantity of Solid waste (SLUDGE) generation.

Simple and easy to operate and maintain.
Several plants in India and abroad have been successfully installed with this technology and got excellent results. The manufacturer is located at Coimbatore and Chennai (T.N). They have a pilot plant and can arrange a live demonstration at any factory site.
Applications:
Electro coagulation process can treat a variety of pollutants discharged from textile processing industries, Dyes /Dye intermediate manufacturing industries, pulp and paper mills, surface treatment units, metal plating, tanneries, wool combing units, canning factories, slaughter houses, steel mill effluent, mining, vegetable oil refineries, sea food processing units, paint industries, technical and formulation plants of bulk drug and pesticide industries etc. including the domestic sewage.

ETP Operating For 1000m 3/Day
Electro Coagulation Plant

Total Running Cost for 1000 M3/Day-`3, 905. 00
Total Running Cost for 1 m3/Day -`3.90
ETP Operating For 1000M 3 / Day
Physical Chemical Plant


Total Running Cost for 1000 m3 /Day-`13,350.00
Total Running Cost for 1 m3 / Day-`13.35
Comparison of Chemical Coagulation and Electro-Coagulation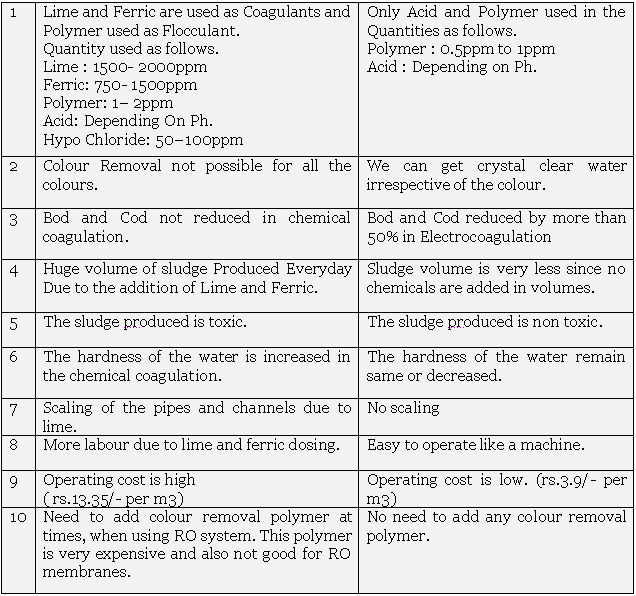 The author is Vice-President (Technical Marketing) at Hind Prakash Lonsen Industries Pvt Ltd.