Calculus of cotton is always erratic without any clues. After reaching a peak, cotton, and cotton yarn prices are now experiencing a sharp decline. What is the industry impact?
Indian economy is mainly dependent on agriculture, and textile manufacturing. Cotton is of paramount importance for the manufacturing sector. Currently, textile industry is in doldrums due to falling cotton prices, which is affecting yarn prices, and slackening demand of fabric manufacturers as well.
Prices of raw cotton which has reached historic heights during 2010, have started slipping during the past couple months. Earlier, cotton prices were ranging from ` 30,000-32,000 per candy. During April, cotton prices were soared up to ` 62,000 per candy (356 kg). This tumbled to ` 50,000 by the end of April. With the global textile industry seized by the panic of selling on a large scale, cotton prices witnessed a declining trend. Spinners are left behind with huge volume of cotton yarn in stock, while there is a slackening trend in the demand of cotton fibres. Price of Shankar-6 raw cotton plummeted from ` 61, 625 to ` 54, 625 per candy during March. Prices of Shankar-6 have decreased more than 26%.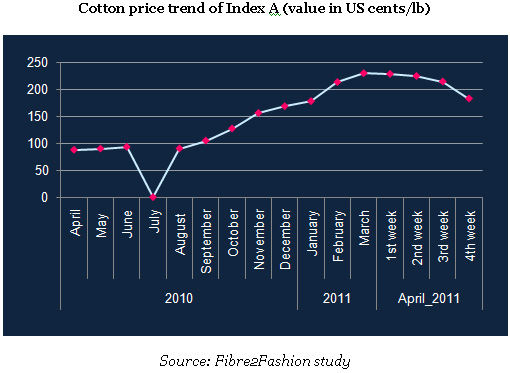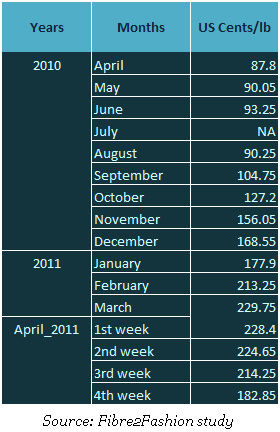 Industry evokes mixed reaction: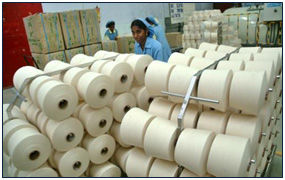 Cotton prices which were on an upsurge during the last few months, has taken a sudden U turn by declining 20%. Price decline of cotton has concurrently affected the yarn prices. This has evoked a mixed reaction in the textile sector. While some industry players feel the heat of the situation some others feel this would benefit their business. They believe that falling cotton prices would boost the profit margins of companies operating across the value chain.
DNA India reports Manish Mandhana, Joint Managing Director of Mandhana Industries saying, "there has been a correction of around 10% from ` 240-245 per kg in yarn prices sometime back to the present ` 215-Rs220 kg. We would be able to maintain margins and also offer a reduction in prices to the end-customers." Mandhana foresees margins improving in the April-June quarter.
After the ban on exports was lifted on 1st April, spinners were having enormous stock. Realizing this, buyers were negotiating for lower prices. Business standard reports S P Oswal, Chairman of the Oswal Group saying, "the two and a half months freeze on export of yarn by the Union Government had played havoc with the sector. The spinning industry was saddled with the stock prepared from cotton bought at a considerably higher price". Speculations in the market regarding the arrival of huge quantities of cotton have affected the prices. With the cotton season nearing an end and arrival of low quality cotton in the market is also affecting the prices.
Industry analysts predict the yarn stocks to be roughly around 440 million kg. 30s comb cotton yarn which was in the price range of ` 260-265 until last month has dropped to ` 225 per kg. Speculations' regarding a further decline is stopping the domestic textile buyers. While yarn purchases average around 170 million kg, purchases for April were roughly around 120 million kg.
Export demand for cotton yarn is also not much, as countries like China are seeking to sell yarn. Global and domestic demand for yarn is also low. This has slowed down yarn sales, pulling the prices down. Textile mills have already decreased yarn prices by 10-15%, and a further decline is feared to hurt their operations.
Global production of cotton is predicted by analysts to exceed mill use in 2011-12. This would end in stocks recuperating to 10 million tons approximately. Industry players positively expect the prices to stabilize soon.
References:
1. Business-standard.com
2. Dnaindia.com
3. Hindu.com
4. Smartinvestor.in
Image Courtesy:
Thehindubusinessline.com